In the highly digitalised world that we live in, savvy business owners and managers are looking to create a phone number exclusively for their business communication. The smartest way to do that is by using a virtual number app. If you too want to create a phone number for business, it's good to know about the top second number apps.
It's easy to understand why business professionals and entrepreneurs would want to create a phone number for work-related communication. They're primarily looking to organise their business-related calls and texts and get the most out of their phone system.
Why you should create a phone number for business
Business owners and professionals are increasingly turning to digital solutions to optimise their communication. They know that when they create a phone number through a virtual number app, they will be getting several advantages that the conventional phone system can't provide.
Connect from anywhere
Conventional phone systems tie you to a physical location. When you create a phone number for business, you'll become location-neutral. Since these are virtual numbers that work over internet connections, you'll be able to take your calls and send and receive messages from any connected device.
Ideal for remote work
You'll be able to make and receive calls from your laptop, smartphone, or tablet. Importantly, the caller wouldn't know that you're not in the office. This also makes virtual numbers the right solution for an increasingly remote business world.
Enhanced business tools
Businesses that create a phone number for work-related communication also get business-friendly tools. With a second phone number, you'll get voicemail, call forwarding, auto-reply, among other business-friendly features. These will help you save time, effort, and generate more leads.
Always open
The other reason is that customers expect businesses to be always connected. They want fully functional customer support and be able to reach the right person. When you create a phone number for business, you'll be able to direct calls to the concerned individuals even when they're out of the office.
Work-life balance
When you create a phone number for business, you're also organising your work and personal lives. Some virtual number apps like Chalkboard will give you auto-reply, enabling you to send pre-determined messages for missed calls. For business owners and managers, this is the route to work-life balance.
Highly affordable
Finally, as we at Chalkboard have found out from interactions with our clients, everyone wants an affordable option. In a world where there isn't much leeway in pricing, businesses are constantly looking to cut down on their overheads.
Conventional phone systems can be prohibitively expensive. There's the initial investment on hardware and installation charges. Then there are the monthly charges where companies make you pay for calls and texts. But when you create a phone number for business, you only have to pay for your subscription and not for incremental calls or texts.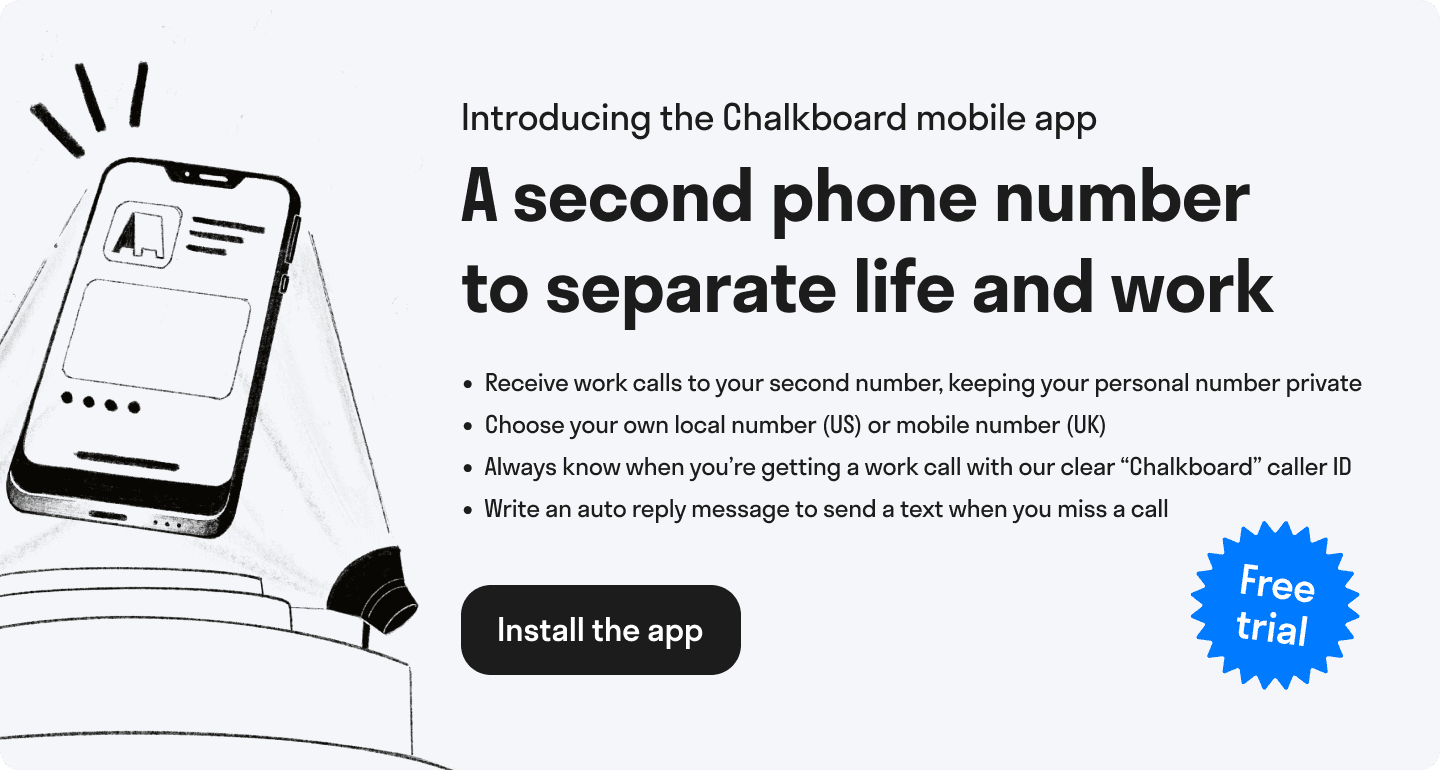 Top apps for phone numbers
If all its benefits have encouraged you to create a phone number for business, the question then becomes which second phone app should you choose. Below are the top-rated phone number apps that you can use to optimise your business communication.
Chalkboard
For those looking to create a phone number for business communication, Chalkboard should top the list. Not just because it's an advanced second phone number app but it's also a marketing tool.
For starters, you get everything you would want from a virtual number and much more. Chalkboard offers you auto-reply that will send pre-written messages to those whose calls you miss.
But what makes Chalkboard unique among second phone number apps is its review aggregation. Online reviews can build brand equity and understanding this, Chalkboard automatically sends review requests to your contacts and notifies you once they leave a review. Chalkboard also offers a free trial after which you can select one of its affordable plans that will suit your business needs.
Grasshopper
If yours is a medium-sized enterprise and budget isn't an immediate issue for you, Grasshopper is a credible choice. The app allows you to port your current phone number and lets you choose from vanity or toll-free numbers.
The app has call forwarding that will suit remote workers and lets you customise call greetings. Grasshopper will also deliver the transcription of voicemails to your email. While the app is feature-rich, its pricing doesn't suit small businesses, freelancers or sole traders.
Google Voice
One of the most popular names that you'll come across if you plan to create a phone number for business is Google Voice. It's easy to set up your account and you can immediately start making and receiving calls and messages over the internet.
Google Voice also has call forwarding and voicemail. What makes the app popular, especially among individual users, is the fact that it's free. But that will only give you its basic features. Businesses may not also like the fact that it doesn't have auto-attendant features or IVR. Plus, customer support is practically non-existent.
Sideline
If what you want are business-friendly features, Sideline should interest you. It allows you to organise your professional and personal communication and also has routing, monitoring, logging and call recording. For small businesses, the app even has a telemarketing management tool.
Along with call greetings, business voicemail, and caller ID, Sideline also offers auto voicemail and voicemail to text. But the app doesn't have review aggregation or notification.
SmartLine
If all you want are the essential business features, you should look at the SmartLine second phone number app. It has call monitoring, logging, routing, call transfer and caller ID. It also lets you filter spam calls and set custom voicemail.
SmartLine also lets you set your business hours and direct callers to voicemail during after-hours. But the app uses cellular connection and not VoIP to make calls, which would mean deductions from your cellular minutes.
Line2
Another app that lets you separate your work and personal lives is Line2. Packed with voice recognition, IVR, and contact and call centre management, Line2 Pro can also monitor and record your calls.
Medium-sized enterprises would also love its video conferencing. But small businesses and freelancers should note that the app doesn't have either a free trial period or a free version.
Create a business phone number with Chalkboard today
If you are looking for an app for your business phone number, Chalkboard is the answer. It is an easy-to-use second-line app that comes with enhanced features for startups and small businesses.
When you create a phone number for business with Chalkboard, you'll be significantly upgrading your work-related communication.
Ready to start? Sign up for a free trial of Chalkboard today.