With the increasing popularity of virtual numbers, more and more users are searching for the best second phone number apps. Line2 is a popular choice among individual users and if you're considering it, it would help you to know more about some top-rated Line2 alternatives before you decide to use the service.
As a small business owner, it pays to opt for a virtual number. They offer considerable advantages over traditional phone systems. That doesn't mean you should choose the first or most popular virtual number since they could be designed for non-business users. That's why you should look for Line2 alternatives that will suit your purpose.
Line2: The essentials you need to know
Line2 is a reliable second phone number app if your communication needs are limited. The app has a user-friendly interface that works well for individual users. Setting up is also easy. Before understanding the need for Line2 alternatives, let's look at what the virtual number app has to offer.
The app comes with call greetings and voicemail. It can even transcribe voicemails into emails and send them to you. Businesses would also like the fact that the app allows for number porting. You can also use call recording and scheduling.
Which would make you wonder why small business owners are looking at Line2 alternatives. The primary reason is that the app is meant for extremely small teams that wouldn't need to scale their virtual number use.
The app's basic version doesn't have a functional auto-reply feature that all businesses would need. There are no credible third-party integrations either.
Line2 pricing
The biggest problem with Line2, especially for small businesses and startups, is that it's expensive. It also doesn't come with a free trial period, which would rob you of the opportunity to try out the app before making a decision.
Line2's basic plan starts at £12 per month. Only if you take the business plan for £19 per month will you get at least some business features.
Is Line2 the right phone app for your business?
If you only need the basic tools and aren't worried about the monthly expenses, you could go for it. But if you want more features at affordable plans and want a virtual number that will optimise your communication, you should look at Line2 alternatives.
5 alternatives to Line2 phone app
Chalkboard
Chalkboard combines a second phone app with a marketing tool. You get everything you would expect from a second phone app, including, an easy setup, intuitive interface, call routing and more.
You'll also get auto-reply that will allow you to send pre-determined messages to missed calls. Now even if you can't take the call, because you're with family for example, your phone will continue the conversation for you. On top of that, the app will work to get you online reviews automatically.
Chalkboard pricing
The subscription plans are truly affordable and what makes it even more exciting is the fact that you can start with a free trial.
How to start with Chalkboard today
To experience the power of a second phone app that's also an automated marketing tool, click here and start the free trial.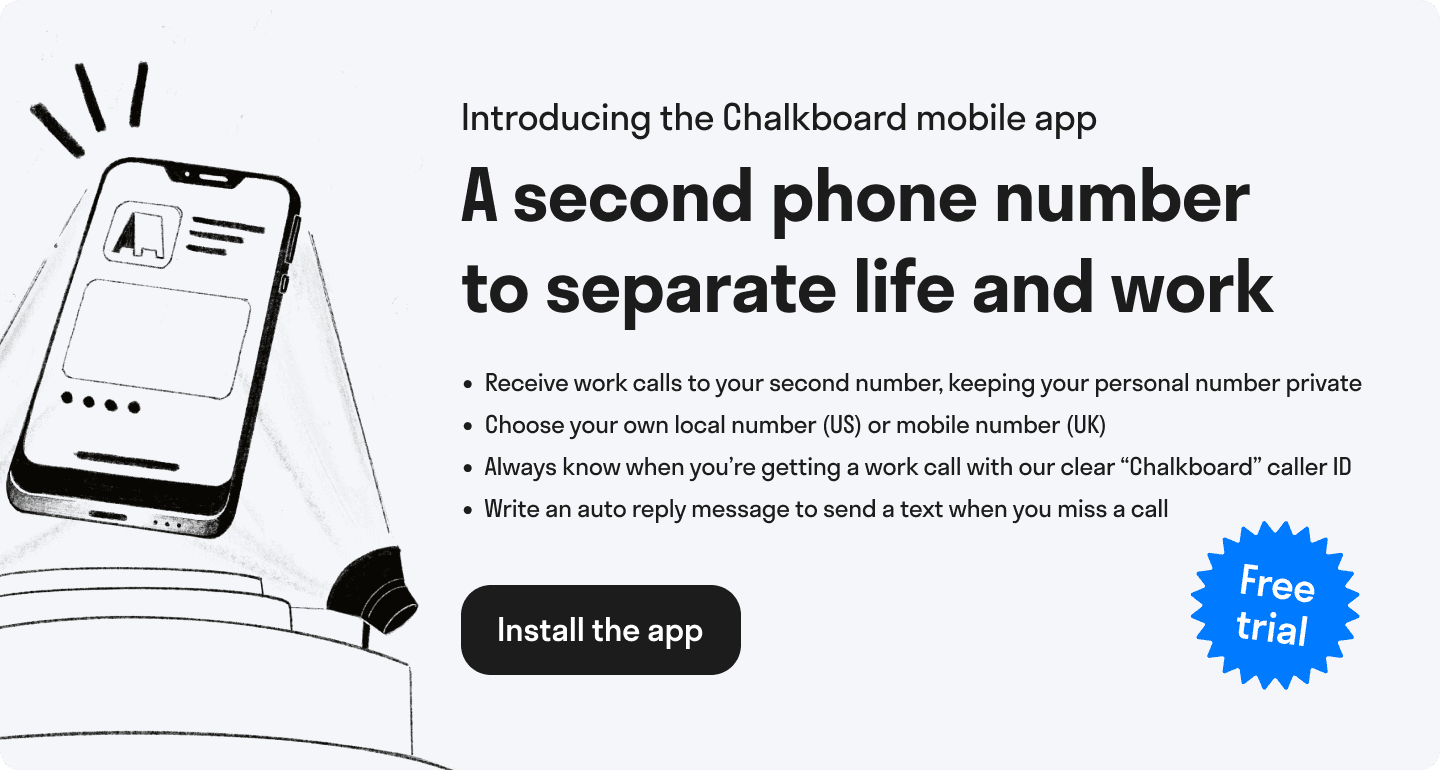 Google Voice
Since the service is from Google, it's one of the most popular second phone apps. It lets you make and receive calls and texts over the internet. It also has call forwarding, voicemail, and also lets you port your number.
But you should know that the basic version doesn't integrate with Google Workspace apps. The customer support is also unreliable for Google Voice users.
Google Voice pricing
The basic version is free and you can make calls to mobile phones and landlines in the country. For international calls and added features, the paid versions start at £7.50.
GoDaddy SmartLine
If you're looking for a budget-friendly Line2 alternative, GoDaddy SmartLine could be an option. It lets you set business hours but doesn't have the enhanced features that a small business or startup would need. The primary objective of the app is to help you mute business calls that you get after-hours.
GoDaddy SmartLine pricing
After a free trial, the paid version starts at around £7.50 per month.
Grasshopper
One of the oldest second phone apps in the market, Grasshopper is another one of the popular Line2 alternatives. You can choose from vanity or toll-free numbers to get started. The app also transcribes voicemails and will send them as emails to you.
Grasshopper's features are business-friendly but the app is designed for medium-sized enterprises. It will be expensive for small businesses, freelancers or solo contractors.
Grasshopper pricing
The basic solo version starts at around £19.50 per month.
Burner
Filling an online form? Listing something to sell on a classified site? On a dating app? In such instances, you might benefit from a disposable phone number like the one Burner can provide. The app allows you to create and dispose of multiple virtual numbers.
But it's not suited for business users. You don't want to change your customer support number frequently.
Burner pricing
The free version is ad-supported. The paid version starts at around £4 per month.
Try Chalkboard today
Among Line2 alternatives, what truly makes Chalkboard exceptional is its review aggregation. The app will automatically send online review requests to your customers. It will also notify you when your contacts leave a review. In that sense, Chalkboard automates marketing for your small business.
Sign up for the free trial of Chalkboard today and feel the power of a second phone app and an automated marketing tool.