Due to their inherent advantages, more and more individuals and businesses are considering using second phone number apps. If you're a small business, startup, freelancer, or sole trader thinking about getting a second number app, here's everything you need to know about the best phone number apps in the UK.
Why do I need a second number app?
If you're wondering why you should set up a second-line app for your business, the easiest answer is that it will save you time and help you organise your communication. Here are other reasons why your business needs a phone number app.
A second number for work: When you install a second number app, you get a number that you can use exclusively for work-related calls and messages. Your personal calls, messages and contacts won't get mixed up with your professional communication.
Added privacy: If you use the same number for work and personal calls, you're risking your privacy every time you share it. But with a second number, you can confidently share it and display it on your website or social media platforms.
Auto-reply to missed calls: You'll never miss a business call again when you get a second phone number app. Outside office hours or during weekends, you can be with your family and set up auto-reply to missed calls. This is how you can achieve a better work-life balance.
Ease of use: With most phone number apps, you can download and get started in a few minutes. There's no need to wait around for a provider to activate your number.
No device needed: Perhaps the biggest reason why business owners should consider getting a second-line app is that there's no need to buy an additional phone. It can work on all your connected devices.
What should I consider when choosing a second-line app?
Startups, small businesses and freelancers should consider the following factors when choosing a second-line app.
Access: Your second phone number app should be easy to download and let you start making calls without a lengthy registration process.
Cost: Second number apps typically have subscriptions. Your provider should have reasonable pricing plans that suit your usage.
Features: The app should give added features that will optimise your business communication. It should have auto-reply, a professional voicemail, and let you route calls to others.
Customer support: It should be easy to get in touch with the customer service team – you shouldn't have to contact them multiple times.
Do I need extra features?
You should go for a phone number app that delivers more than an additional number. For example, beyond calls and messages, find out if your second-line app will allow you to automate online requests.
In a world where brands grow on the basis of their online reputation, this is a much-needed feature. If your second phone number app can create lists and further enhance customer interactions, it will save you time and help improve your customer engagement.
Keep in mind that too many features might make an app complex to operate – the number of features is not as important as their usefulness to your business.
Second phone number apps: at a glance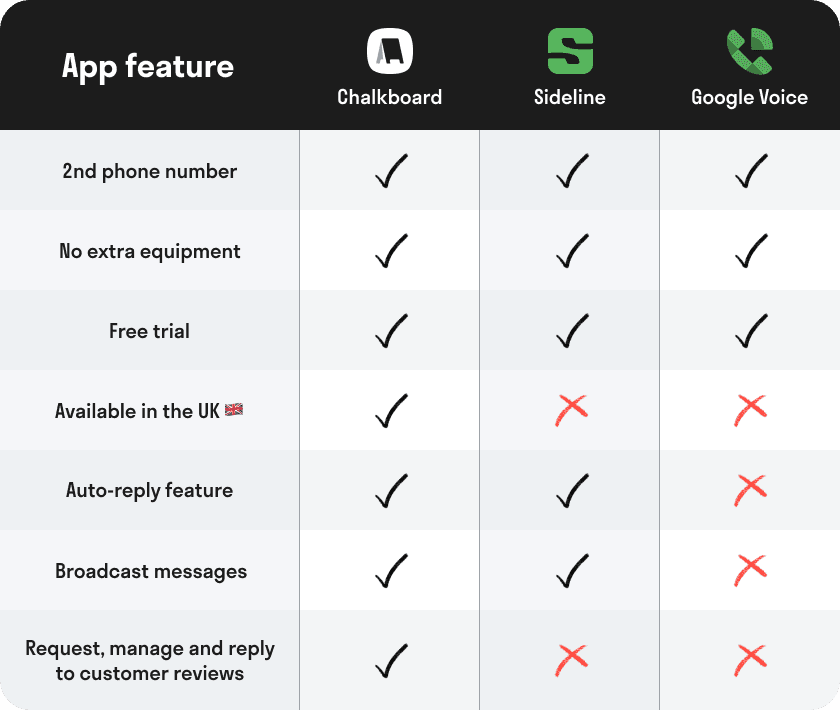 Burner
Burner was initially rolled out as, well, a burner phone. You could use a number and then get it removed from service. But now the service also offers a permanent second phone number.
One of the standout features of Burner is its easy integration with other software such as Evernote and Slack. You can also use SoundCloud to publicly or privately share your voicemails.

Pros:
Integration with Slack and Evernote for greater collaboration

SoundCloud integration for sharing voicemails
Cons:
Complex interface

Too many notifications
Pricing:
Seven-day trial with no free option
Chalkboard
Get a second-line app that you can download and use in minutes with Chalkboard. You can choose your own number (UK mobile or US local). Now you'll be able to separate your work and personal lives by sharing a dedicated number with your clients and customers.
What makes Chalkboard particularly compelling for small businesses and startups are the lists and review features. Now you can categorise contacts into lists and automate online review requests. Importantly, Chalkboard's simple subscription plans include fees for all calls and messages. You won't have to pay per call or message separately.
Pros:
Advanced auto-reply feature

Automated review requests

Contact lists

Freedom to choose your number (US)
Cons:
Not currently available globally
Pricing
:

Free trial, after which you get to choose from reasonably-priced subscription plans

Google Voice
With a Google account, you can get a second phone number from Google Voice. It has voicemail, messaging and calling that you can use on any of your connected devices. You can also personalise the settings to forward calls, texts and voicemail.
Google Voice also allows you to block chosen numbers and filter out spam. You can also store your communication, which is beneficial for small businesses.
Pros:
Easy to set up

It can filter spam and block selected numbers
Cons:
Only works in the US for personal Google accounts and G Suite in other markets

Doesn't support texting in several markets

Unreliable and slow customer support
Pricing:
International calls depend on market rates
Hushed
Hushed offers several features including voicemail, encrypted messaging and calling. It also lets you add as many numbers as you like. The number you choose will expire depending on the plan you have. It is one of the first second phone number apps to accept Bitcoin.
Pros:
You can add as many numbers as you would like

Flexible plans with special offers for students
Cons:
Complex for the regular small business

You may not need it unless you're specifically looking for burner numbers
Pricing
:

Plans start at £1.45 per week
Sideline
Sideline allows you to use your existing mobile service provider's voice calling and messaging minutes once you opt for the service. You can also port your existing number to Sideline which ensures continuity for business conversations.
The app comes with texting, calling and voicemail features and has a seven-day free trial period.
Pros:
Allows you to port your current number

You can use your current voice and messaging minutes
Cons:
Primarily for the US market

Expensive after the free trial period

Doesn't have smart business features
Pricing:
£7.25 to £11.25 per month
2Number
For customers in the US, 2Number allows you to keep your international number. You can also add SMS and minutes to your 2Number account. The in-app currency is also a cheaper option to call international numbers. You can also set business hours and direct calls outside that period to go to your voicemail.
Pros:
You can make calls to 25 countries

You can set business hours to route calls to voicemail outside of it
Cons:
Most features are for the US market

Currently only for iOS

Expensive when compared to others
Pricing
:

Plans start at £8 per week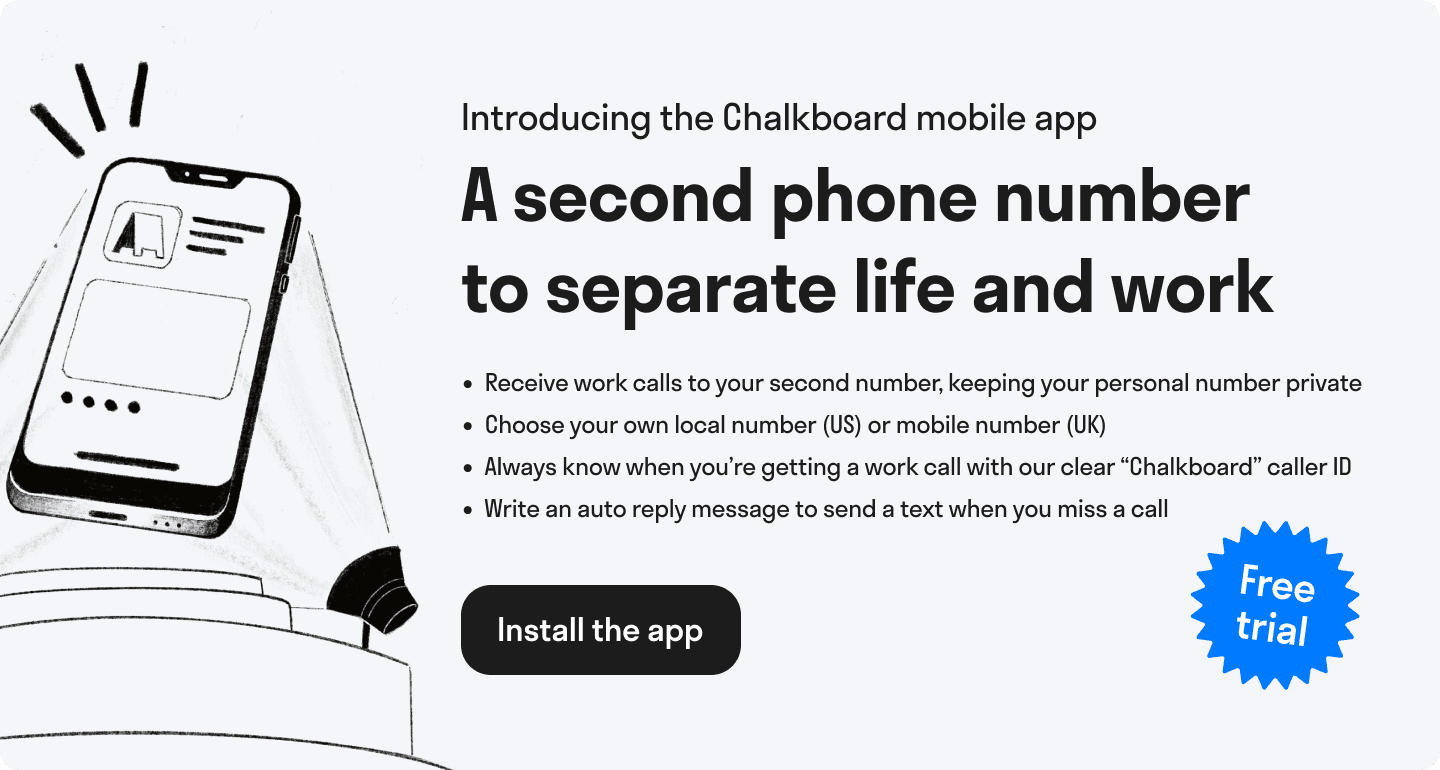 In short
If you run a business, whether individually or with a small team, you need to focus on your important tasks. These are what will help to generate revenue and result in more clients and customers. By organising your business communication with a second phone number app, that's exactly what you'll get to do.