From search engines to smartphones, Google is well-established. With Google Voice, the tech giant has a virtual phone service targeted at its Google Workspace users. But if you're looking for a Google Voice alternative in the UK, Chalkboard should top your list.
When you search for the best second phone number app for your business, the number one criteria shouldn't be the company's size or its range of products. Your primary concern should be whether the product is suited to your business needs.
Once you search for an alternative to Google Voice, you'll understand that Chalkboard is a credible option, as numerous other small businesses and startups have discovered.
Chalkboard vs Google Voice: A quick comparison
Chalkboard is an easy-to-use VoIP-based phone system that gives you a second phone number exclusively for work. You don't have to buy a device and don't have to pay for either calls or texts. The app is easy to download and you can get a new number within minutes. You can start with a free trial period and after that, choose a subscription plan that suits your needs.
Google Voice also is an internet-based phone service. The most important reason why the service is popular is that it's free to use. With the free plan, you get to make calls domestically to all mobile phones and landlines in the UK.
So, why should small businesses look at a Google Voice alternative such as Chalkboard? Because Google Voice was never intended as a business tool. Like most Google products, it was rolled out for everyone.
While Chalkboard has features specifically designed for small businesses including auto-reply, contact management, review aggregation and broadcasting, Google Voice doesn't have any advanced capability that is business-oriented.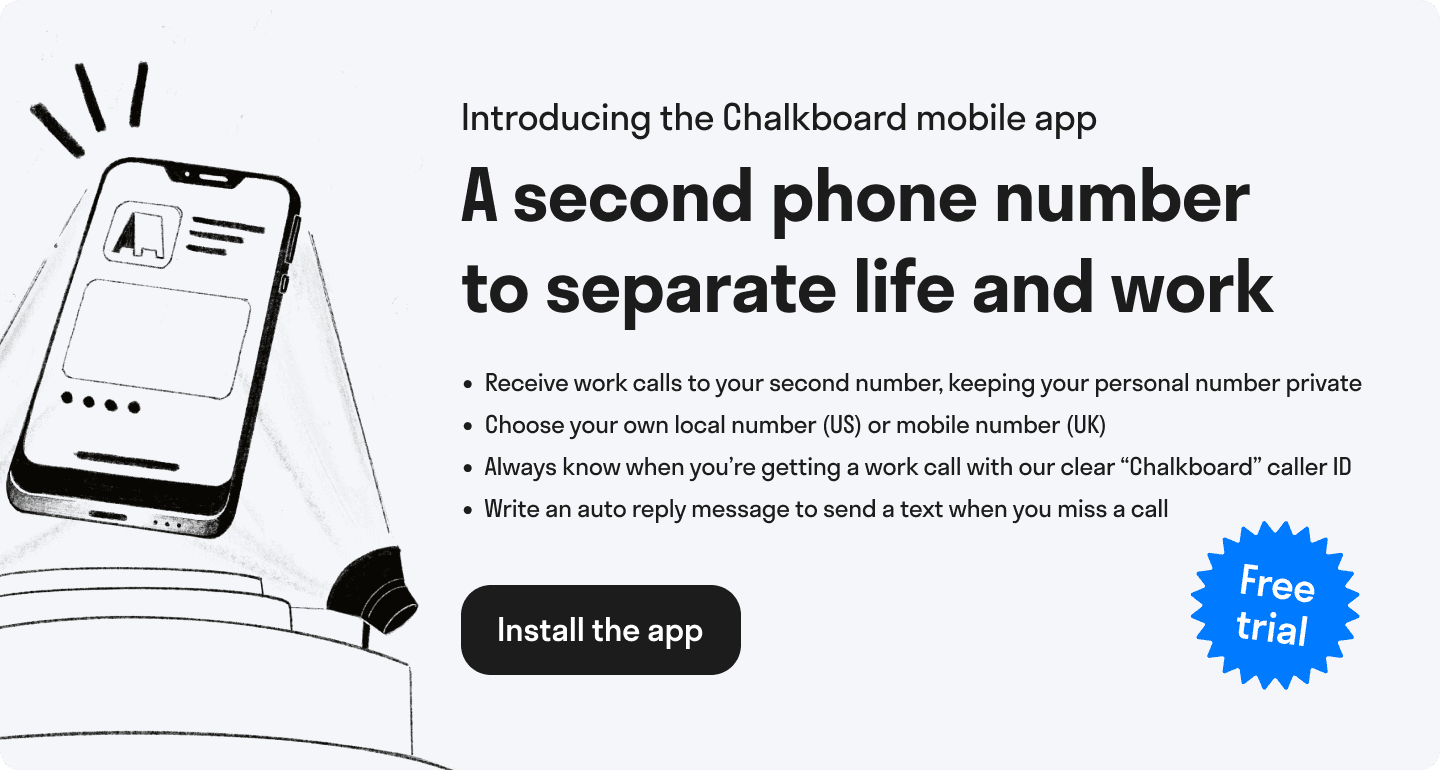 When to use Chalkboard
Whether you're starting your business or have been running it for a while, Chalkboard can help you save time, money and optimise your operations. Without a secondary device, you'll be able to get a new phone number for business and protect your privacy.
You'll also be able to finally separate your work and personal lives and find that much-needed work-life balance. Since Chalkboard lets you make and receive calls and texts from any connected device, it's also perfectly suited for remote work.
Chalkboard pros
No device needed: You don't have to spend money on a new smartphone or any other hardware. All you have to do is download the app and your new number will be ready to contact customers quickly.
Auto-reply: A missed call could mean a missed customer or client. With Chalkboard's auto-reply feature, you can set pre-chosen messages for missed calls. Now even if you can't take the call, your callers will get your message.
Local phone number: Small businesses need local numbers for credibility. Chalkboard lets you choose a local phone number (UK mobile number or US local number).
Affordable plans: You don't have to pay for calls or texts. You can choose an affordable subscription plan that will have everything included.
Review aggregation: Positive online reviews are the lifeline of small businesses. Chalkboard automates review requests and sends them to your customers. You'll also be notified when the recipient posts a review.
Chalkboard cons
No international calls: You can't make international calls with Chalkboard. Although, this shouldn't be a limitation for small businesses.
No web or desktop version: The app doesn't currently come with a desktop or web version.
Only one number: Users can't buy two or more second phone numbers with Chalkboard.
When to use Google Voice
With Google Voice's free plan, you can make unlimited calls to mobile phones and landlines in the country. You also get certain features such as voicemail transcription, call forwarding etc. If you're a freelancer with a small number of clients, you can consider using Google Voice.
Google Voice pros
Free number: The virtual number will be free for you. This is the main reason people opt for Google Voice.
Free calls and texts: For domestic calls and texts, the service is free for users.
Call blocking: You can block unwanted calls and those from telemarketers identified by the app.
Voicemail transcription: You'll be able to get transcripts of your voicemails and forward or download them.
Google Voice cons
Customer support: One of the biggest issues faced by Google Voice users is its poor customer support. You'll have to turn to the online community for help in most cases.
Risk to privacy: All your call information will be on Google servers. Like with any massive technology firm, this data is never completely private.
No toll-free or vanity numbers: The service doesn't have vanity or toll-free numbers, which will pose problems for small businesses.
No contact separation: You want a second phone number to separate your personal and professional lives. But with Google Voice, all your contacts will be saved in your Google account without any categorisation.
Unreliable caller ID: While it has a caller ID, users have complained about its reliability.
Chalkboard: the better choice for small business owners and startups
If you're a small business or startup, you need a phone system that streamlines and optimises your communication. If you are looking for a Google Voice alternative, the smartest option is Chalkboard.
With auto-reply, you'll keep your business communication and lead generation running even when you can't take the call. Importantly, you'll be strengthening your marketing through Chalkboard's automated review aggregation.
Ready to try Chalkboard? Sign up for a free trial today and start optimising both your business communication and marketing.