If you're looking for an internet-based business phone, it can get pretty confusing. There are several credible options and Grasshopper is one of the most popular. But before you make a decision, it would be wise to look at Grasshopper alternatives.
By now you should know that getting a second phone number exclusively for business is a great idea. If you're an entrepreneur or small business owner, read this detailed guide on Grasshopper alternatives before you make a decision about which second-line app will work for you – and your business.
What is Grasshopper?
Among VoIP providers, Grasshopper is one of the most popular options. Part of the reason for this popularity is the fact it has been around since 2003. So what can you expect from the service?
Grasshopper allows you to use any mobile device that you have as a business phone. You get all the basic features that you can expect from a VoIP provider. These include an additional business phone number, voicemail and call routing, SMS capability etc.
Small business owners often opt for Grasshopper after a word-of-mouth recommendation. The other reason why Grasshopper became popular is its cost-effectiveness. Compared to the existing options of the time, primarily landline phones, Grasshopper was an economical choice.
What you should know about the Grasshopper phone app
Grasshopper provides all the basic features you would associate with a VoIP service. You can get an additional phone number for business and can separate your business and personal calls. It makes your business looks professional and enables you to make and receive calls wherever you are.
This makes it a viable option for businesses that are just starting out. With an exclusive business line that gives you access to all your connected devices, Grasshopper is a reliable VoIP provider for early-stage small businesses. Considering its pricing advantages over the traditional phone lines, it is a top choice for solopreneurs and small businesses.
How does Grasshopper work?
Grasshopper works like any other VoIP service. After you sign up, you can choose a virtual number from local numbers, vanity numbers and toll-free numbers. After that, you can download the app and configure your settings.
You can personalise your number with custom greetings and rules for call answering. This will include when to direct calls and when to accept calls. You can also decide how long you would want the call to ring before forwarding it to another device.
Why businesses should consider Grasshopper alternatives
Although it's easy to use, Grasshopper isn't the ideal choice for growing startups. The service doesn't have several features that startups need. These include call recording and the feature to have shared numbers.
But the biggest problem with Grasshopper is that it doesn't integrate with other communication and project management apps that most small businesses and startups use. Grasshopper can't be integrated with Slack, HubSpot or Salesforce, among others. Without these integrations, it would be difficult for small businesses to seamlessly manage their communication.
Grasshopper also doesn't have clear pricing, which can discourage growing businesses. Their subscription plans seem cheaper only when compared to the traditional landlines. When compared to Grasshopper alternatives, their tariffs can seem unreasonable.
Grasshopper alternatives to consider
Chalkboard
With Chalkboard, you can get a second number in minutes. The app makes it exceptionally easy to organise your work life. With its auto-reply feature, you can create messages for calls that you might miss. Its pricing plans are also made with the needs of small businesses in mind.
What makes Chalkboard particularly useful for small businesses is that it integrates review requests. You can request online reviews through texts and be notified when customers leave reviews. Currently, you are unable to make international calls via the app, but if you are a UK-based business, it is a great alternative to Grasshopper.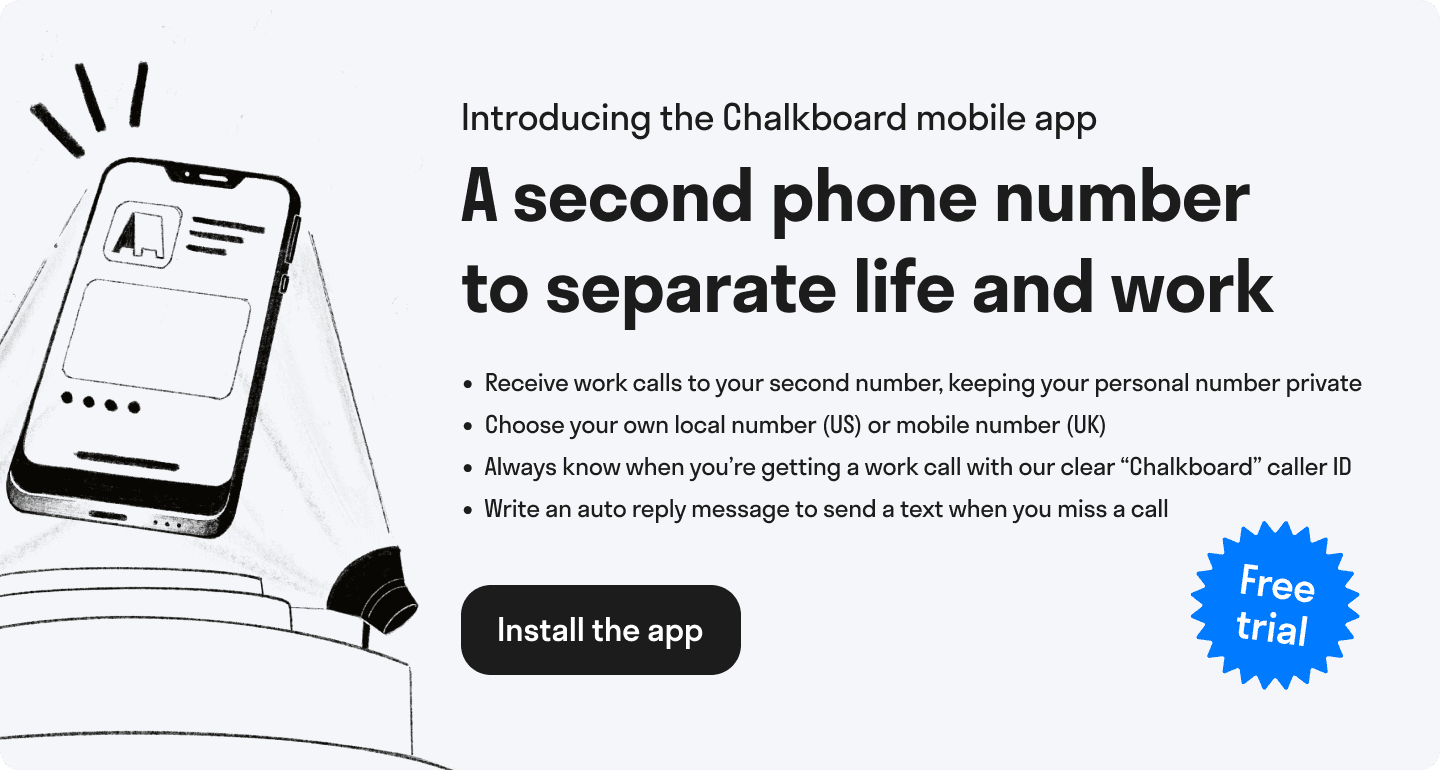 Google Voice
Small business owners and entrepreneurs looking for a free VoIP service can consider Google Voice. Its entry-level plans are much more reasonable than Grasshopper. One of the biggest advantages of opting for Google Voice is that the service seamlessly integrates with Google Workspace apps.
But the service doesn't come with any toll-free numbers – something that small businesses would want. It also doesn't offer any multi-extension support. The biggest challenge for Google Voice users is that there is no customer support for the free plan.
RingCentral
RingCentral is another popular name among Grasshopper alternatives. The service combines team messaging, SMS, calling and faxing in one platform. What makes it stand apart is that it also offers video conferencing through the second number. It also easily integrates with other apps that a small business would use.
The app is ideal for enterprises and large teams but not for smaller teams. The user interface is also a bit complicated for those who want an easy-to-use app. Finally, it's more expensive than Grasshopper.
Sideline
What makes Sideline stand out among Grasshopper alternatives is its easy-to-use interface. You can reliably use the app for business and it's quite easy to set up. It also has sound texting features. You can even send and receive texts from the desktop version of the app.
However, it iss difficult to migrate the app to a new phone. And it's also difficult to block numbers with Sideline. Looking at reviews for Sideline too, customers are also unhappy with the support they receive.
Chalkboard: The best Grasshopper alternative
If you are thinking about trying an alternative to Grasshopper, Chalkboard is a superior option. Chalkboard is an easy-to-use second-line app that comes with enhanced features for startups and small businesses.
Ready to start? Sign up for a free trial of Chalkboard today.