There are several compelling reasons to set up a second phone number for business. If you're looking for an alternative to Sideline, it's useful to compare all the virtual number apps before making a decision.
For small businesses and startups looking for a virtual number, here's everything you need to know about the best Sideline alternatives in the UK.
How does Sideline work?
If you're considering Sideline as your second phone number for business, the first thing to understand is that it's technically not a VoIP-based phone. Most people overlook this fact since Sideline is often clubbed with other VoIP-based phone numbers.
What Sideline does is provide a second number through its app, along with voicemail. Instead of using VoIP, Sideline uses your mobile phone service to make and receive calls.
The app provides basic business phone features that might interest small businesses and startups. These include group messaging, auto-reply to texts and calls, auto-attendant and international calling. The app also has contact management, MMS and simple 2-way communication.
These basic features make it a viable option for small businesses that are just starting their operations or sole traders with only a small number of clients.
What does Sideline lack?
The reason why more and more entrepreneurs are looking for the best Sideline alternatives is that the app lacks several features that startups and small businesses need. Even some of the features that the app has don't come with all the plans. For example, you can either choose an auto-attendant or get a shared number but not both.
Secondly, as your startup begins to grow and increase your customer base, you will need analytics. But Sideline doesn't offer analytics tools like other virtual number providers.
The third reason is that as your business grows, you'll have more team members. You need a phone system that will make it easy for you to communicate and coordinate. Sideline doesn't have integrations with popular third-party apps. This is bad news for project management.
The other reason why you should look at the best Sideline alternatives is that it doesn't come with call recording options or toll-free numbers. You would need toll-free numbers if you plan to offer customer support or launch campaigns with a specific number.
Sideline's users have also complained about its customer service and call reliability. There are a lot of missed calls and spam, as per several users.
Finally, the subscription plans are complicated. This might force small businesses and startups to go for a plan that may not suit their needs.
5 best Sideline alternatives
Chalkboard
If you want a first-rate virtual second phone number, Chalkboard should top your list. It's exceptionally easy to set up; simply download the app and you get your second number within minutes. Now you can protect your privacy and separate your work and personal lives.
A huge plus with this second-line app is its auto-reply feature. Now, even if you miss a call, you'll be able to set pre-determined messages and keep the conversation going.
Top feature: Review automation that sends out review requests for your business.
Pricing: Starts with a free trial, after which you can choose from the reasonably-priced subscription plans.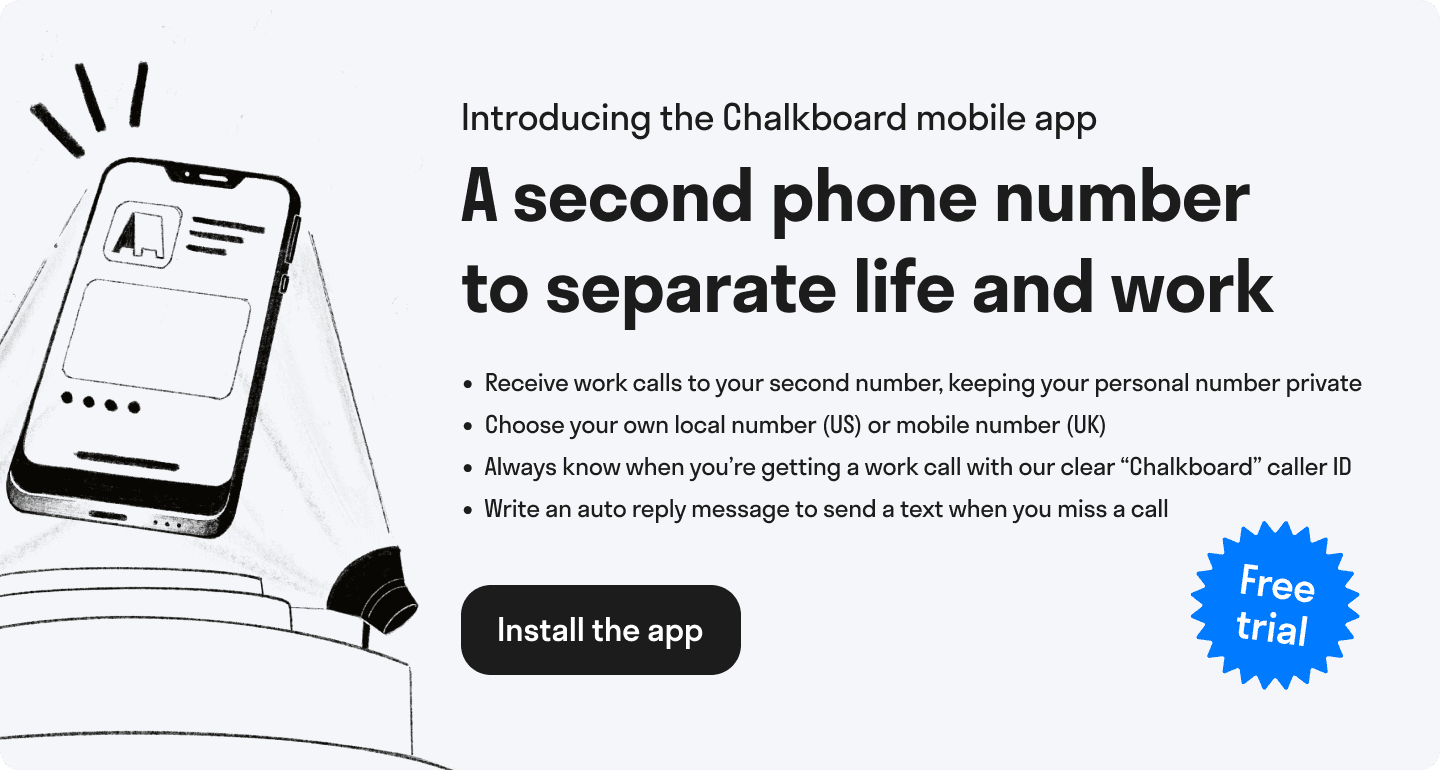 Grasshopper
Since 2003, Grasshopper has been providing VoIP services. Other than the basic features, the app can forward calls and also gives you the freedom to choose toll-free or vanity numbers. There are also missed call notifications in real-time.
But it may not be the right option for small businesses since most of the features are designed for the needs of large enterprises. The pricing plans are also expensive when compared to others.
Top feature: It can transcribe voicemails and then send them as emails.
Pricing: £19.60 per month.
Google Voice
For a free second phone number, Google Voice is a popular choice. One of the biggest advantages of the app is that it easily integrates with the other apps from Google Workspace. Its paid plans are also cheaper than Grasshopper.
But you can't get toll-free numbers or multi-extension support. There's also no customer support for the free version.
Top feature: Integration with Workspace apps.
Pricing: Free if you call landlines and mobiles in the UK.
TextNow
Among the best Sideline alternatives is TextNow, a free app that comes with ad support. You'll also have group texting, voicemail and conference calling options in the free version. But it's most suited for individuals rather than businesses.
Top feature: Comes with voicemail transcription.
Pricing: The paid plan is £7.50 per month.
Line2 Pro
Line2Pro is another popular name in second phone number apps that has IVR and voice recognition. It also comes with contact and call centre management to help you manage your business communication. You can also monitor and record your calls. There is no free trial period or free version.
Top feature: The app has video conferencing.
Pricing: The plans start at £11.00 per month.
Chalkboard: The best alternative to Sideline

In a world where remote work is getting increasingly normalised, it's important to have a business phone that can streamline communication for your business. If you're looking for a reliable Sideline alternative, consider Chalkboard.
Chalkboard is a second-line app that is built for business and is ideal for small businesses and startups.
Chalkboard gives you a second number for work, allowing you to keep your personal number private, easily recognise work calls, and get extra tools to help you stay organised and grow. With no hidden fees and no extra equipment required, you can simply install app, choose your new phone number and start using it straight away. There is no need for a second phone or SIM card.
Ready to try Chalkboard? You can start calling and texting customers today – try all of the great features for free, and then pay less than a cup of coffee per week after that. Sign up for a free trial.