Google Voice is a well-known Voice over Internet Protocol (VoIP) service. While the service has its merits, small business owners and entrepreneurs should consider a Google Voice alternative that meets their business needs.
Google Voice is a free product and like most offerings from the search engine giant, it's easy to use. That's the main reason why startups and small businesses try the service when they look for a virtual number. But it would help you to look for a Google Voice alternative that's affordable and understands your business objectives.
How does Google Voice work?
Google Voice is like other virtual numbers that allow you to make and receive phone calls and text messages over the internet. You don't need landlines or conventional phones. You can use Google Voice on any connected device including a smartphone, computer, laptop or tablet.
An email address is all it takes to use the service. Once you sign up with your email address, you can start making and receiving phone calls. The free version is popular, but it doesn't come with business-friendly features.
This also reveals an inherent problem with the platform. It's built primarily for personal communication. This makes it different from business tools from other tech giants. WhatsApp Business, for example, is a platform created specifically for small businesses.
Is Google Voice right for you?
Before answering that, let's understand why you need a second phone number for business. You need it to separate your personal and professional communication that will help you achieve a work-life balance.
Along with that, you also need a set of tools specifically designed for the needs of small businesses and entrepreneurs. While Google Voice is free and easy to use, this is where it fails and this is why you should look at a Google Voice alternative.
Why look for a Google Voice alternative?
Google Voice doesn't come with customer support for its free users. You can't get toll-free numbers either, which is something small businesses would need. Google Voice also doesn't have IVR features or auto-attendant and it's impossible to share the number with your team.
While it integrates with Google Workspace apps, there's no call recording feature for those accounts. Users have also complained about the call quality.
Google Voice could be the right option for you when you're starting your business or trying to land your first client as a freelancer. But as you grow and need more features to manage your calls and texts, you could benefit from a Google Voice alternative.
6 Google Voice alternatives
Chalkboard
Easy to install and easy to use, Chalkboard comes with enhanced features such as auto-reply, voicemail and call routing. If you're a small business or startup, this virtual number app should top your list due to its business-friendly features such as online review automation. The app can send online review requests and notify you when someone leaves a review.
Best feature: Auto-reply that acts as a lead generator for your business
Pricing: A free trial followed by reasonably-priced subscription plans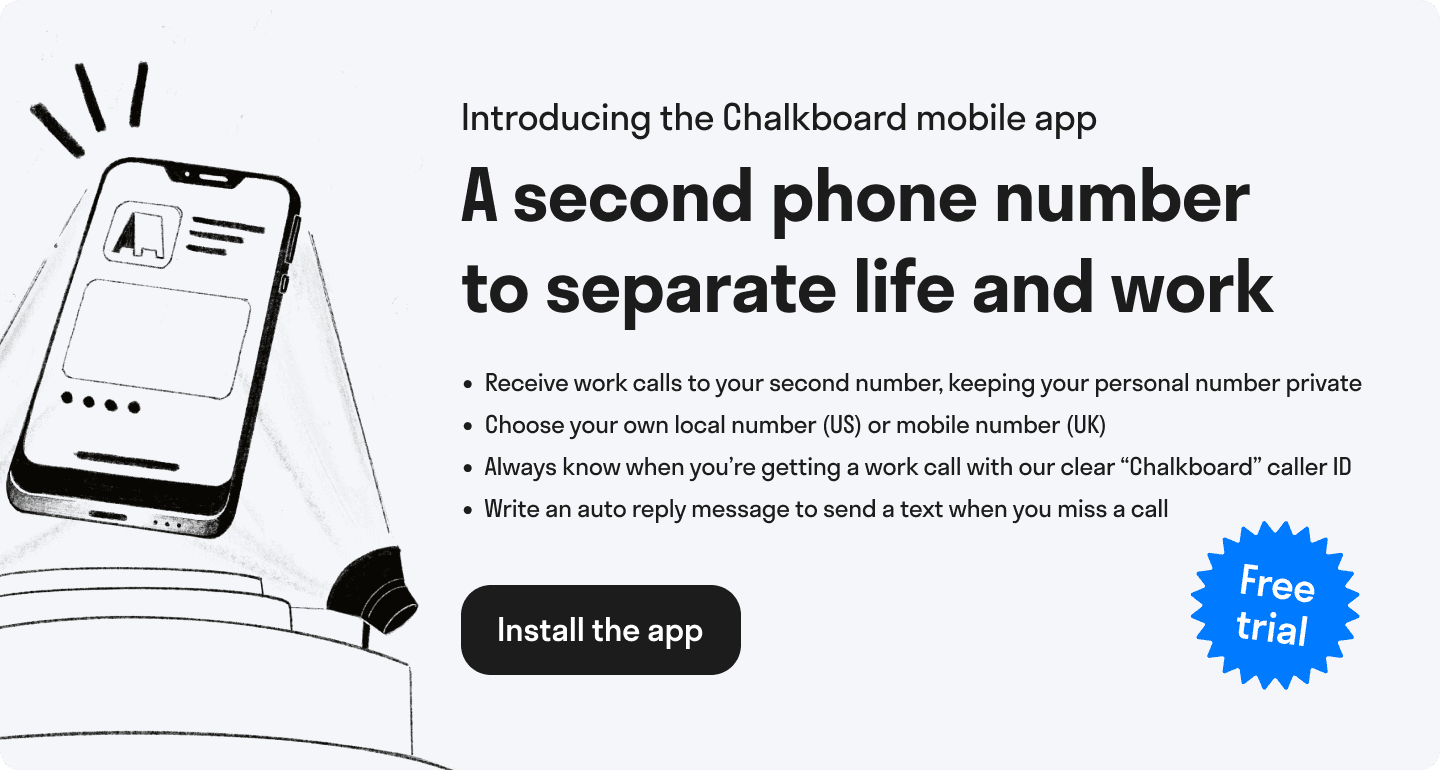 Grasshopper
One of the oldest VoIP service providers, Grasshopper alternatives has been providing virtual numbers since 2003. You can choose from vanity or toll-free numbers and have the ability to forward calls. It also notifies you of missed calls in real-time. But the app could be an expensive proposition for small businesses, since it's designed for larger enterprises.
Best feature: Grasshopper transcribes voicemails and sends them as emails
Pricing: £19.60 per month
Sideline
If you want to streamline your personal and professional communication, you should also look at Sideline app alternatives. The app delivers call recording, routing, logging and monitoring among other services. There's also a telemarketing management feature for small businesses.
Best feature: The app has excellent texting tools
Pricing: £7.50 per month
SmartLine
Another Google Voice alternative, SmartLine is targeted at businesses that want the basic features of a virtual number. You'll get caller ID, call transfer, caller profiles, call monitoring, routing, logging and management features.
Best feature: It comes with live chat
Pricing: £7.50 per month
Line2 Pro
Line2Pro is designed for both individuals and small businesses to separate their work and personal lives. The VoIP service comes with IVR and voice recognition along with contact and call centre management. You can also record and monitor your calls. But the app doesn't have a free version or free trial period.
Best feature: It has video conferencing
Pricing: Starts at £11.00 per month
TextNow
The ad-supported version of TextNow allows for free calling. You also get additional features like conference calling, group texting, and voicemail even in the free version.
Best feature: It has voicemail transcription
Pricing: The premium version is £7.50 per month
Chalkboard: The best business alternative to Google Voice
Chalkboard isn't just a virtual number. It's a communication and marketing tool designed for small businesses. When you're looking for a Google Voice alternative, what you should seek is a virtual number that acts as a member of your team to streamline and expand your business.
With Chalkboard, you can keep conversations going through auto-reply even when you miss calls. With the online review feature, you can automate review requests that will help build your online reputation. All these enhanced features and the affordable pricing make Chalkboard the best Google voice alternative.
Never miss a business opportunity again – sign up for a free trial with Chalkboard. You will be up and running within minutes!