Most small business owners and startup teams are aware of the need for a second phone number dedicated exclusively to work. If TextFree is on your mind, it would be a good idea to expand your search to find TextFree alternatives among the most reliable second phone number apps.
But before knowing more about the best TextFree alternatives out there, let's first understand which features this app can offer your business.
TextFree
A US-based second phone number app, TextFree lets you pick a phone number with an area code. It's easy to install and functions like any other virtual number app. It allows you to make calls and send texts for free. Importantly, you can send these texts and calls to any number.
The popularity of TextFree is primarily because the service is free. For ordinary users looking for free messaging, calls and MMS, this could be an effective option. The ability to pick a custom phone number with a preferred area code also makes it attractive.
Individual users like the fact that they can send videos, photos, emojis and group messages from any of the connected devices. TextFree also allows you to set up voicemail and customise it.
Why you should look at TextFree alternatives
The biggest issue with TextFree is that it's available only in the US. If you're a small business owner or startup founder based in the UK or elsewhere, it won't work for you.
While the app makes sense for users whose primary concern is affordability, it isn't suited for business use. The free plan is ad-supported and may not suit users looking for a second phone number for professional communication.
If you want to avoid watching ads, you'll have to buy minutes – similar to if you had a prepaid phone. This can be cumbersome for professional users. TextFree also doesn't come with other business-friendly features such as auto-reply.
5 best TextFree alternatives
Considering the limitations of the app, you should look at these TextFree alternatives to select a second phone number that suits your business needs.
Chalkboard
If you manage a business, you need a second phone number app built exclusively for businesses. Chalkboard has been designed to meet the specific needs of business owners and startup teams. It has everything you would need and expect from a virtual phone number and much more.
It's easy to download and set up. Once connected, you'll be able to make and receive calls and texts. With Chalkboard, you don't have to worry about missed calls and thanks to the auto-reply function, the callers will get your pre-written messages. This will also help you achieve that much-desired work-life balance.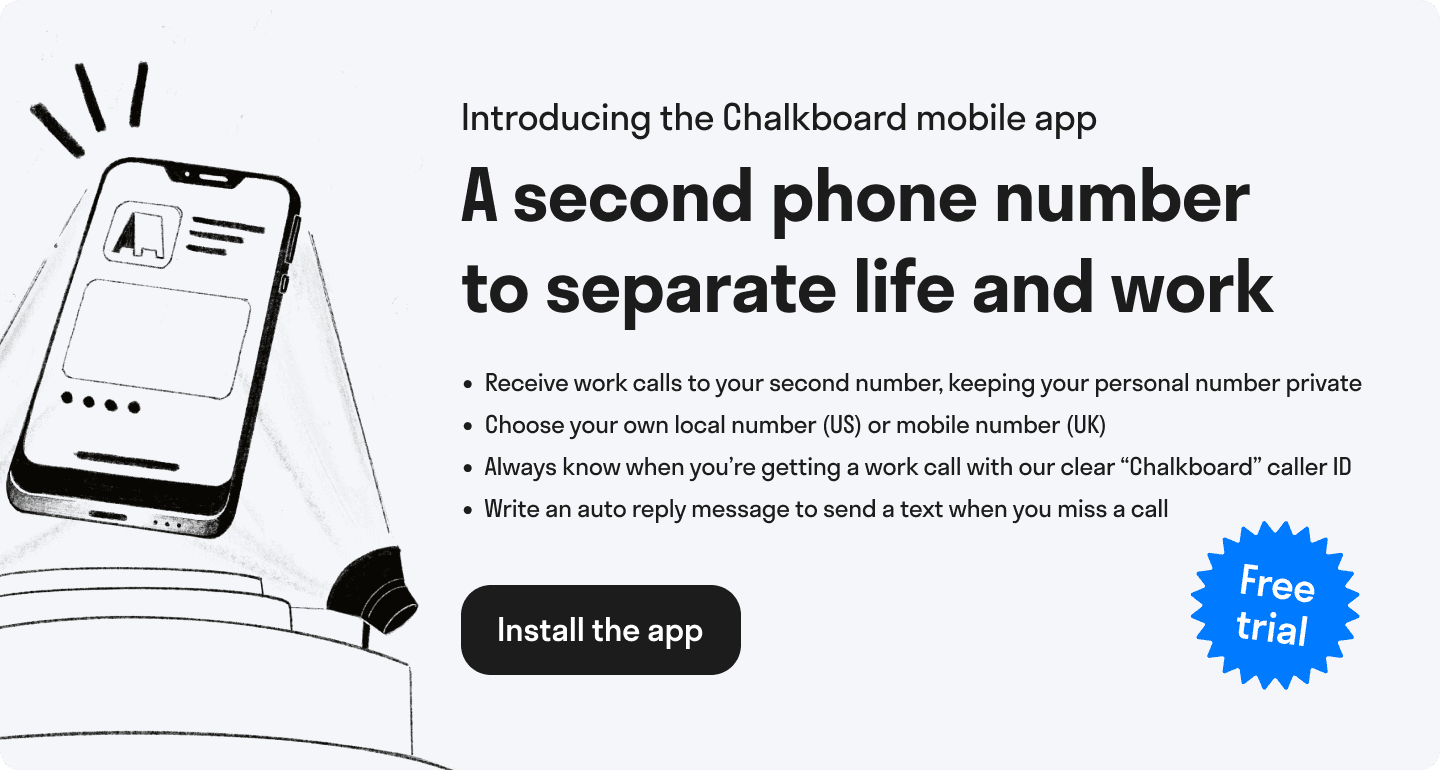 Google Voice
With Google Voice, you can make and receive phone calls over the internet and get voicemail and call forwarding. What makes it extremely popular is the fact that it's free and lets you port your number. But the free version of the app doesn't allow for seamless integration with Google Workspace apps.
There's also no auto-attendant feature or a functional IVR. For businesses with international clients and customers, the fact that Google Voice is not present everywhere could be a dampener.
Grasshopper
Being one of the earliest players in the virtual phone number market, Grasshopper is a popular option. The app allows you to select a phone number and customise your greetings. With Grasshopper, you can direct incoming calls to other connected devices. This makes it ideal for remote teams.
But the app is designed for medium-sized enterprises. The pricing is not suited for small businesses, freelancers or sole contractors.
Burner
This is the app to go for when your only objective is to protect your personal phone number. Burner lets you create and delete several virtual numbers within the same app. As an individual user, this will be handy when submitting online forms or sharing numbers with digital platforms.
But the app doesn't have value-added features that businesses would want. Routinely changing your number can also confuse your business contacts and customers.
Line2
Focusing on smaller teams, Line2 offers a reliable virtual number. It's easy to set up and comes with a fairly easy-to-use interface. You can also set up voicemail and call greetings. For those looking for a virtual number with basic features, Line2 is a viable TextFree alternative.
The app, however, doesn't support third-party integrations or video conferencing.
Chalkboard: The best alternative to Textfree
Among those TextFree alternatives, the smarter choice for professionals is Chalkboard. Other than its business-friendly features, what makes Chalkboard especially compelling for small businesses is its review aggregation. The app will automatically request your contacts to leave online reviews, which will immensely help build your reputation. It will also notify you once they review you, which will help you manage your online reviews.
Users of Chalkboard know that it's not just a communication app but also a marketing tool. The fact that the app has a free trial and affordable subscription plans is the icing on the cake. So, if you're a small business owner or startup founder, try Chalkboard's free trial today and discover the dual advantages of a virtual phone number and automated marketing.