A second phone number has several advantages and it's common for people to compare two popular names like TextNow and Burner. But it would also be wise to look at TextNow and Burner alternatives before making a decision.
While there are some excellent second phone number apps to choose from, two of the most commonly discussed are TextNow and Burner. If you're considering any of these, here's a detailed comparison along with the best of the alternatives to help you make the right choice for your business.
What is TextNow?
Small business owners and startup founders are increasingly opting for virtual numbers to supplement their private numbers and TextNow is one of the popular options. Rolled out in 2009, it uses Voice over Internet Protocol (VoIP) to enable you to make calls and send texts over the internet.
It uses cellular networks to provide you with a virtual number. Started for general users, the service also lets you prioritise Wi-Fi over your company's cellular plan whenever feasible. You can take calls and receive texts from any of your connected devices. When such features were made available to the public, they were revolutionary because customers could use any of their connected devices as a phone.
To get started, all you've got to do is download the app. The app offers a selection of numbers and can be used on both Android and iOS devices. The cloud-based second phone number for work will be ready for use in a few minutes. If the primary purpose of a second phone number for you is to communicate with your friends and family, TextNow is a viable option for you.
Pros of TextNow
Free calls and texts: TextNow is free to use if you want to make calls and send texts.
Multi-device functionality: You can use any of your connected devices as your phone.
Voicemail transcription: It can transcribe your business's voicemails.
Conference call: In the world of remote work, the app's conference calling is an advantage.
Cons of TextNow
Ad-supported: Although there's a free version, there will be ads in between, which may irritate business users.
Not business-oriented: Doesn't come with features that you would expect from a second phone number for business, like auto-responder.
TextNow pricing
The basic version is free but comes with ads. TextNow regularly changes its pricing plans, so it's worth double checking before using, as costs can quickly stack up. At time of writing, TextNow was offering these charges for these countries:

China: from 12 ¢ per minute
India: from 1 ¢ per minute
United Kingdom: from 0.3 ¢ per minute
TextNow: best features
TextNow is popular because it allows you to make free calls and texts to anywhere in the US and Canada. It's the only app with a free nationwide service. But it does come with ad support. While this often isn't an issue for individual, personal users, it could become frustrating for those wishing to use the service for business purposes.

What is Burner?
As the name suggests, Burner gives you disposable phone numbers that you can use to make calls and send texts. The fact that you can communicate without revealing your number is a major bonus point for those who want to protect their privacy.
Burner allows you to get as many numbers as you want. You can use them to send and receive texts and MMS. Once the need is over, you can dispose of your number. The app has become popular because there are several instances where you might need to share your phone number.
For example, if you're installing an app that needs your phone number or listing a product on Craigslist or any other marketplace, sharing your personal number could be risky. Burner is the solution for such short-term needs. It's also beneficial if you're submitting an online form or if you don't want to reveal your private number even while conducting official business.
Pros of Burner
Free trial: There's a free trial period once you download the app.
Multiple numbers: You can choose as many numbers as you would need for specific occasions.
Privacy: Discarded numbers can't be reused. This protects users' privacy.
Auto-reply: You can set messages for calls that you might miss.
Cons of Burner
Limited features: Since the focus is on disposable phone numbers, there aren't many business-friendly features.
Needless confusion: Having several numbers for short-term use may create confusion among team members, business associates and customers.
While Burner does allow you to protect your personal number, it is not set up for business use. If you're a small business owner, startup team member, freelancer or gig worker, you should be looking for an app that has been built specifically for your business needs.
Burner pricing
At the time of writing, after the free trial, all Burner subscriptions start at $4.99. This includes unlimited calls, texts and photos, auto-renewing lines and one swap per line per month.
Chalkboard: A smarter Textnow and Burner alternative
If you manage a small business or startup and are looking for a second phone number for work, Chalkboard is a credible, feature-rich alternative to Textnow and Burner.
The main reason why small business owners should consider Chalkboard as their virtual number app is because it has been designed for the needs of small businesses. Here are five reasons why you should consider Chalkboard for your business.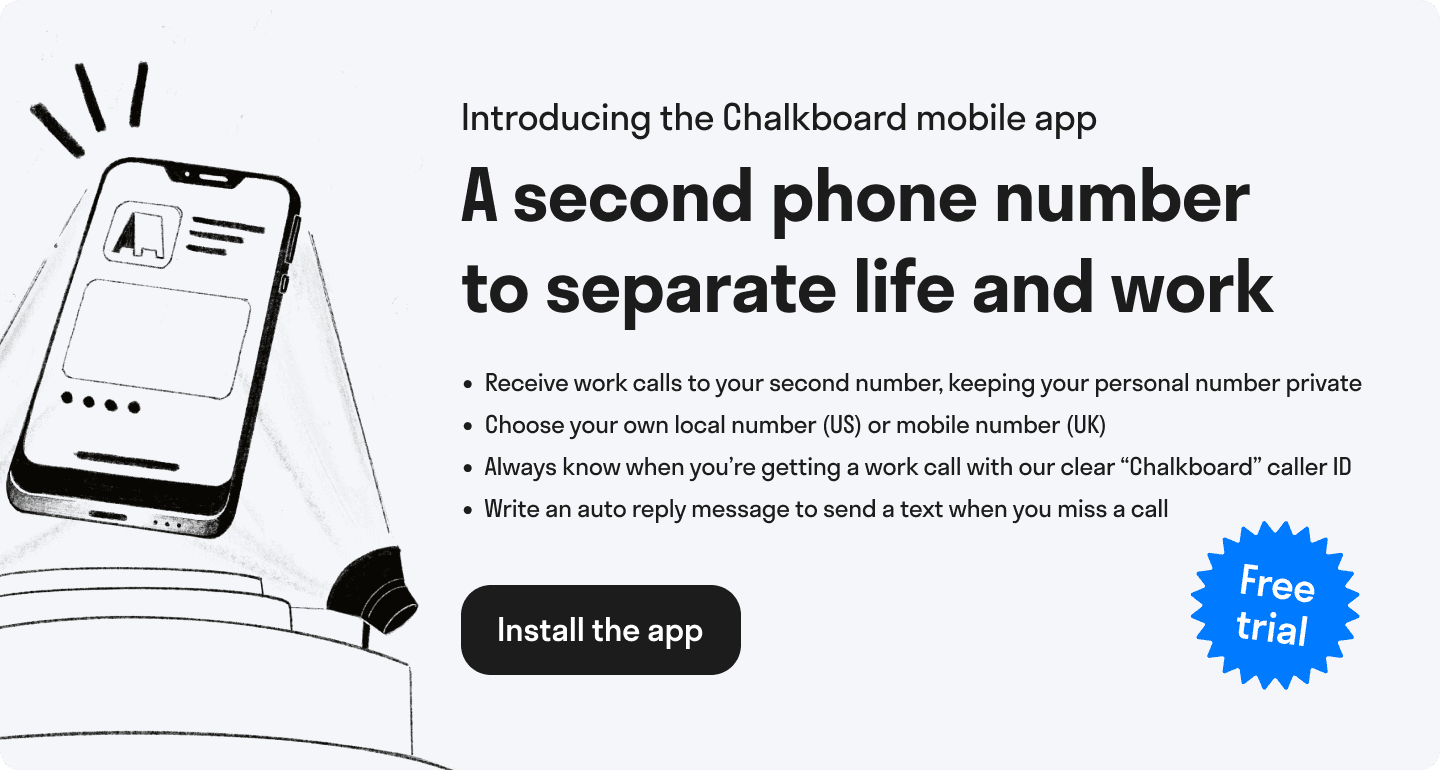 Five reasons to consider Chalkboard
No additional device needed: Since it works over the internet, you don't have to buy a separate phone.
Easy to use: Once you download the app, you'll be able to take calls and receive and send messages from any connected device.
Auto-reply: Missed a call? With auto-reply, the caller will get your pre-written message.
Review aggregation: A unique feature of Chalkboard is that it will send review requests to your contacts. This will help build your business's online reputation.
Broadcasting: Another business-friendly feature that lets you broadcast messages to everyone in your categorised contact list.
Download Chalkboard to get a second phone number
Chalkboard is a communication and marketing tool for your business. Along with sending and receiving calls with highly affordable subscription plans, you will also be building your brand awareness online. Along with review aggregation, you'll also be able to manage your reviews through the app.
That's why small businesses and startups should download Chalkboard to optimise their communication and customer outreach.