Each step of technological evolution brings new ideas, products and habits. Cell phones have been one of the greatest technological innovations of our time. And like all products, it too is being replaced by a better system. If you're looking for a second cell number, this means that VoIP is a better bet.
Curiously, even with the advent of better and demonstrably more effective systems, the old ones remain. In several cases, there's a fundamental reluctance to let go (this explains why some offices still have fax machines). The usage of mobile phones for calls and messages is entering this phase. VoIP is becoming the most viable option whether it's being used as someone's first or second cell number.
The difference between VoIP and cell phone calls
How cell phones work: In an ordinary cell phone call, sound travels in the form of analogue signals. Mobile phones communicate with each other through coverage cells that correspond to geographical areas (this is why they're called cell phones).
When you call someone using a cell phone, the data gets transferred from one cell to another until it reaches the recipient. Whenever the signal is weak or it shows that there's no signal, it typically means that you're in a weak spot in the cell coverage area or outside of it.
How VoIP works: A VoIP service works differently. It transforms data from audio to digital packet files. It then sends those digital packets over the internet. Since it works over an internet connection, you can make and receive calls from any device that's connected to the internet.
VoIP and virtual number apps have been gaining popularity all over the world because of internet access. With even rural areas getting stable broadband connections, anyone can use a VoIP service to make and receive calls and send messages.
The difference in utility: So, what's the other big difference between the two? In one word: functionality. Cell phones are primarily designed to let individuals communicate with each other. While you can send SMS and MMS, the primary objective is simplified communication.
VoIP is for enhanced communication between individuals or groups. The ability to make and receive calls is only one of the functions of a VoIP service. That's the primary reason why businesses are increasingly adopting it. With VoIP, you get several value-added features that a cell phone can't deliver.
Some of you might say that you can also use your cell phones to connect to social media networks, chat on messaging platforms, and do everything from banking to shopping. Yes, you can but almost all those services are better run through the internet. Importantly, even after you move to VoIP, you'll be able to use all those services.
Why you should switch to VoIP
Why are more and more people interested in getting a virtual number? As small businesses, freelancers, gig workers and independent creatives have found out, VoIP and virtual numbers offer significant advantages:
Accessibility: VoIP works wherever you have an internet connection and these days, that's everywhere. If you can access the internet from your phone through Wi-Fi or hotspot, you can easily use VoIP.
No initial investment: You don't have to spend hundreds of pounds to buy a smartphone. A VoIP or virtual number can work on any connected device.
Low recurring expenses: Other than the initial savings, you will also save considerably on monthly fees. Chalkboard, for example, offers highly affordable subscription plans.
Remote-friendly: With virtual apps, you can route calls to specific individuals. This makes it the ideal system for remote work.
Easily scalable: If you want to add more cell phone connections to your team, you'll have to buy more devices and SIM. But VoIP is highly scalable. You can easily add numbers or users without buying extra hardware.
What to consider when buying a VoIP service
If you're looking at VoIP services or top virtual number apps, the main criteria should be whether it suits your business needs.
Secondly, compare their prices with others and you'll know have a better idea of what is reasonably priced. Ensure that they have call routing and other enhanced features with their entry-level plans.
You should also check user reviews online. These will reveal the dependability of the service, customer support, ease of entry and exit etc. It's always worth trying a provider who offers you a free trial.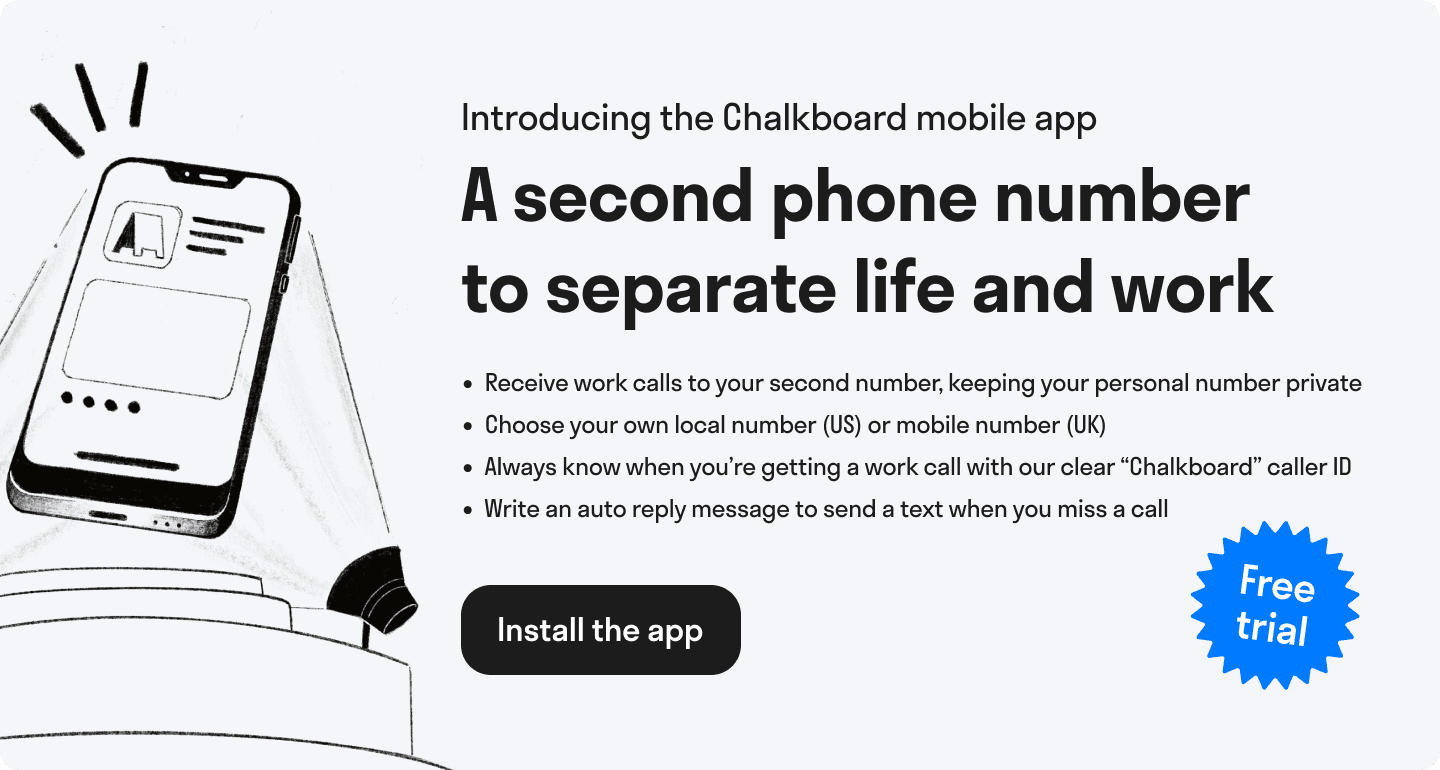 Try Chalkboard's free trial
Chalkboard isn't just a second number for work; it offers an enhanced business communication and marketing tool. You get auto-reply, organised lists, group broadcasts, review aggregation and management and a host of other features.
Download Chalkboard today and discover how it can accelerate your business growth. 📈