The best way to compare phone app alternatives is by understanding how they would serve your specific purpose. What might work for an individual user looking to connect with friends or a freelancer with a couple of clients won't suit a growing small business or startup.
To make it easy for you, here's a comparison of these phone app alternatives from the user's perspective.
Line2 and Google Voice – What do these phone apps offer customers?
Before we get to a comparison of Chalkboard and Google Voice, let's first understand Line2 and who the app is designed for.
What is Line2?
Line2 is a virtual number that allows you to talk and send texts across all connected devices. Once you sign up, you'll get a second phone number that you can use exclusively for work-related calls and communication.
You can choose from local or toll-free numbers and even port your number from other providers.
Who is Line2 for?
The app is primarily for freelancers or businesses with just one or two people. In other words, it's for those who don't expect any additional features but would be content with calls and messaging. While the service does have auto-attendant, the biggest problem with it is in scaling.
Why should you look beyond Line2?
Line2 doesn't have much room for system scalability or user extensions. These are crucial for growing businesses. This doesn't concern freelancers because they wouldn't expect their phone usage to scale.
What is Google Voice?
Google Voice is the second phone number service from the search giant that was launched in 2009. While Line2 is made with the use of limited business needs in mind, Google Voice was made for practically all Google users.
You could say that Google was looking at the success of second phone number providers and wanted to offer an app that could convert its large number of users.
Is Google Voice for you?
If you're an individual user, you might consider the service. It will let you connect with your friends and family and allows you to make and receive phone calls over internet connection.
You can also get a voicemail and use call forwarding features. It even allows you to port your existing number.
Why should you look beyond Google Voice?
Google Voice doesn't have a universal presence. If your business has overseas clients or customers, this could be a problem. Importantly, it doesn't come with auto-attendant or IVR.
Business users will find it disappointing that the free version of the app doesn't integrate with Google Workspace apps. Customer support is a big issue with Google Voice. You'll have to turn to online forums in case you run into problems.
Line2 vs. Google Voice: Pricing
Line2's plans start at £12 per month. One of the biggest draws of Google Voice is that the basic service is free as long as you only call mobile phones and landlines within the country. But you would need to opt for the paid service to make international calls and get value-added features.
Why Chalkboard is a better phone app alternative to Line2 and GV
If you're looking for a second phone dedicated to work-related calls and messages, you need Chalkboard, a virtual number built for businesses. Here are six reasons why all small business owners and startup teams should consider Chalkboard as their phone app alternative to Line2 and Google Voice:

Auto-reply: You don't have to worry if you miss a call. Chalkboard will send a pre-written auto-reply message to the caller. Now, your virtual number will also become a lead generator for your business.

Review automation: What differentiates Chalkboard from Line2 and Google Voice is the automation of review requests. The app will send requests to your customers and clients, requesting them to leave online reviews.

Review notification: Chalkboard will notify you when your contacts leave an online review. This will make it easy for you to manage your online reviews.

Affordable plans: It's one of the most affordable second phone number apps in the market. You can start with a trial period and once you opt for a subscription plan, you won't have to pay for calls or texts.

Ease of set-up: Download the app and you can start using your virtual number in a matter of minutes.

No contracts: You can cancel your subscription at any time. There are no lengthy contracts or tedious forms to fill out.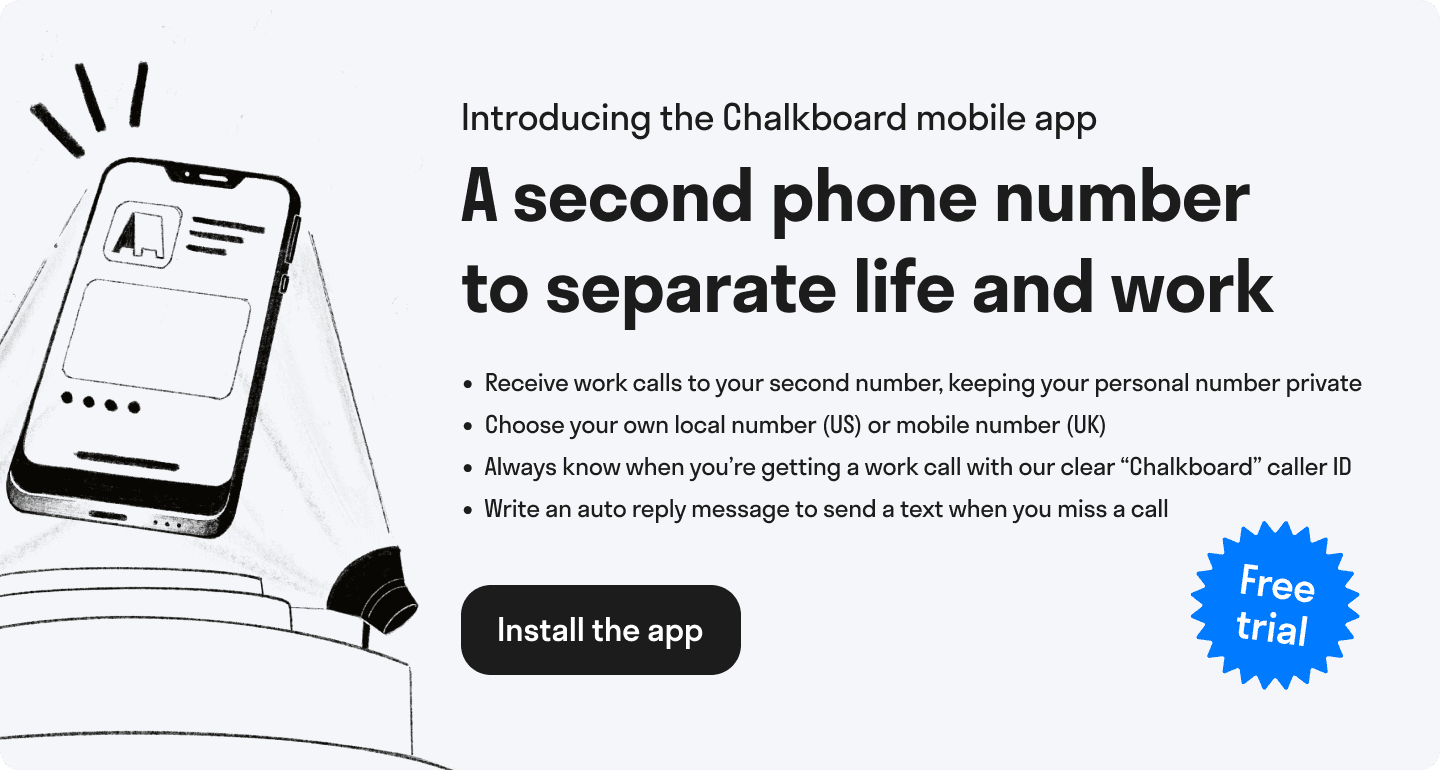 Chalkboard vs. Line2 vs. Google Voice - The clear winner

When it comes to what really matters in a second line phone app – features, pricing and ease of use – Chalkboard is a superior alternative to both Line2 and Google Voice. It's a second phone number that's designed to meet the real-life needs of business users and it constantly learns from customers.
That user-first approach is why more and more small businesses and startups are turning to the app for their communication and marketing needs.
Sign up for Chalkboard's free trial today and experience the difference a business-friendly virtual number can make.