Business owners and entrepreneurs are increasingly moving away from traditional landlines and mobile phones to look at smarter alternatives. This leads them to consider VoIP (Voice over Internet Protocol) for business. But before you decide to get one, it's helpful to look at VoIP alternatives.
As the name suggests, VoIP enables connectivity over the internet. With a stable internet connection, you can make phone calls to other devices that are connected and use the same VoIP service. While VoIP for business has its advantages and disadvantages, the main question should be whether it suits your business needs.
What are the most popular VoIP providers?
VoIP services have gained greater popularity over the last decade. Many adopters were users looking for landline or mobile phone alternatives. At the time, calls over the internet were a relatively new thing and customers were interested in what the services had to offer.
Some of the most popular VoIP service providers are Grasshopper, RingCentral, Nextiva, Dialpad, GoToConnect and AT&T Business. If you look at the names, you'll see that some are from established names in the tech industry and some are independent operators.
Finding the right VoIP alternative for your business
If VoIP is demonstrably more advanced than legacy phone systems, why should you be looking for VoIP alternatives? Since it's clear that those who shift to VoIP for business save money on devices, monthly charges, infrastructure, added features and have greater mobility, why should businesses be interested in alternatives to VoIP?
Because even with all the benefits, VoIP does have certain inherent disadvantages and risks. The most important one relates to connectivity. For VoIP for business to work, you need an uninterrupted internet connection. But if your work takes you outside, if you have to travel for work or if your residence or business has a patchy internet connection, your VoIP calls will be interrupted.
Secondly, if you plan to use VoIP for business, you should know that there are certain security risks associated with the service. This is why businesses are now looking at VoIP alternatives.
The best VoIP alternatives
Here are four of the top VoIP alternatives that you can choose for your business.
Chalkboard
Chalkboard is made for small businesses and startups with the knowledge that one can't always rely on internet connections. The service uses cellular services for all calls and since mobile network coverage has now reached pretty much everywhere, you'll be assured of superior call quality.
By giving you a second line for work, Chalkboard makes your business seem professional and helps you achieve a work-life balance. Compared to Grasshopper or other virtual numbers, Chalkboard has a set of features designed to grow your business.

Group broadcasts: Type out a message and send it to all your customers in one go

Auto-reply: Send pre-written messages when you can't attend calls

Contact organisation: Organise your professional contacts and their communication


Business chat: Text your customers while protecting your private number
All these features plus its affordable rates make Chalkboard an excellent VoIP alternative and a marketing tool for small businesses and startups.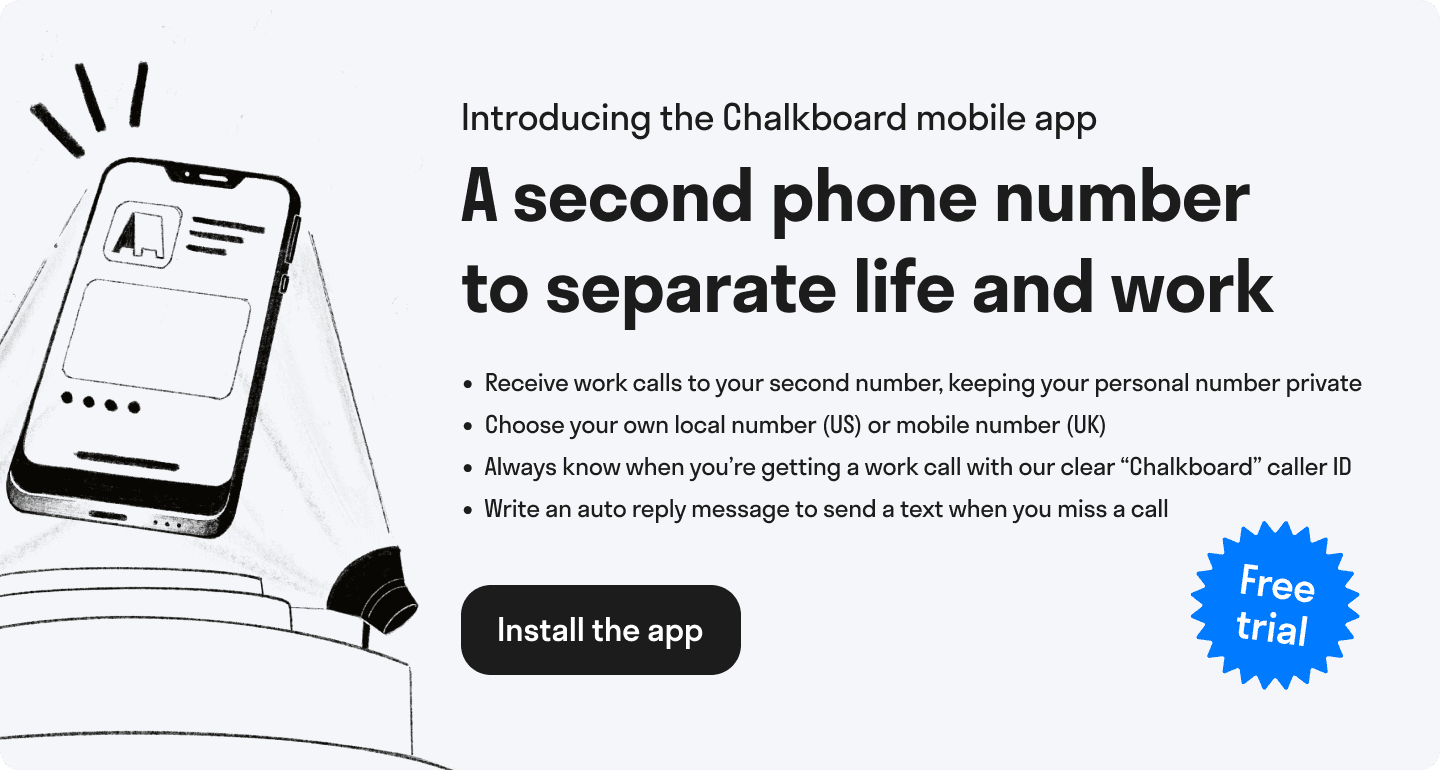 Google Voice
Everyone has heard of Google Voice because of the company it's from. Among VoIP alternatives, the service is notable because of its ease of use. That is if your business uses other apps from Google Workspace. In that case, you can easily integrate Google Voice with Hangouts, Google Calendar and Gmail, among other services.
This VoIP alternative also offers voicemail transcription and auto-attendant. But Google Voice doesn't offer reliable customer support and options for customisation.
WhatsApp
WhatsApp Business is touted as an app designed specifically for small businesses. But it would be more accurate to call it a messaging platform with certain business tools. The biggest advantage of the service is that it's easy to use since most people are comfortable with WhatsApp.
You can use automated messages and quick replies for frequently asked questions about your business. You can also share videos, images and GIFs. But getting started takes time and the service doesn't let you send promotional messages.
Skype
One of the earliest names in internet calling, Skype became Skype for Business Online after being acquired by Microsoft. You can make audio and video calls with Skype through any connected device. The service also offers instant messaging and allows you to share files and your screen.
If your team relies on Microsoft for everything, then Skype is a good choice. But it doesn't come with auto-attendant, voice answering, call forwarding or call routing features.
In short
Chalkboard is the clear frontrunner for those looking for a VoIP provider, as it's a virtual calling app plus an automated marketing tool.
Download it today and start your free trial. It has everything you need from a VoIP service and much more. 📲