While looking for the best second phone number apps, two of the most popular options you might come across are Chalkboard and TextFree.
Since the service sounds free, you might be tempted to go with TextFree. But is it the right one for your business needs, or should you look at the TextFree alternatives?
Chalkboard and TextFree: Which one is for you?
As those looking for TextFree alternatives will tell you, the target customer for the apps is very different.
You should use Chalkboard if you're looking for a second phone number for business communication. The app is designed for small business owners, entrepreneurs, startup teams, freelancers and gig workers.
You should use TextFree if you need a free phone number to only talk to friends and family. You don't require any business tools but would like to share videos, emojis, photos and use group messaging.
Chalkboard vs. Textfree: Which is the better fit for business needs?
Markets: Both Chalkboard and TextFree are second phone number apps that let you make and receive calls and texts from any connected device. TextFree is primarily for US customers, while Chalkboard is targeted at both the US and UK markets.
Setting it up: TextFree allows you to choose a phone number that comes with an area code. The biggest attraction of the app is that it's free. You can send texts and make calls without paying any fee. The users of the app can send these texts and calls to any mobile or virtual number.
When you download Chalkboard, you can choose between a US local number or a UK mobile number. The app can be effectively used as your second number for work. All the tools are available are for business use, aimed at optimising work-related communication, improving customer engagement and building brand reputation.
Features: TextFree gives you free messaging and calls and comes with free MMS. You can also set up a customised voicemail. As its features show, business users are not its primary target. The app is made for individual users who want to share images, photos, videos and emojis-driven messages with their friends.
Chalkboard comes with a suite of business tools that will help you streamline your communication. You get auto-reply, which will send pre-written messages to those calls you might miss. This is how you turn your second phone line app into a lead generator.
You can also organise your contacts and broadcast messages to them. How is this useful? Got a new product, service or offer? Save time, effort and money by messaging all your contacts in one step.
When you download Chalkboard, you also get a marketing tool for your business. It automatically sends review requests to your contacts, encouraging them to review you on Google and Facebook. Once they leave a review, the app will notify you, making it easy to respond quickly.
Pricing: TextFree is free, which explains its popularity. The app is ad-supported and if you want to remove those ads, you'll have to purchase minutes, the same way you would with a prepaid phone. This can be needlessly complex for business users.
Chalkboard comes with a free trial that enables you to explore all the app's features without entering into any lengthy contract. After that, you can choose an affordable subscription plan to suit your needs.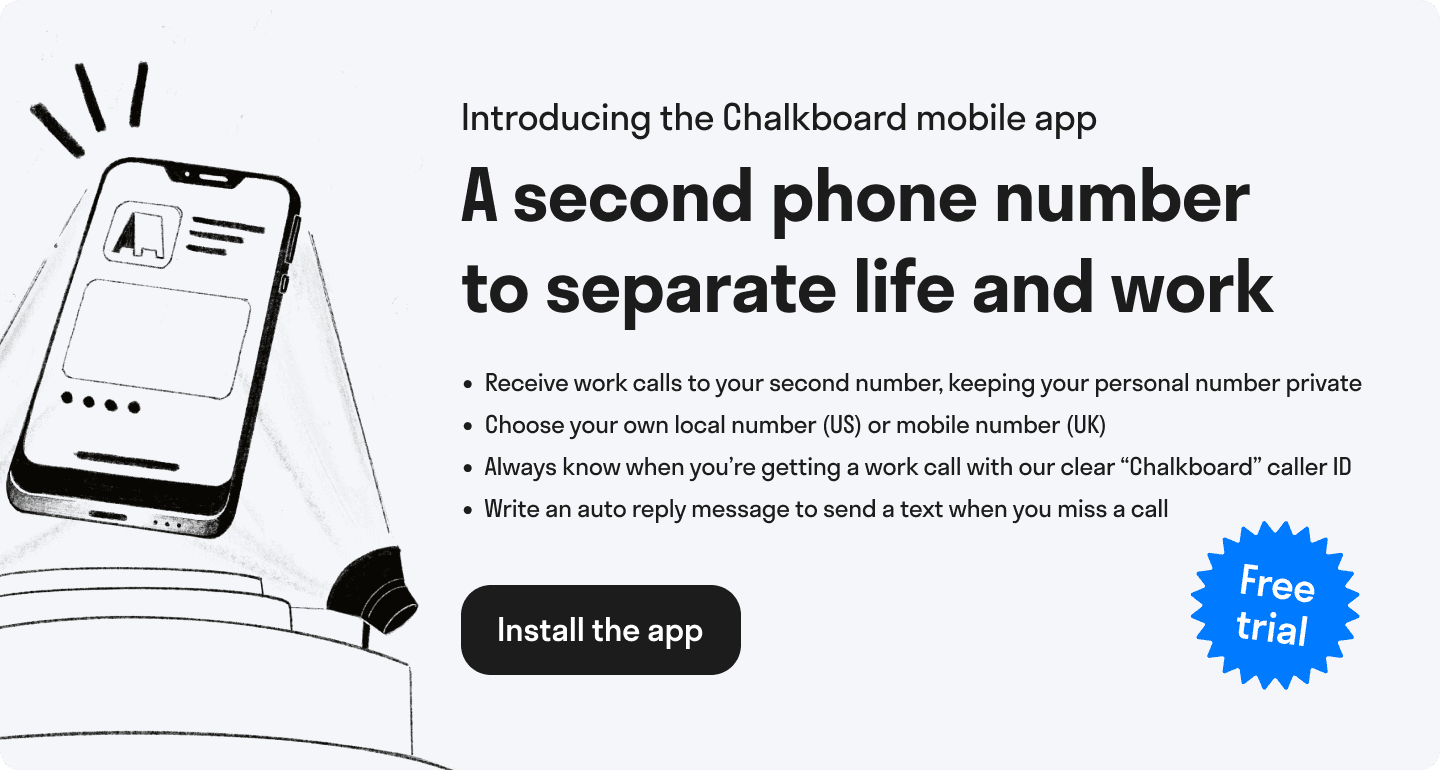 Chalkboard: The ideal business app alternative to Textfree
Among all the top-rated second phone line apps, Chalkboard is distinct because it's built for business growth. If you're looking for TextFree alternatives, here's why Chalkboard should top the list:
It's affordable: It comes with a free trial for you to discover and test its business tools. The subscription plans are affordable and designed with the budget sensitivity of small businesses in mind.
It's a lead generator: You could be with your friends or family or binge-watching a series on the weekend. But with auto-reply, your phone will engage with your callers and let them know why you can't take the call and when they can hear from you.
It's a marketing tool: Chalkboard builds your online reputation by automatically requesting your customers for reviews on Google and Facebook. When your contacts leave reviews, the app will notify you. This enables you to respond immediately, which will help you build your business's brand equity.
Make the switch to Chalkboard today

Whether you're comparing Textnow, Burner or other TextFree alternatives, you'll notice that all of them are designed for either individual users or medium and large-sized enterprises.
Chalkboard is unique because it's created for smaller businesses and freelancers. It combines everything you would expect from a superior second phone line app and gives you additional marketing tools.
As an entrepreneur, small business owner or freelancer, what you need is a phone that's made for you and works for you. Download Chalkboard today and take advantage of all the benefits of a second phone line app – plus marketing tools to help grow your business.