If you've decided that a second phone number for work is necessary, you have several options to choose from, including Line2 and Burner. But if it's business use, you should look beyond those and consider the second line phone app from Chalkboard.
Each second phone number app is designed with a particular customer base in mind. So, while Line2 and Burner are popular options, the question is which one would better suit your requirements.
Which second phone number app is right for you?
The second phone number app you choose should work for your business needs. Choose:
Chalkboard if you want a second phone number for business purposes. If you are a small business owner, startup founder, freelancer, independent creative or gig worker, you'll immensely benefit from its business tools.
Line2 if you want a basic second phone number app for professional use. You're not looking at enhanced business tools or integrations and would be happy with a reliable VoIP number. You manage a small team and currently don't require business-friendly features.
Burner if your primary concern is protecting your privacy. You're wary of sharing your number with strangers and don't want to use the same number for long. You could be going on a blind date or listing something online. Or you're in sales and have to make several calls to strangers in a day.
Looking for a more detailed comparison of the three? Let's start with Line2 and Burner.

Line2: Everything you need to know
Line2 offers all the basic features you would expect from a VoIP (Voice over Internet Protocol) service. The app is aimed at small businesses that are looking for a second phone number without any business tools or integrations. Line2 is easy to use and works on all connected devices.
Its objective seems to be to deliver a simple and affordable service for users. You can set a professional call greeting for callers and the app has call screening, allowing you to answer incoming calls with a message and then request the caller to state their name. This will help you decide whether you should take the call or let it go to voicemail. The app also comes with call forwarding, hold music and caller ID.
For small businesses, startups or freelancers looking to generate leads and want their phones to work as a marketing tool, Line2 will be an inadequate solution. The app lacks everything from auto-reply to contact organisation. Users have also complained about portability.
The basic version of the app starts at $14.99 or £10.96. But you won't get auto-attendant or call scheduler with this plan.
Burner: Everything you need to know
Do you have to call several potential leads a day? If so, you may not want to share your personal number will all these individuals. Maybe you're going on a blind date and don't want to give out your number. Or maybe you're trying to sell something online, or filling out a form and want to protect your number.
What you want is a second phone number that you can use for a while and then get rid of – in these instances, Burner is your answer.
The app has a simple proposition: privacy. You can get multiple numbers that you can use to protect your personal number. Once you use a temporary number, you can get rid of it and get another one.
Burner does come with auto-reply but doesn't have any other business-friendly features. The app has a free trial that allows you to send text messages. After that, you will have to buy the premium plan.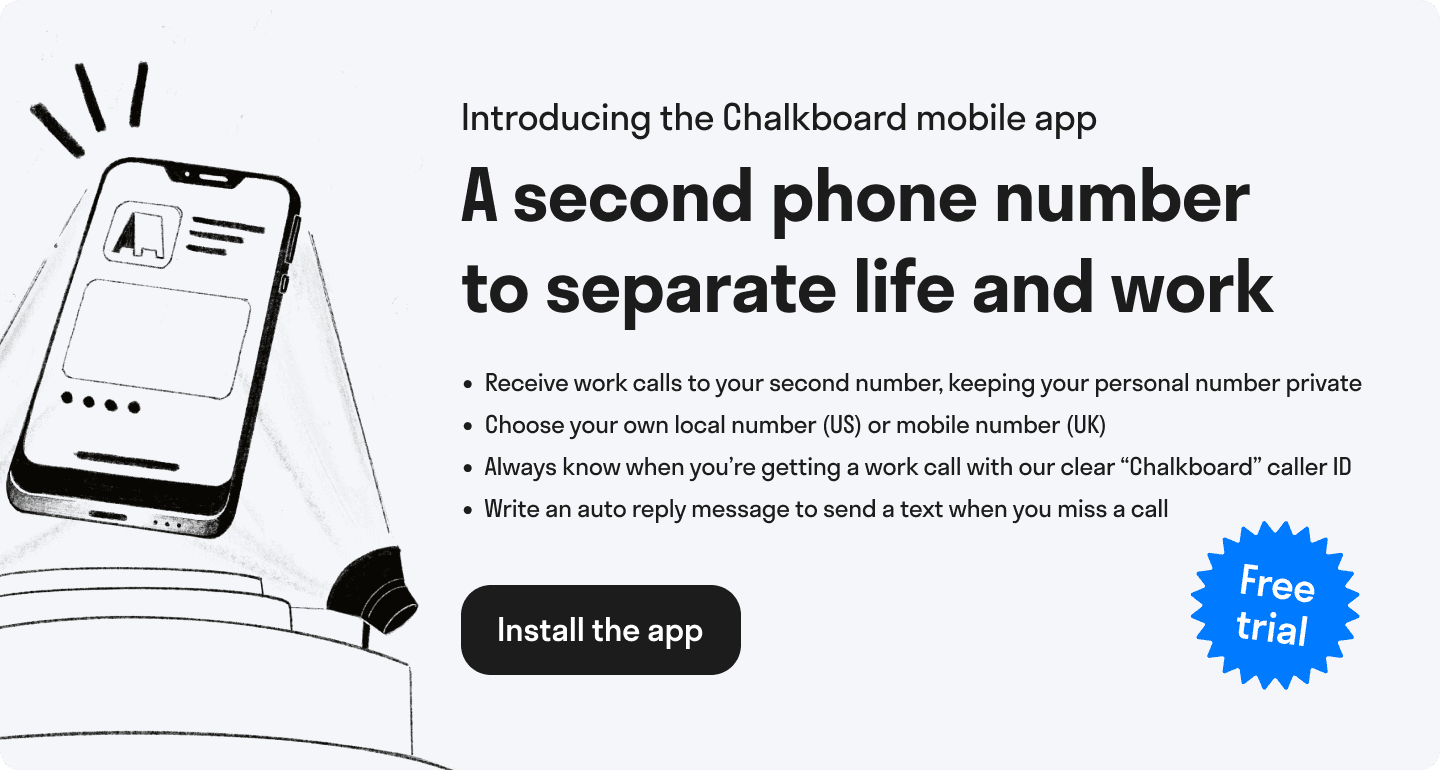 Chalkboard: A better phone app alternative to Line2 and Burner
Chalkboard is unique among top-rated second phone number apps because it's built for the needs of small businesses. If you're looking for a Line2 or Burner alternative, here are six reasons why you should get Chalkboard as your second phone number for work.
Contact organisation: Chalkboard lets you organise your contacts, which will make it easier for small businesses and freelancers to separate customers or clients.
Group broadcasts: Why type out separate messages when you can broadcast a single message to a whole group? You can use group broadcasts to share offers and deals with your customers.
Auto-reply: Chalkboard will send pre-written messages to calls you might miss. By setting auto-reply, you can afford to get a better work-life balance out-of-hours and at weekends.
Review aggregation: Chalkboard automates marketing by requesting your customers to review your business online.
Review management: The app will notify you when your contacts review you online. It also enables you to manage those reviews.
Switch to Chalkboard and put your business first

If you're looking for an alternative to Line2 and Burner, look no further than Chalkboard. It is an advanced second phone number app made specifically for business use. If you want to make your phone number work as hard and smart as you, Chalkboard should be your first choice. Start a free trial today and take advantage of the extra tools it offers to boost your business.