If you're searching for the best second phone apps, you might come across Burner and Sideline. If you're considering these two second-line apps, here's a detailed comparison to help you choose the right virtual phone app for your business needs.
Small businesses and startups are discovering the advantages of having a second phone number. While looking for the top virtual apps to create a phone number for business, you would come across several options including Burner.
Burner versus Sideline: An introduction
While Burner and Sideline are both second phone number apps, they are intended for different users. This distinction is crucial since more than anything else, what should interest you is whether the app will suit your business needs.
Put simply, a burner phone is one that you use and dispose of easily. The Burner app is designed specifically for that purpose: to protect your personal phone number.
While there are certain other features, the app's primary purpose remains the same. Customers associate that singular benefit with the app and that explains its popularity in some markets.
Sideline, on the other hand, is built for business professionals. It has several features that would interest those in the business world looking for a second phone number. It even has certain features earmarked for medium and large businesses.
How to compare Burner and Sideline
Who is Burner for?
If your primary objective is to protect your personal phone number, you should choose Burner. The app allows you to create and delete multiple virtual numbers. But why might you need this?
Maybe you're submitting a form online and don't want to share your real phone number. Or you're using a classified ads service and don't want strangers to get your personal number.
It's even handy if you're submitting a form with a government authority and you're uncomfortable sharing your number. Or it could be a blind date and you want your number to remain private. In all these circumstances, Burner is a good choice.
Who is Sideline for?
If you're a business professional who needs to separate personal and professional communication, Sideline should interest you. Specifically, if it's only a single number that you need, this app should be on your list.
It comes with voicemail, texting and calling. The app also has group messaging and auto-reply through both text and MMS which make it better suited for business use. If it's business-friendly features that you're looking for, Sideline should be a consideration.
You can also choose from vanity numbers to get a unique phone number. With call recording, monitoring and logging, the app will be of great help to large teams. Its telemarketing management feature is an added benefit.
Integrations with other apps
Surprisingly, Burner has more integrations than Sideline. You can integrate it with eBay, Etsy, Google, Rambox, Zapier and IFTTT. Sideline comes with Rambox and Salesforce integrations.
Tech support
Both the apps have online support.
Affordability
Burner and Sideline come with a free trial. While Sideline costs £7.50 per month, Burner's plans start at £3.75 per month. What's interesting is that even the paid plan for Sideline is ad-supported. If you want to remove ads, you'll have to pay extra.
Burner vs. Sideline: Which is better for your business?
It all comes down to how you'll use your second phone number. If it's for individual use where you want to create and delete multiple numbers, Burner is a more natural choice. You should also note that it can be useful for sales teams who don't want to share their number with everyone.
If you want a phone for business use, Sideline is a credible Burner alternative. It offers all basic business features from voicemail to a team number. The app also supports number portability. The Salesforce integration will also be of interest to medium and large-sized teams.
So, while Burner suits individual users, Sideline is ideal for professionals in large teams. Which begs the question: what should small businesses, freelancers and startups choose?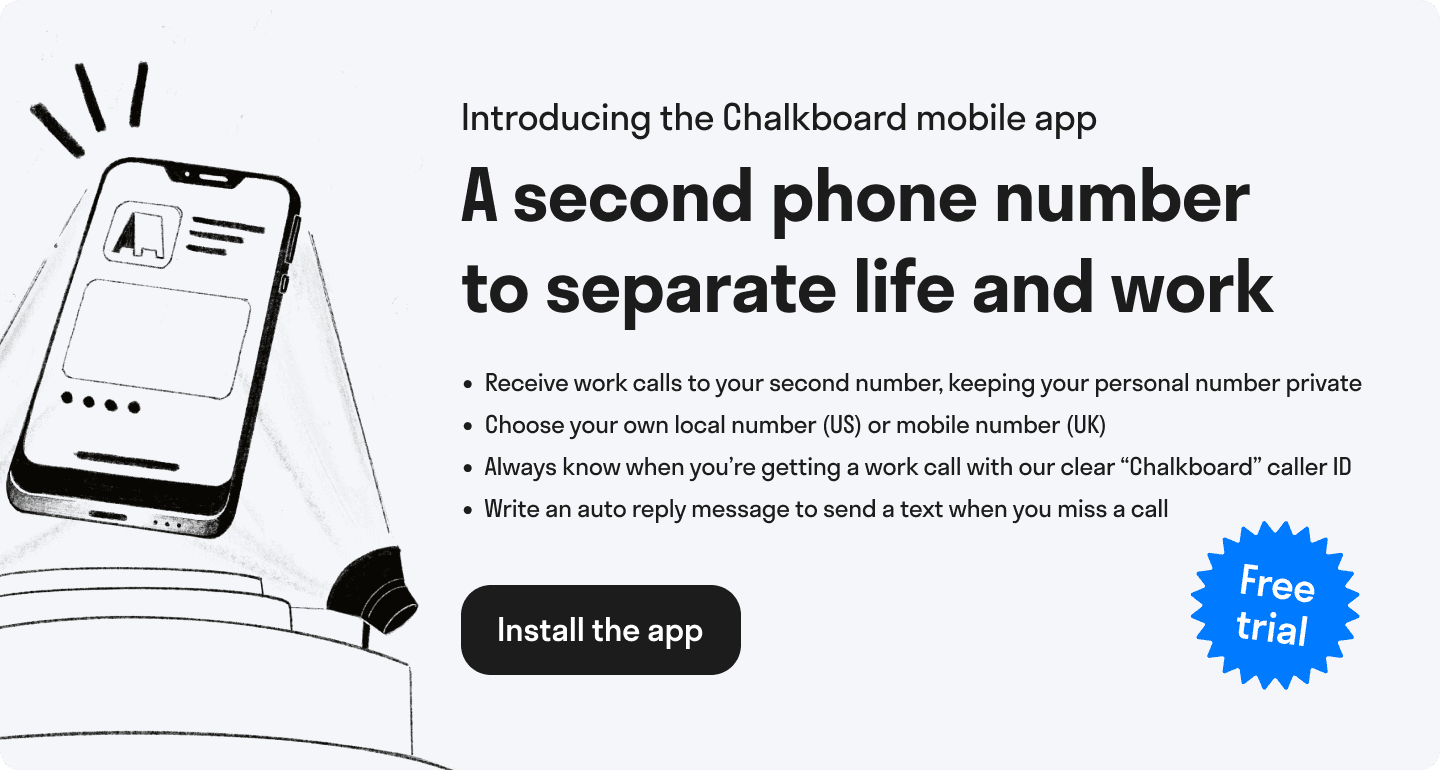 Chalkboard: A better option for small businesses
Whether you're looking for a Burner alternative or alternatives to Grasshopper, Chalkboard is a supremely sensible option. It has all the features that a small business would need and much more.
Chalkboard has auto-reply that lets you send pre-written messages to calls you miss. From now on, missed calls won't lead to missed business opportunities. This will let you balance your work and personal lives.
All these factors make Chalkboard an excellent second phone app. But where it excels is in its online marketing support. Whether you run a restaurant, IT consultancy service or recruitment agency, online brand management can significantly boost your customer acquisition and revenue.
The app automatically sends review requests to your customers and clients, encouraging them to leave online reviews of your business. Neither Burner nor Sideline has this beneficial feature. Chalkboard will also notify you when your contacts review you online. This will make it easier to manage your online reputation.
As a Burner alternative, Chalkboard also has exceptionally affordable plans that start with a free trial. Start using Chalkboard today and take your business to the next level.