Considering the number of calls and messages a small business owner has to deal with, it's not surprising that many think of carrying a work phone and a personal phone. The belief here is that with a phone for work, things will be easier to manage. But before you make a decision, it's good to understand the pros and cons of having two phones.
Some organisations allow or even expect employees to use their personal devices for professional work under BYOD or Bring Your Own Device. But increasingly, small business owners and entrepreneurs are looking at carrying two devices. If you're planning to do so, here are all the pros and cons of having two phones.
The pros of carrying two phones
A dedicated number for work
By now everyone knows that using your personal phone for work is a bad idea. The obvious benefit of carrying two phones is that you get a dedicated phone for work. This makes it easy to identify work-related calls and prioritise them.
You can also your second phone to organise your professional messages. This makes it easy to retrieve a text from a customer or vendor.
Added security
When you have a phone for work, you can easily share that number with customers, vendors, or other business associates. Sharing your personal number increases the chances of exposure to robocalls and spammers.
The work phone number can be used to connect to your business IT network or server. This number can also be your contact number if you buy things online for your business.
More battery life
With all the calls, messages, group chats and app usage, battery drainage is a serious issue for smartphone users. If you use a single phone, you may have to charge it several times a day.
When you separate your calls and messages over your work phone and personal phone, you'll be reducing the pressure on both devices. This will help to increase their battery life.
Added storage
When discussing the pros and cons of having two phones, one shouldn't overlook the added storage you get. Although the latest smartphones have ample space within each device, previous generation phones may not have it.
But when you have a work phone and personal phone, you can save and store more documents, photos, videos – and even install more apps on your devices.
The cons of carrying two phones
Double the expense
Smartphones aren't getting cheaper and getting a work phone and personal phone can be quite expensive. On top of that, remember that you will have to get individual plans for each phone.
These expenses look silly especially when there are smarter alternatives if all you want is a dedicated phone number for work.
More things to carry
A laptop and its charger, a smartphone and its charger and other documents. Carrying these around is problematic enough and the last thing you want is to add another phone and potentially, a different charger.
Carrying two phones in your pockets never looks or feels good. Remember that now you also could end up losing more things. You could be in a restaurant or at the gym and easily forget one of the phones.
Two phones to manage
You have to charge your work phone and personal phone separately. That calls for using another electric plug, which will increase your energy consumption. While this may be feasible at home, doing it in the office may not be that easy.
When you use a work phone and personal phone from different carriers, it will also be difficult to contact two customer service departments if you were to have any problems.
Chalkboard: Your solution to separating work and personal on one phone
Those looking for two phones are looking for a way to separate their work and personal lives. Carrying two phones is a short-term and unsustainable solution that can lead to faster burnout.
The right solution is Chalkboard, a virtual number designed for the needs of small business owners, freelancers, independent creatives, and startups. Here's why Chalkboard is a superior alternative to carrying two phones:
You get a number for work: You can use this virtual number for all work-related calls and messages and freely share it with your customers and business associates.
No need for a new phone: Why needlessly spend on a new smartphone when you can download the app and get started in minutes? Also, let's not forget, there's only one phone to charge and carry around.
Ideal for remote work: You can use this number on any connected device. You can also route calls to remotely placed employees with ease.
Separate lists: Chalkboard allows you to organise your business contacts, which will make it easy to search for them.
Group broadcasts: Send the same message to multiple customers without typing them out manually. This makes marketing easy.
Auto-reply: Can't take a call? The auto-reply feature will send a pre-written message to the callers why you're unavailable and when you'll get back.
Review management: Chalkboard automatically sends requests to your customers for online reviews, which will build your online reputation.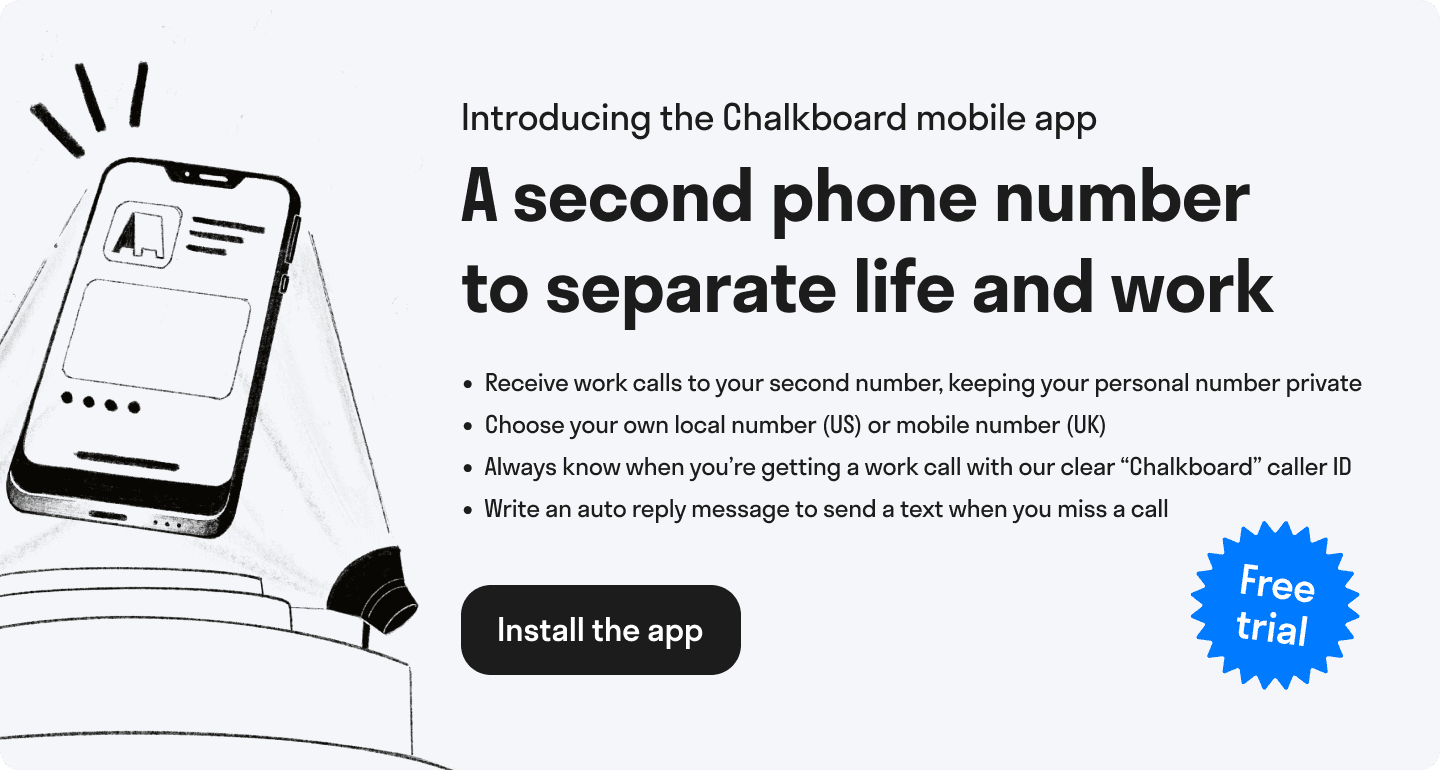 Once you discover the features of Chalkboard, you'll forget the pros and cons of having two phones. Download it today and start a free 14-day trial to optimise your communication, save money and amplify your marketing.