One of the greatest ironies of our times is that the things that are supposed to make our lives easier can end up making it more difficult. If you're forced to carry your work phone and a personal phone, you will probably agree with this.
People do it because they believe it will make life easier for them. But as you'll discover, nothing could be further from the truth.
The assumptions behind carrying a work phone and personal phone
Why do companies insist that employees have a work phone and personal phone with them? Usually, it's due to the following reasons:

Businesses want their employees to separate their work-related and personal calls and messages

So companies can call or message employees at any time of the day or week

Companies believe that it will enhance security

Organisations will have better control over the operating system and other software

Customers and clients would have a dedicated line to reach employees

Employers find it easier to reimburse employees for their business calls
The benefits of carrying two phones
Why do employees carry two phones? Because they do come with certain benefits but unfortunately, not for them.
Constant access
When employees use the same number for work and personal communication, they can afford to miss calls. They might be on a personal call or they may have forgotten to take their phone. But when there is a dedicated work phone, businesses can reach employees at all times of the day or week.
It also makes it easier for customers and clients to call employees. If the number is used for customer support or client service, there will be non-stop access to the employees.
Compatibility
One of the problems that businesses - especially medium-sized and large enterprises - face is that an employee's personal phone can have a different operating system. Since they can't dictate what operating system employees should use, this can create problems.
When a business provides a work phone or reimburses employees for it, they can insist on the operating system, brand, and all the necessary software.
Savings
If businesses reimburse employees for their cell phone usage, it might be difficult to track expenses across different carriers. As a small business, you may not have the time to study these separate plans or suggest better ones.
But when you buy the phones or the plans in bulk, you'll be able to get better prices. You can get discounted plans for your employees, which will lead to considerable savings.
The drawbacks of having two phones
You might have noticed that all the benefits mentioned above are for the organisations. This is the hard truth about carrying a work phone and a personal phone. It's beneficial to the organisation in several ways but can negatively impact employees.
No work-life balance
Employee burnout can cost up to $190 billion a year. That figure is huge and considering that it's from before the pandemic and limited only to the US, the true worldwide figure will be much higher. A significant cause of this burnout is the loss of work-life balance.
If there are no specified business hours, carrying a work phone and personal phone means that the workday will never end. Employees have to take work-related calls and texts all the time. This has massive consequences for a remotely placed workforce as work time encroaches upon family time.
Having to manage two phones
Managing a single phone is challenging enough, what with the charging and constant software upgrades. If you carry two phones, you're doubling that pain. Plus, there's the problem of having to carry two sets of chargers.
Carrying a work phone and personal phone also increases the risk of misplacing, losing or forgetting one. This might put crucial company information at risk.
Upgrade and maintenance costs
Companies will have to pay to constantly upgrade and maintain the business phone. Other than the routine software costs, this also creates an additional workload for the IT department.
In most instances, the phones themselves will have to be changed every two or three years, which will further increase the costs.
Loss of focus
Checking for texts, emails and notifications on two phones can take its toll. This will prevent employees from focusing on important tasks since now there are two sources of distraction.
This distraction will create problems not just at work but also when they are with family or friends.
Alternatives to carrying two phones
Dual-SIM phones: These phones can carry two SIMs and give you two numbers. Effectively, they combine two phones into one. Almost all carriers will give you this option.
Second-line apps: Need a better way to organise your work and personal lives? Get a virtual number from a second-line app like Chalkboard. You don't have to buy a new device or worry about getting a SIM – and it's really easy to get started.
Now you'll have a number exclusively for work-related calls and texts. Your personal number won't have to be shared with customers and clients and will stay protected.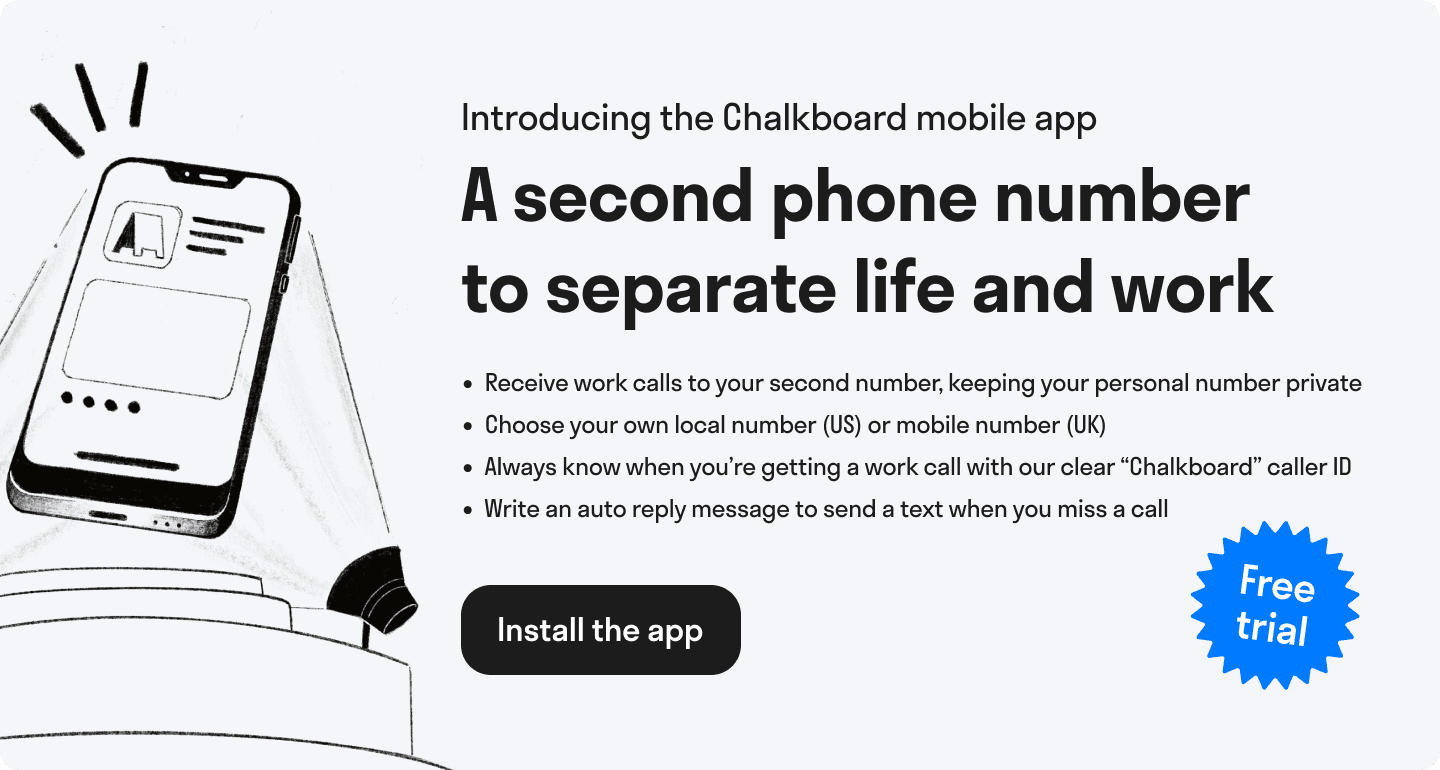 A second-line app like Chalkboard will also give you auto-reply which will let you send pre-written texts to calls that you might miss. So, your clients and business associates will know why you missed their calls and what they can do in the meanwhile.
You'll also get the ability to group your contacts and message them simultaneously. It would also be easier to convince your boss to give you a work phone through a second-line app because it's exceptionally affordable.
In short
Carrying a work phone and a personal phone has become so normal for some people that nobody pauses to question it. But it has disastrous implications for an employee's focus, mental health and work-life balance. And it's completely unnecessary when there are better options, such as second-line apps.
Keen to give Chalkboard a try? Download the second-line app today and you'll enjoy a free 14-day trial.