Looking for a second phone number for work? Chances are you will have come across GoDaddy SmartLine. While it's hugely popular, before you make your decision, you should also compare it with some of the most reputed GoDaddy SmartLine alternatives such as Chalkboard.
The good news about being a tech giant – other than the millions of marketing dollars at your disposal – is that it's easy to market products. GoDaddy, known for its domain services and web hosting, entered the second phone market in 2017. So, how does it compare with GoDaddy SmartLine alternatives like Chalkboard?
Comparing Chalkboard and GoDaddy SmartLine: At a glance
Both Chalkboard and GoDaddy SmartLine are among the best second phone number apps on the market. The apps are easy to set up and come with a free trial period. Since these are virtual numbers, you don't need an extra device to use your new second phone number.
Chalkboard is a VoIP service and therefore works over the internet. GoDaddy SmartLine uses your carrier's connection to make and receive calls. While it's easy to use and comes with custom voicemail and voicemail transcription, GoDaddy SmartLine's features for business don't always support small business owners. For example, while you can set business hours in the app, GoDaddy SmartLine doesn't have auto-reply. Chalkboard has auto-response, something that all small business owners, freelancers, independent creatives and gig workers regularly need.
GoDaddy SmartLine also doesn't have group messaging, which is something small businesses can use to broadcast messages to their contacts. The absence of these business-oriented features suggests that GoDaddy SmartLine, unlike Chalkboard, is targeting customers who don't need advanced business tools.
Which platform offers better functionality?
When comparing top-rated second number apps, the focus should always be on whether the features meet your requirements. So, functionality in this case depends on whether you're an individual user or you need a second phone number for business.
If you need a second phone number for regular use, GoDaddy SmartLine is a viable choice. One of its most functional features for individuals is the spam filter. If it's a spam call, the app will direct it straight to voicemail, thereby protecting you from robocalls.
You can view your message history with details of texts, calls, voicemails and images. This makes it easy to manage communication with friends and family. Although it doesn't have auto-reply, GoDaddy SmartLine will notify you of missed calls, texts or voicemail.
If you're looking for a second phone number for business communication, you should consider Chalkboard. The app comes with auto-reply, which enables you to send pre-written messages to calls you might miss.
The app also allows you to organise your contacts and broadcast messages in one go. This makes it exceedingly easy to inform your customers of new products or offers. But where it truly excels is in its review automation and management.
Chalkboard automatically sends review requests to your customers and clients. This makes the app a communication and marketing tool for small businesses. Once customers leave a review, the app will notify you and let you respond to it.
Which platform gives you more flexibility?
First, let's look at the ease of setting up. Both the apps are easy to download and don't come with complicated and binding long-term contracts.
Individual users might be happy with GoDaddy SmartLine's flexibility in terms of number porting. This allows you to use your current number as your new second phone number.
Business users will love Chalkboard's auto-reply, review aggregation, review notification, group messaging and voicemail.
Which offers more advanced features to benefit your business?
There is a clear winner when it comes to business features: Chalkboard. When you compare GoDaddy SmartLine or Google Voice, you'll notice that what Chalkboard offers businesses is unlike anything in the category.
Chalkboard allows you to set up auto-reply, which will let your phone work as a lead generator even when you're not there to take calls. This will also help you find a better work-life balance.
With review aggregation, your second phone number will automate your marketing. By getting customers to review you online and notifying you of those on time, Chalkboard becomes a crucial tool for online brand management.
Which offers the best value for money?
Both the apps come with a seven-day free trial. After that, GoDaddy SmartLine costs $9.99 or around £7.35 per month for a local number. If you need a toll-free number, you'll have to spend around £15 per month.
Chalkboard lets you choose from highly affordable subscription plans after your free trial. Do keep in mind that GoDaddy SmartLine uses your cellular connection to make and receive calls. In that sense, Chalkboard offers better value for money when compared to SmartLine.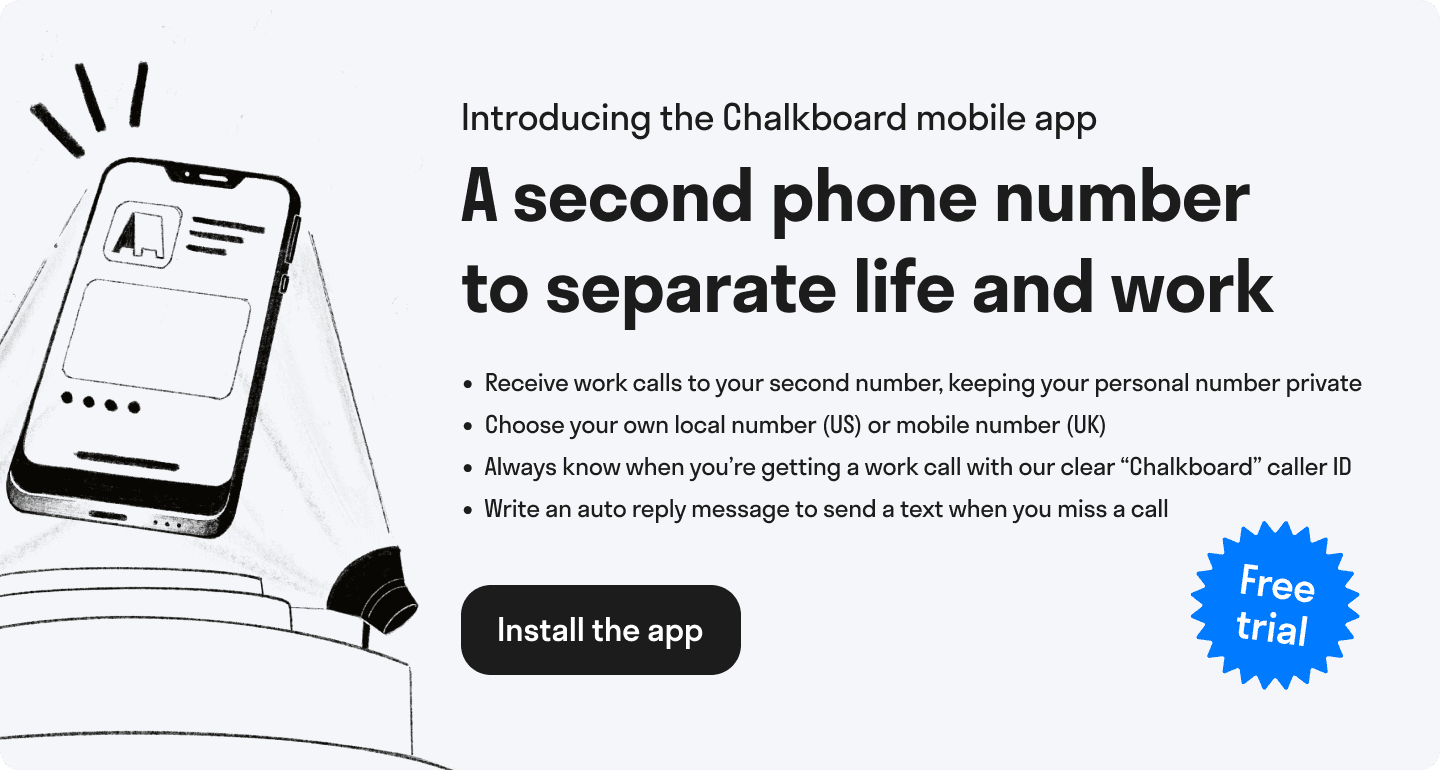 Chalkboard: The second-line app that meets all your business needs
As a true VoIP solution, Chalkboard is the smartest of GoDaddy SmartLine alternatives for businesses. Why? Because the app comes with:

Auto-reply

Group broadcasts

Review aggregation

Review notification
GoDaddy SmartLine doesn't have any of these business-friendly features.

With Chalkboard, you're not just getting a second phone number. You're also getting an advanced and automated marketing tool. Sign up for a free trial today and discover how Chalkboard can help grow your business.