If you're a small or independent business, you have several telephone service options to choose from. Among those, local phone numbers have remained the favourites of small businesses, especially those offering products or services to a fixed geographical area.
It's not hard to understand why choosing the right phone number is crucial to a business. A business phone number is an extension of a brand's identity. It reveals to consumers and clients how professional and reliable the business is.
What is a local number?
In the UK, local phone numbers have an area code containing four digits as a prefix that corresponds to their locality. It could be a city or a region. Local phone numbers usually come with unlimited texts and calls. Businesses, especially small brick-and-mortar stores or service companies, that have a physical presence usually opt for local numbers.
Things to love about local phone numbers
Ties the business to the community
When you have a local phone number, you're associating yourself with the community that you serve. This adds loyalty as customers perceive your business to be their area's business. In a world of multinational corporations, environmentally-conscious consumers are increasingly longing for businesses that are rooted in their localities.
Easy to be found
A local phone number can be easily listed in the local phone directories. This ensures that both existing and prospective consumers can easily contact you. Local phone numbers can also help you with local search engine optimisation. Someone searching for pet grooming services is likely to call the business that has their area code.
It's more personal
A toll-free number may make your business look impersonal to customers. If you've known your customers for a long time, the last thing they want is to be greeted by a recorded voice. With a local phone number, they'll get the concerned individual which will make them feel closer to the business.
Is a local phone number right for your business?
Local phone numbers are the right option if:

Your business has been based in an area for a long time

You have a physical office or store that everyone knows about

You only have operations in that area

You don't need a separate phone number for business

You're not experiencing unusual growth
What other phone number options are available?

Non-geographic numbers
These are not tied to any region or locality. They are a viable alternative to the conventional landline phones that are linked to a region and come with a specific area code. Non-geographic numbers are ideal for businesses that have several locations or branches.
Toll-free numbers
These are free for the callers. Businesses usually offer toll-free numbers for either customer support or marketing. It's ideal if you're launching an advertising campaign and would like customers to call you for limited offers or discounts. Toll-free numbers aren't a preferable option if your business doesn't have a specific need for them.
Second-line apps
Virtual numbers that work over the internet are a credible alternative to other types of phone numbers. For starters, now you have a second number exclusively for work-related calls. This separates your work and personal lives and makes you look professional.
Secondly, you don't require a new smartphone to get one. You don't have to spend money on equipment, infrastructure or rentals. Plus, with an app like Chalkboard, you can download and get started in a few minutes.
Importantly, a second line for work protects your privacy as your private number won't be shared with everyone. Also, second-line apps come with value-added features such as voicemail, call routing, auto-reply texts for missed calls etc.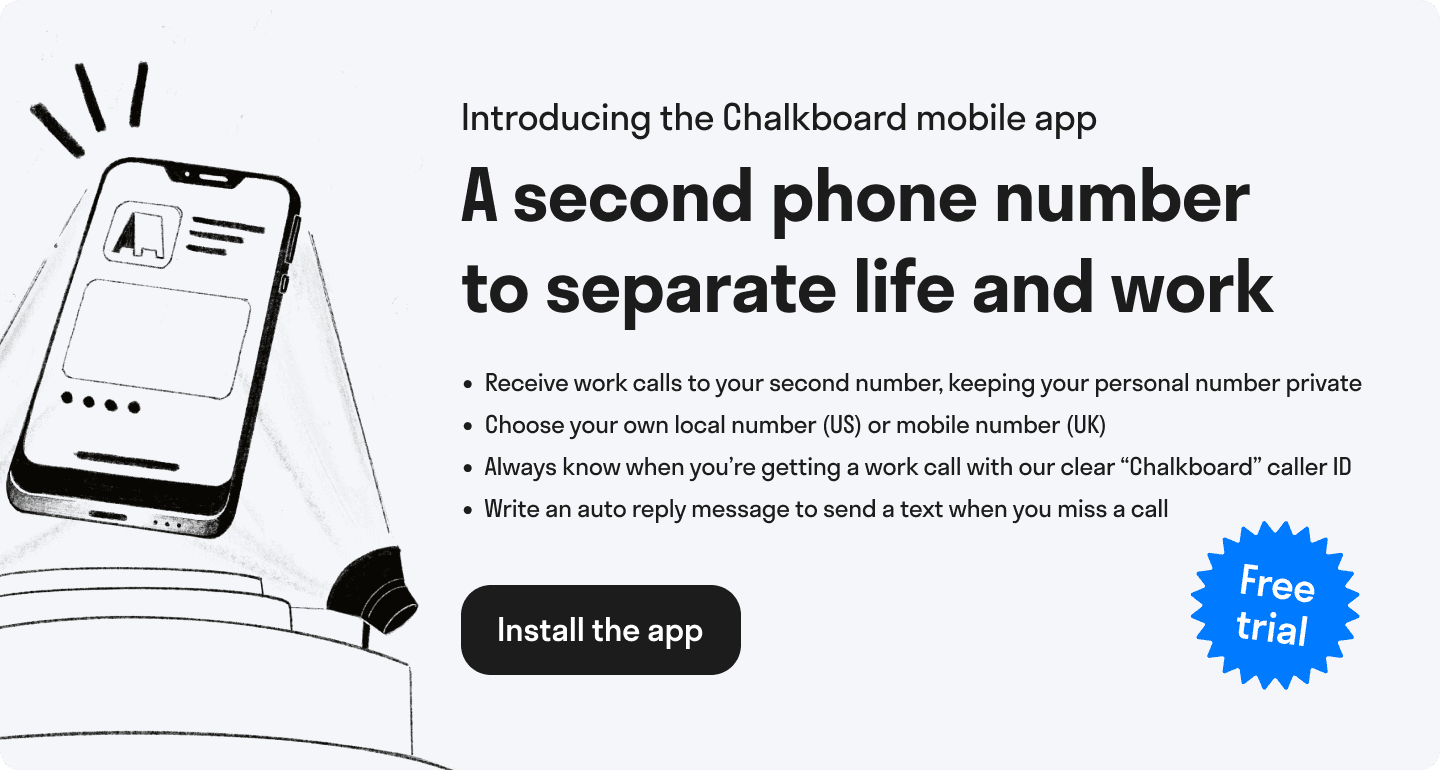 In short
In a world of robotic and impersonal communication, local phone numbers add some emotional connection between a local small business and its customers. While it has all the charm and nostalgia associated with a rooted enterprise, if you're looking for a dedicated phone number for work, a second line app makes more logical and financial sense.