Business users looking to separate their work and personal lives are increasingly looking at virtual numbers. If you research the options available in the market, you'll be tempted to do a Burner vs Google comparison. But are these designed for business use or should you be looking at a Google Voice alternative or a Burner phone app alternative?
While looking for any technology tool, the primary criteria should be whether it solves your unique problem. There are several virtual number apps designed for ordinary use and some built specifically for business use. Let's compare Burner vs Google Voice to understand whether these will suit your needs.
What is the Burner phone app?
At times, you might need a second number for temporary use. Your primary goal is not to reveal your personal number and you're not looking for any advanced features. In such circumstances, Burner is a good choice. It's a disposable phone number designed for individual use.
With Burner, you get several phone numbers that you can discard after use. This makes the app different from Chalkboard and several others in the market. The intent here is to protect your personal number from strangers.
What is Google Voice?
Acquired by the search giant in 2007, Google Voice is a virtual number that lets you make, receive and forward phone calls. The virtual app comes integrated with the Google Workspace ecosystem and works like any other second number app.
Since Google Voice works over the internet, you'll be able to make and receive calls from any connected device including a smartphone, tablet or laptop. When compared to other apps like Chalkboard, what should be noted is that Google Voice is only available to those who have a Workspace account.
Pricing: Which delivers more value for businesses – Burner or Google Voice?
So, how about pricing in a Burner versus Google Voice comparison? Burner is free to download and the prepaid version is valid for 30 days. For additional use, you have to buy credits. The postpaid or subscription plans start at $4.99 per month. With the subscription plans, you get unlimited calls, pictures and texts.
Google Voice is free for individual use while businesses have three plans. There are Starter, Standard and Premier. These cost $10, $20, and $30 per month respectively. Only the more expensive plans come with advanced features. All plans offer unlimited texting in the US and free calls to the US from anywhere.
Which has the best features – Burner or Google Voice?
If you're comparing Burner and Google Voice for features, it all comes down to what you need. If privacy is your main concern as an individual user, Burner is a good choice. You can easily set up your number and use multiple disposable numbers. Its free trial period should be enough for several of these temporary uses.
When is privacy important? If you're sharing your number with someone you met online or are listing a product on a classified site, you should consider the Burner phone app. It's also useful when you're submitting an online form and don't want to share your personal number.
Google Voice has some features that businesses might be interested in. Firstly, it's for long-term use as long as you're based in or conduct business with countries where the business is supported. Google Voice can be used as a customer support number or to reach local customers. It also helps you protect your personal number.
The free version does come with features like call forwarding and voice transcripts, which should be sufficient for regular use. You can also use personalised voicemail greetings and block robocalls and spammers.
The drawbacks of Burner and Google Voice
There's a reason small business owners and entrepreneurs are looking beyond Burner and Google Voice. There are some demonstrable drawbacks to both the services that force people to look for Burner phone app alternative or Google Voice alternative.
Burner is for temporary use when the sole aim is to protect your personal number. It's not meant for business use. You don't want to repeatedly tell your clients and customers that your number has changed or have to print new office stationery.
Google Voice requires you to create a Gmail account. Although it's linked to the Workspace ecosystem, you can't use all the apps under the free plan. There are no advanced business tools and importantly, the app has unreliable customer service since there are hundreds of millions of Google customers.
Chalkboard: Your business phone alternative to Burner and Google Voice
Why limit your comparison to Burner and Google Voice when you can get a second number app designed specifically for business users? Here's why you should start using Chalkboard as your second number for work:
Privacy: Like Burner and Google Voice, it protects your personal number.
Ease of use: Unlike Google Voice, you don't need a particular email account to use Chalkboard.
List organisation: You can organise your contacts, which will make it easy to find your customers or clients.
Group broadcasts: Got a new sales offer? Type a single message and send it to everyone on your contact list.
Auto-reply: Set a pre-written message for those times when you can't take a call.
Review management: Unlike any other virtual number app, Chalkboard automatically sends requests to your contacts to review your business online.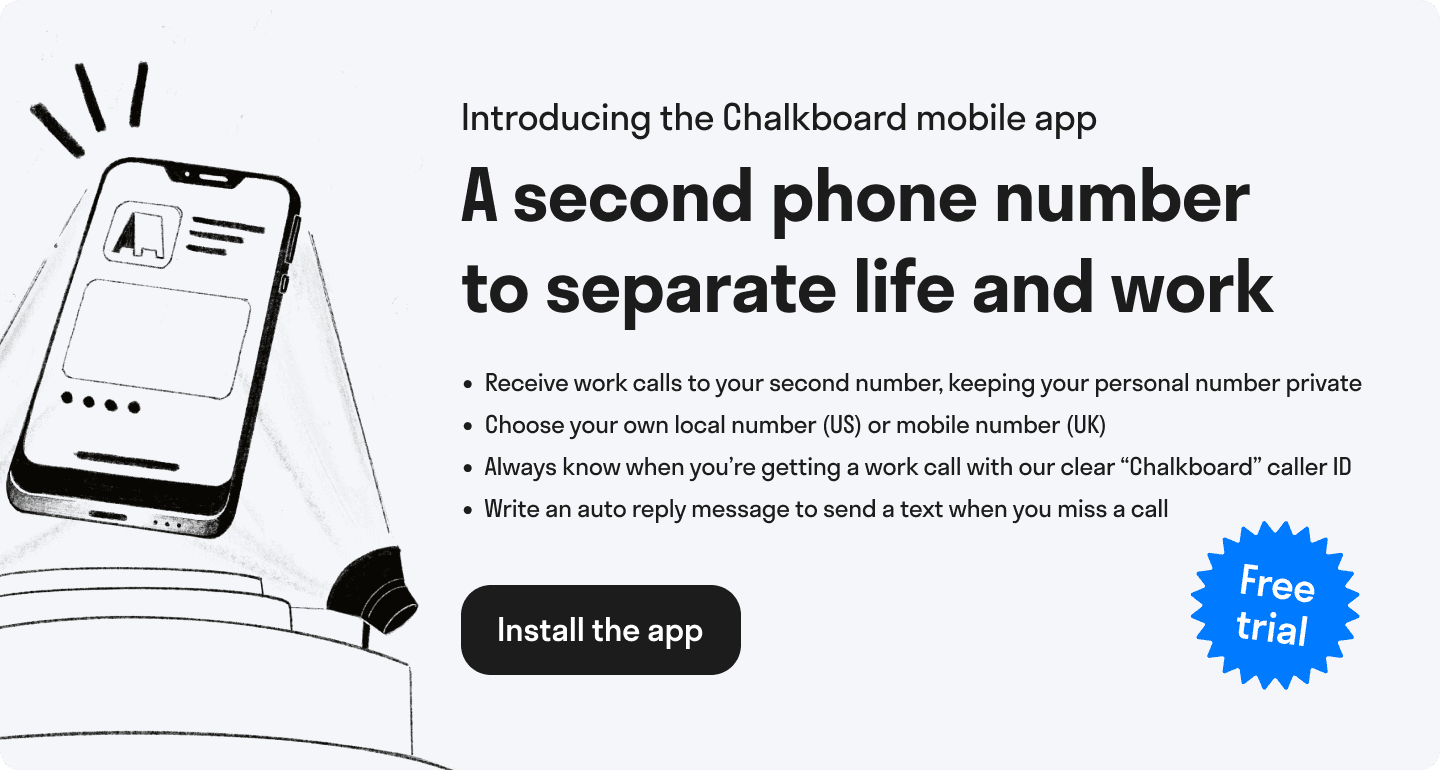 Chalkboard comes with affordable plans suited for small business owners, freelancers, independent creatives, and startups. Download it today and start a free trial. It's the tool your business has been waiting for.