As a small business owner or entrepreneur, it's natural to use your private phone number as your business number. For starters, it's convenient and easy to carry on with your number (although it's easier to get an app for phone numbers). But this opens up a world of problems that you may not be aware of initially.
Why you shouldn't use your private number as your business number
Your privacy is at stake: When you share your number with all customers and clients, you're exposing your number to scammers and hackers.
Hello, robocalls!: You'll end up receiving pre-recorded messages as your number gets circulated. Lesser exposure = fewer robocalls.
Inability to scale: As your business grows, your phone will be working overtime, making it difficult to manage the increasing number of calls and texts.
No work-life balance: You are your office reception, 24/7, 365 days of the year.
Disorganised communication: Unable to route calls to the concerned individuals, you will have to manually convey the message to your team members.
No dedicated numbers: You don't have an exclusive customer support number or local phone number for your area customers.
Alternatives to sharing your private number for business purposes
Traditional landline
This might be an age-old method but it is still reliable if your business is limited to a single location where all your employees are present. But you'll have to be physically present there to take the calls.
Keep in mind that you will have to spend on the devices, installation and service charges – all of which can add up quickly.
A remote call forwarding line
Under this, your telecom provider will forward your call to the device you choose. If you direct it to your mobile phone, you'll be able to take calls wherever you are. This option suits a business with a remote workforce, as calls can be routed to their phones.
Another advantage of remote call forwarding is that should you choose to, you'll be able to direct it to an office phone as well.
Google Voice
The search giant's app for phone numbers allows you to choose your number and direct your calls to any or all of your devices. This makes it ideal for routing calls to team members in different locations.
You can also port your existing number to Google Voice. An added attraction here is the fact that the basic service is free.
Second-line apps
These are virtual numbers that work over internet connections. They're the right option for small businesses, solo contractors and freelancers because: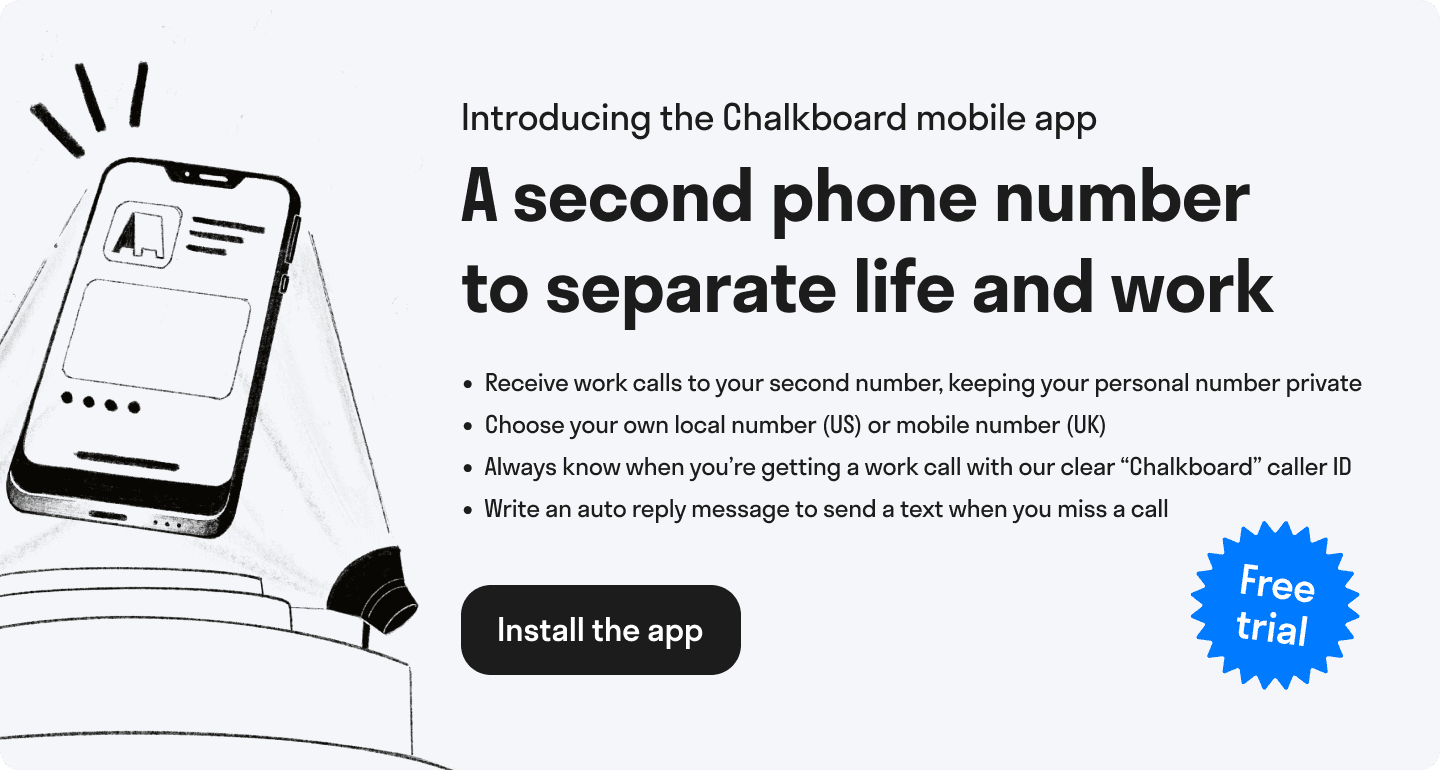 In short


A dedicated second line for business through an app for phone numbers will make your business look professional. It will also help you manage your time and resources more efficiently.
Chalkboard gives you a second phone number just for work. No need for a second phone, and no call or text message charges. Get started today.