Voice over internet protocol (VoIP) services are becoming more popular among small business owners and startup teams. One of the leading services is from the search giant Google. Here's everything you need to know about Google Voice number porting
What is Google Voice?
It's a VoIP service that lets you make and receive phone calls and text messages. Launched in 2009, Google Voice also lets you forward and manage your calls and texts.
Like all VoIP services, it works over the internet. This means that you can make calls from your mobile phone, laptop or other digital devices that have an internet connection.
What is number porting?
Porting a number is carrying it from one provider to another. If you port, you'll retain your number under a new telecom or VoIP provider.
This means you won't have to inform all your contacts that your number has changed. For small business owners, it also means that you won't have to inform your customers and clients of your new number.
Pros of porting your number to Google Voice
Control over your number
When you port to Google Voice, you can decide where your calls will go. For example, you can direct it to your office phone when you're in the office, and your personal smartphone when you're away from the office. You can also route it to multiple devices at the same time. When at work, you can use it from either your laptop or your office phone, for example.
Free for calls and texts
With Google Voice number porting, you can make an unlimited number of calls and texts. You can direct it to a VoIP or landline to make and receive calls or texts by visiting the Google Voice website or by installing the Chrome extension.
Extra features
You'll also get a number of additional features, including an advanced voicemail which comes with intuitive call handling, text transcription and an archive that you can search. You can also forward the same call to more than one device and change devices during the call.
Freedom to leave
If you don't like the service, you can always port your number back to your previous telecom provider or find a new one. This also lets you carry your existing number to a VoIP provider in case you want to stick to an internet-based phone connection.
Cons of porting your number to Google Voice
Complex process
With Google Voice number porting your existing mobile plan will get cancelled. Then you'll have to contact your telecom provider and request to resume the services with a new number.
If you don't have your new number, Google Voice won't be able to forward your calls. The complexity of this depends on how smooth the cancellation and resumption will be with your current provider.
Porting isn't free
While you can make unlimited calls and texts, Google Voice number porting will cost you money. You will have to pay $20 for porting. But more than that, you may have to pay early termination charges to your current provider if you're in the middle of a plan.
It can get confusing
If you're an Android user, it'll be easy to make calls and texts through the app. When you call or text someone, they'll see your ported number. But if you use any other operating system, things can get messy. You won't be able to use your phone's dialler but open the Google Voice app to call.
If Google goes down, so will your phone
If there's any disruption to Google services, your phone might also suffer the consequences. While this isn't common, it can never be ruled out. Importantly, if there's any data breach on the search engine, your phone number and the associated information are also at risk.
Is there an alternative to Google Voice?
If you're planning to optimise your business communication, you should think about getting a second phone line. With it, you'll get a dedicated business number and a host of other features.
You'll be able to download the app and start using your second number in a few minutes. This also limits the exposure of your private number.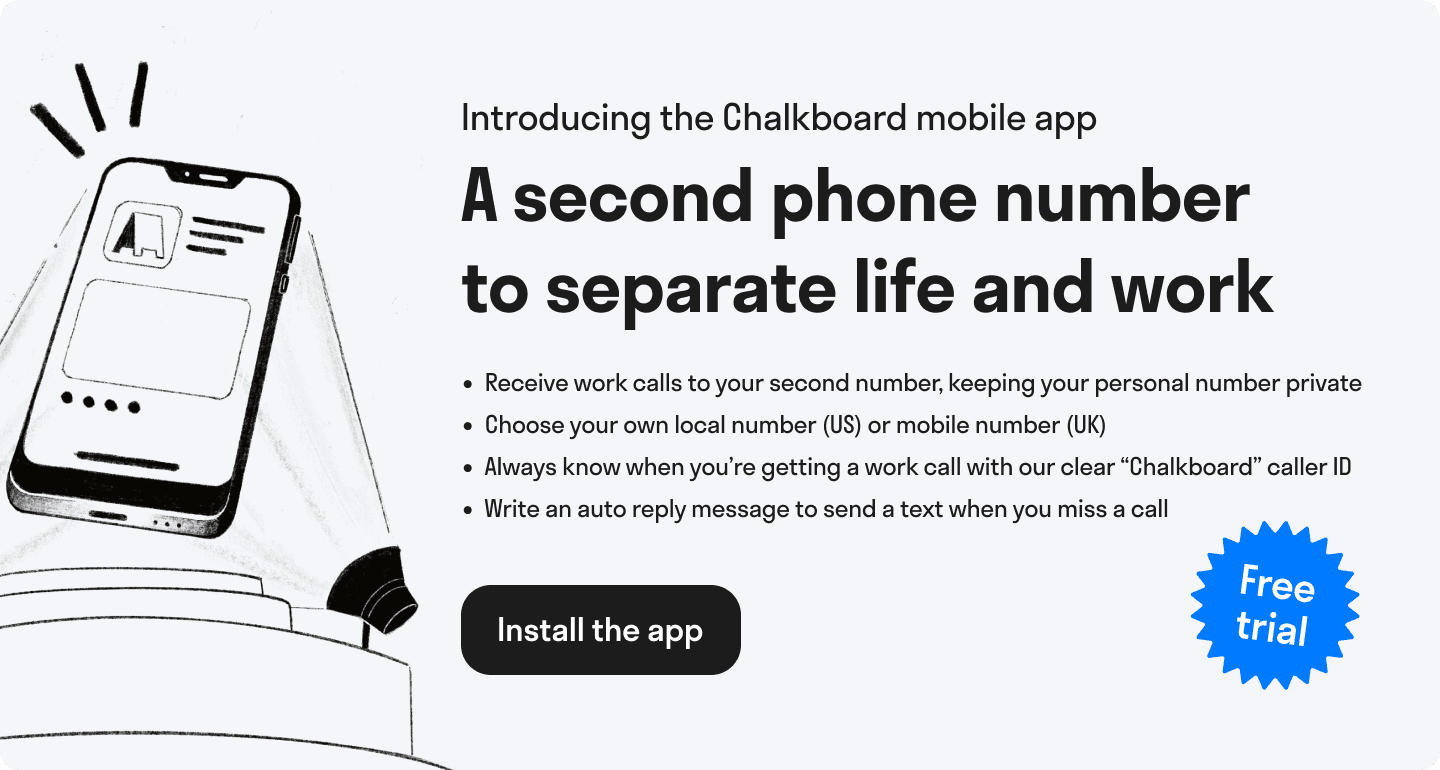 In short
Google Voice number porting is a credible alternative that will allow you to make and receive calls from multiple devices using the same number. But there is added complexity and unnecessary confusion if you're not an Android user. If simplicity is what you seek, a second line app is a great solution.