Technology may change rapidly but certain legacy practices will continue to linger around. Gone are the days when companies had to expect their employees to carry a separate work phone number. Things have changed and there are superior alternatives such as virtual number apps to explore.
A brief history of the work phone
The trend started over the last couple of decades because employees didn't want to overburden their personal phones and risk their privacy. This was particularly relevant for those in sales.
With so many calls to make, mostly to complete strangers, those in sales knew that using their personal phone for work was a bad idea. It also put unnecessary pressure on their device, which would be expected to function non-stop.
Businesses also loved the idea of a separate work phone number since it enabled them to reach employees whenever they wanted to. They could also ask employees to share their new numbers with customers and clients without worrying about spammers or robocalls.
What started off as a perk…
Noticing the benefits of their employees staying constantly connected, organisations started offering a second work phone number as a perk. This was initially limited to those in senior management but soon rolled out to those who had to deal with a large number of external stakeholders.
Businesses saw cost savings in separate phones. Since they would be buying them in bulk, they could get the devices at a discount. They could also get better deals from telecom providers because of the high volume.
A separate work phone also made it easier to reimburse employees. Earlier, employees would have had to tabulate their work-related calls and submit them. But now they only had to submit the total bill of their work phone.
…soon became an expectation
Businesses started encouraging BYOD or bring your own device. It could include any device used for work, such as a phone bought by the employee. This policy is expected to create a worldwide market of $367 billion by the end of 2022.
With BYOD, employees can bring any device - and operating system - they're comfortable with. This is supposed to increase productivity and give employees a sense of freedom.
While this has its advantages, especially when using laptops, it also throws up challenges. For example, BYOD can increase system-wide risks to digital assets. Employees may have different security protocols on their devices and unless the office IT wing scans and sanitises each device, there might be vulnerabilities.
…and then a problem
As anyone who has ever packed a laptop bag before heading off to work will tell you, there's such a thing as too many devices.
An additional work phone means having to charge two phones and carry them everywhere.
There's also the need to upgrade two systems and install the necessary software. As employees are finding out, it's a hassle (and one that's completely unnecessary).
The smarter alternative: A second-line app
How about a work phone number that doesn't need an additional device? A second-line app can give you an exclusive number for work with additional features and none of the problems.
With a virtual number app like Chalkboard, you get all the technology without any extra hardware. Download the app and your new work phone number will have:
An app-based number: No need to spend money on a device or carry it around.
Organised lists: You'll be able to organise your contacts and messages, which will make it easier to find them.
Auto-reply: Busy with your family? Reputed second-line apps come with auto-reply that will send pre-written messages to those calls you might miss.

An affordable option: You save money on a device. You'll also make significant savings on your monthly bills since Chalkboard comes with affordable plans.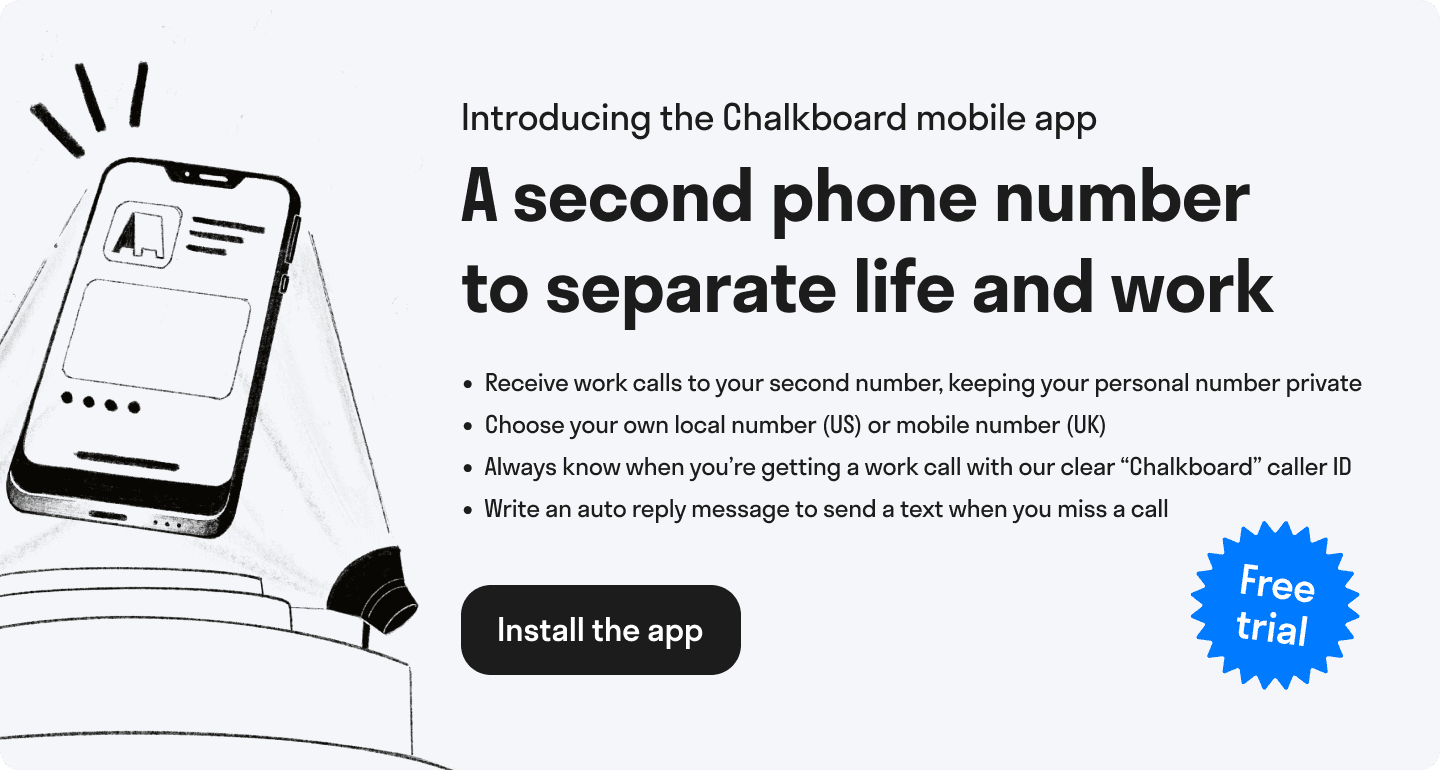 How to prepare teams
Adding a work phone number to your current phone is exceedingly easy. You can convey the above-mentioned benefits to your employees and let them start with a free trial.
This will help them get used to the features of the phone and since there are no extensive contracts, it will be easy to enter and exit the subscription plans.
In short
The idea of an exclusive work phone is a vestige of a bygone era. What you need is a smarter solution in the form of a second-line app to get an exclusive work phone number.