The power of WhatsApp, which sees over 55 billion messages every day, is now within the reach of small businesses. As you learn more about WhatsApp Business, you'll realise that it's an excellent tool for customer engagement. But to enjoy all the benefits that WhatsApp Business brings, you will need two phone numbers.
The benefits of WhatsApp Business
WhatsApp Business is a tool for businesses to easily interact with customers. As a small business, you can notify customers about product features and discounts when they opt-in to receive messages from you. You'll also be able to categorise and label your communication, which will make it easier to retrieve them.
WhatsApp Business also lets you use auto-reply to engage with customers. These could be for order or delivery-related queries. That's the kind of automation that can help small businesses. You can also share multimedia content like documents, images, text and videos with your customers.
The need for a second number
For WhatsApp Business two phone numbers are a necessity. You can't use a personal phone number that you have previously used on the app. So, you'll have to get a new phone number if you want to keep your old (i.e. personal) WhatsApp account active.
You'll have to get a new SIM, then get a phone with dual-SIM capabilities or buy a new device. Or you could simply get a second number through a second-line app and activate your number within a matter of minutes.
A second number allows you to freely share your number with business associates and customers without having to worry about your privacy. Plus, since you know the calls and texts coming into that number will be work-related, you can separate your work and personal lives.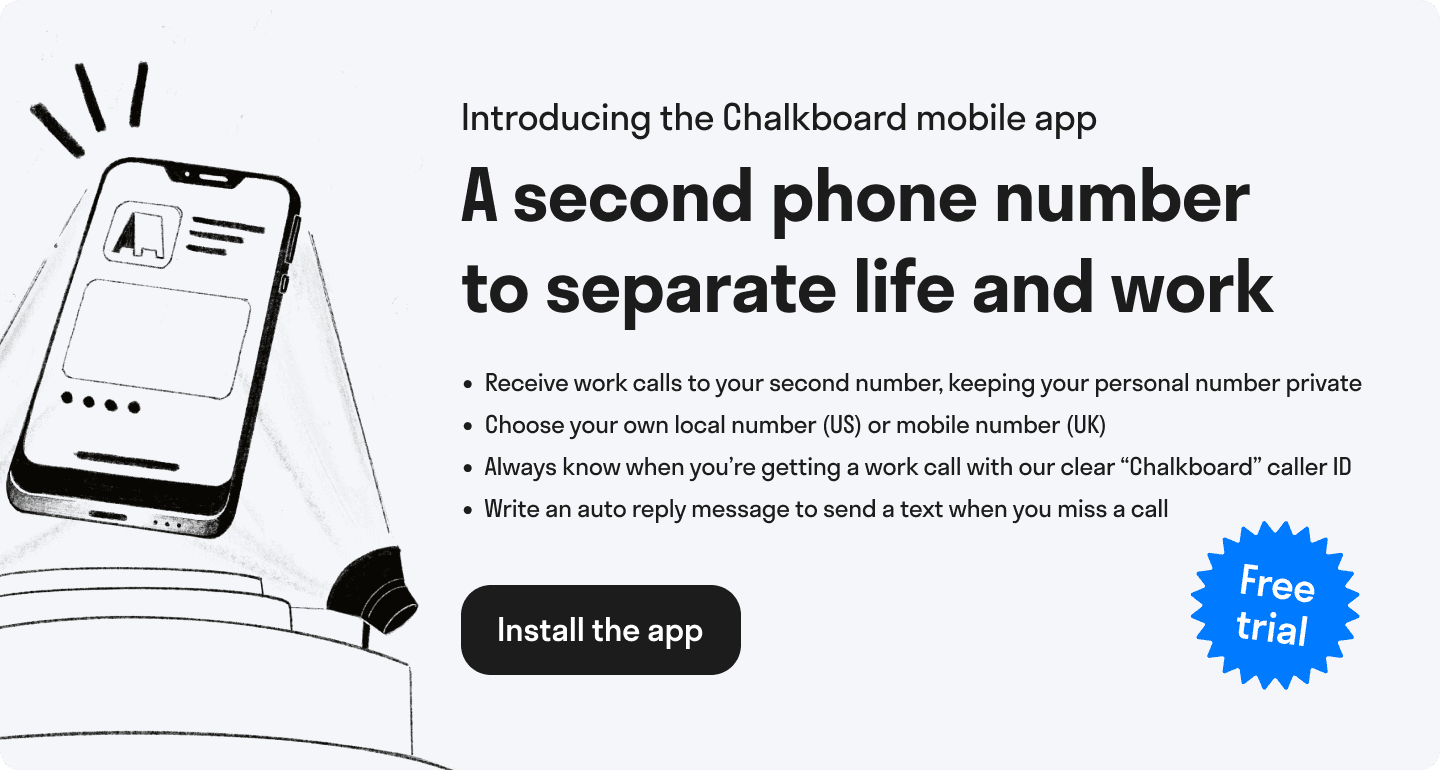 Advantages of using WhatsApp Business with a second phone number
It gives you two accounts
With WhatsApp Business, two phone numbers will be active on the platform. You'll be able to use both WhatsApp and WhatsApp Business at the same time and importantly, on the same device. You would have one channel to communicate with your family and friends and use the business channel to interact with customers.
This allows you to compartmentalise your communication and separate your personal life from your professional life.
Protects your personal number
At Chalkboard, we've always cautioned against using your personal number for business purposes. It gives unnecessary exposure to your number and ensures that you'll have little to no work-life balance. But WhatsApp Business with a second phone number enhances your privacy.
When customers call, they will only see the second phone number that you use for business. They will never see or have access to your personal number associated with your private WhatsApp account.
It's cost-effective
If you get a second number through a second-line app, you won't have to pay for an additional device or SIM. Importantly, you also won't have to sign up for expensive plans that you may not use since most of the calls would be through WhatsApp.
A second-line app offers affordable subscription plans. As your business needs change, you can change or upgrade your subscription.
You can enjoy all the benefits of a virtual number
You'll be able to make and receive calls on your second-line app while using it as your WhatsApp Business number. You would be able to set auto-reply for your phone, with which you can turn missed calls into opportunities. You can also set up professional voicemail to enhance the professionalism of your business.
Since it works over internet connections, you'll be able to take calls from all connected devices. This makes it ideal for remote work.
Multiple integrations
WhatsApp Business lets you integrate your Facebook account and email address. You'll also be able to include your website link and location in your business profile.
More than a comprehensive digital presence, this allows you to optimise and control your customer interactions.
In short
The biggest benefit of WhatsApp Business is its real-time response. No matter what their query, your customers can now get immediate responses in real-time. This will improve customer satisfaction and loyalty. Learn how to use of Chalkboard number with WhatsApp Business.