Maybe you own a small business and want to separate your work and personal communication. Or maybe you're setting up a business and want to ensure it looks professional to potential customers. Whatever the reason, if you're considering Sideline, it makes sense to compare it with popular Sideline alternatives such as Chalkboard.
Both Sideline and Chalkboard are among the top second phone number apps on the market. Both can be downloaded onto your connected devices and enable you to make calls and send texts.
But while both are consistently ranked among the best virtual number apps, the question is which one has more value-added features that your business might need?
How do Chalkboard and Sideline compare?
Here's a snapshot comparison of the two apps that are available for iOS and Android users, beginning with who should ideally use them:
Intended customer: Sideline is designed for use by individuals. It comes with most of the features that individual users would need. Chalkboard is built for business use. While individuals can also use it, the app has been created with features for freelancers, small business owners, independent creatives, gig workers etc.
Getting started: With both, you can get started easily. Sideline allows you to choose a number with a local area code. You can also port your current number and start using the app. With Chalkboard, you can get a local US number or a UK mobile number.
Adding contacts: You can add several people in Sideline to a conversation. This is one of the reasons the app is popular among individual users. Chalkboard, since it's aimed at professionals and small business owners, lets you organise your contacts. You can either add them directly or import them from your device. The app also lets you broadcast texts to groups, which is a handy tool for businesses.
Network usage: Sideline uses your carrier plan's minutes. So, every time you make a call, there will be a deduction in your minutes. Chalkboard users don't have to worry about that, since it doesn't use the mobile service provider to make and receive calls.
Pricing: Which option provides the most value?
When you're in the market for a virtual phone number app, a free trial allow you to figure out if it suits your needs. The good news is that Sideline and Chalkboard come with a free trial period of seven days.
After that, Sideline charges you $9.99 or approximately £7.35 per month. Chalkboard has affordable plans that you can select based on your usage needs. Do remember that Sideline uses your carrier's phone minutes. That should be counted as a hidden charge. In other words, there is unlimited texting with Sideline but a limited number of calls. But Chalkboard gives you both unlimited texts and calls under its subscription plans.
Features: Which delivers the most value?
Both Chalkboard and Sideline offer all the basic features you would expect from top-rated second phone number apps. From separate caller ID to group messaging, both make it easy to separate your work-related calls and engage with your contacts.
You can also effectively manage the missed call problem with the apps. With auto-reply, you can send pre-determined responses to calls that you might miss. While for individual users, there isn't a huge amount to separate the two apps, if you're a business user, you should examine the value-added features of Chalkboard. The app has review aggregation and notification, that help you build your brand equity and grow your business.
5 reasons why Chalkboard is a great alternative to Sideline
Among Sideline alternatives, what makes Chalkboard a compelling choice is its business-friendly features. If you run a small business, startup or have a freelance business, here are five reasons why Chalkboard is a superior alternative:
A true VoIP: Chalkboard runs entirely through the internet. Unlike Sideline, it doesn't use up your cellular minutes to make calls.
Highly affordable: Chalkboard's subscription plans are not just affordable but are all-inclusive. Once you choose your plan, you can make unlimited calls and texts.
Group broadcast: You can not only categorise your contacts but also send messages to groups. You don't have to type out separate messages to your customers, saving you precious time.
Review automation: The biggest differentiator in Chalkboard is its review aggregation. Chalkboard automatically sends review requests to your contacts, encouraging them to review your business online.
Reputation management: Chalkboard will notify you whenever your contacts review you online. You can respond to those reviews from the app, which will help you manage your online reputation.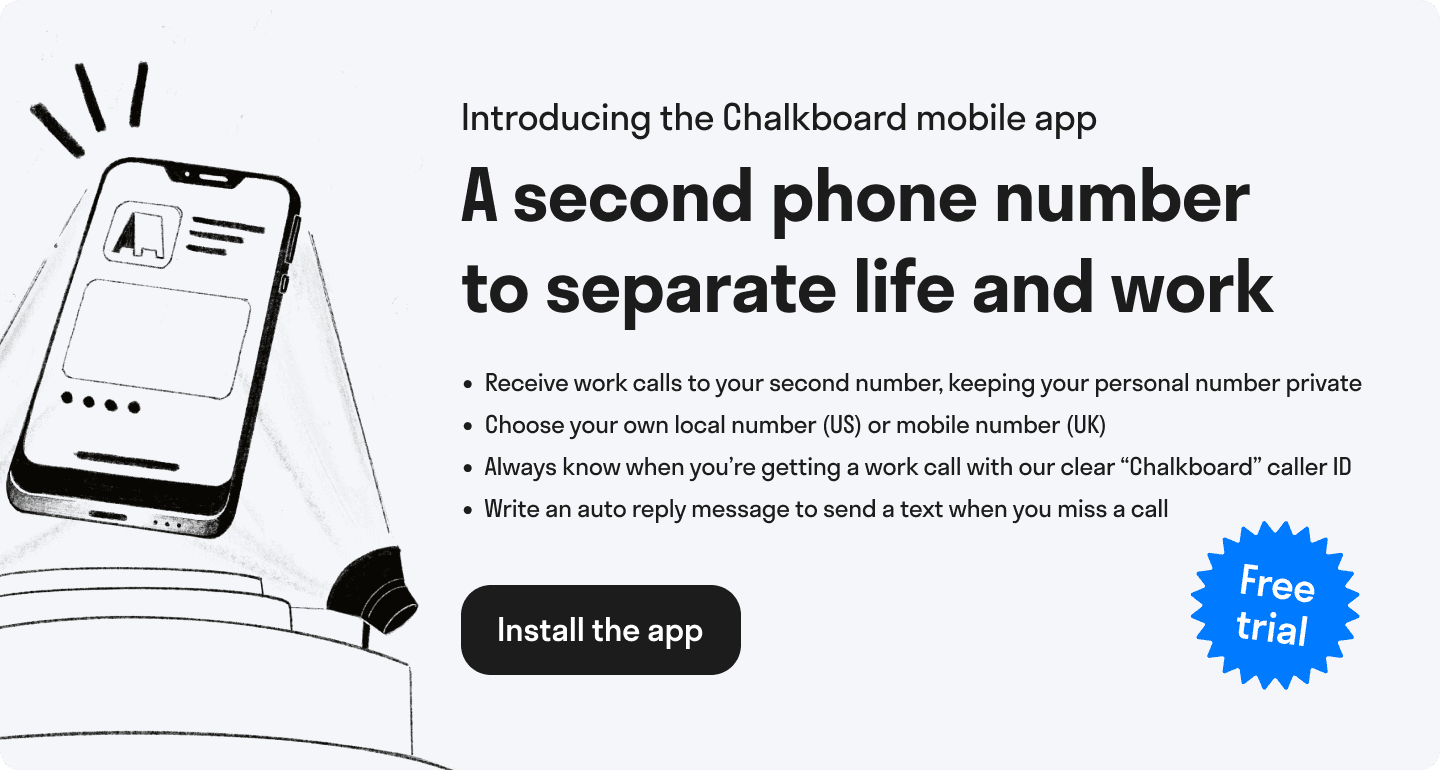 See Chalkboard in action

Chalkboard isn't just another one of Sideline alternatives. It's a second phone number app and a highly affordable marketing tool for your business. It offers all the features you expect from a virtual number app and delivers marketing automation unlike any other.
With Chalkboard, you get a second phone number for work and get to build and manage your business's online reputation. Grow your business today with Chalkboard.