Thinking of getting a second phone number for Android? Why buy a second phone or SIM when there's an easier, smarter and more affordable way to get a second number for work? And the best part? It's exceptionally easy to add that second number to your Android phone.
Being a business owner means having to be constantly available. You could get a call from a customer, vendor, team member, or countless others. Instead of using the same number for work, it makes sense to get a second phone number for Android. Especially when it's so easy.
Why you should get a second phone number for Android
Here's why no business should be without a second phone number:
Added privacy: With an exclusive number for work, you can share it with customers and business associates. This is how you protect your private number from spammers and robocalls.

Better organisation: With a second phone number for Android, you would know that the calls and messages coming to that number are work-related. All your business contacts would now be in one place.

Easier access: A second phone number also makes it easier for your customers, business associates or employees to get in touch with you.

Flexibility: If you get a top-rated second phone number for Android, you will also be able to use it as a toll-free or customer care number for your business.
Does it mean you should get a second phone?

Getting a second phone number for Android doesn't mean getting a second Android phone. Carrying two phones won't make you more productive, it will only add to your problems.
To begin with, it would be expensive to buy another smartphone capable of doing all your work-related communication. Carrying two phones is cumbersome, to say the least. Remember that you'll also have to carry the chargers for the phones. There are also updates and security issues that you have to worry about.
Chalkboard: The perfect second number for work on your Android phone
If you want to add a second phone number for Android, Chalkboard is the second line app you should consider. As small business owners, freelancers, startup teams and gig workers have found out, few second-line apps offer all the advantages that Chalkboard offers.
You don't have to buy a new device to get a new number. You can download the app on your existing device and get started in minutes. Now you'll be able to make and receive calls and texts on all your connected devices.
You can set up auto-reply to send pre-determined messages to calls that you might miss. This makes your phone a lead generator when you're busy or with friends and family. It also lets you spend time with your loved ones without worrying about work-related calls.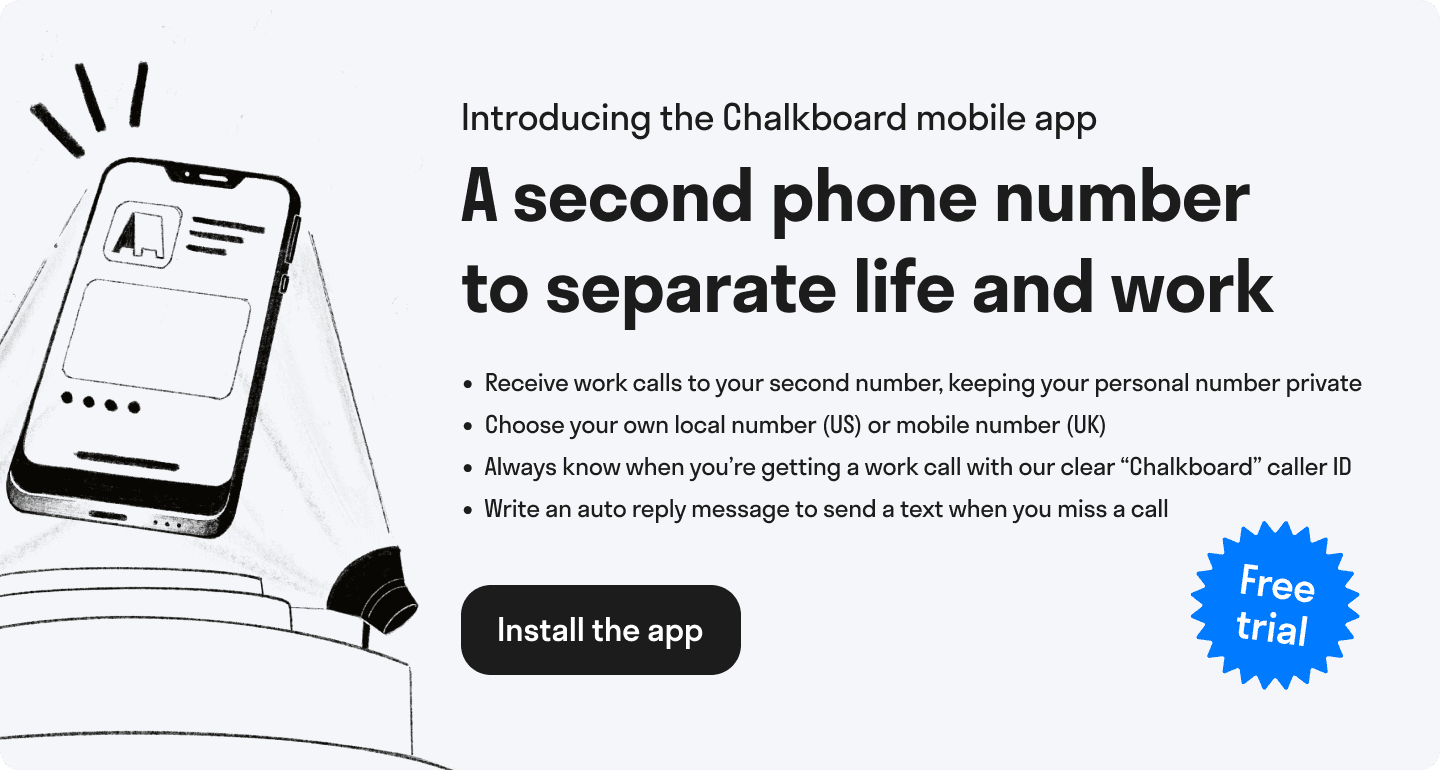 An affordable second number
If you're looking for a second phone number for Android, you don't need to buy a second device or get a SIM. Chalkboard gives you all the benefits of a second number without any of the disadvantages. Plus, it's affordable and comes with a free trial. Download Chalkboard today to see the difference it can make to your business.