If you're looking for a free phone number for your customers or clients to interact with you, toll-free numbers are a good option. They allow people to call your business for product or service information without having to spend anything on the calls. While landline numbers serve highly localised businesses, toll-free numbers suit everyone else.
Why is a toll-free phone number important? Because we like it when other businesses have a dedicated and free phone number for us to call. It makes it seem that they care for their customers and want to engage with them.
What is a toll-free number?
A toll-free number is a free phone number for those who make the call. The caller doesn't have to pay for the call because the recipient will. Businesses use toll-free numbers to enable prospective or existing customers to call them without having to spend anything on the call.
From the customer's point of view, it's a free phone number they can call to reach a business. That makes the business seem credible, sensitive and responsive. It also helps reduce customer frustration which can easily turn into online negative reviews.
What are the different types of telephone numbers?
It helps to know about different phone numbers before you make your decision. This will help you understand whether you need a local or toll-free number for your business, for example.
Freephone numbers
Freephone numbers are toll-free numbers where the caller doesn't have to pay. They usually start with 0800 or 0808. You can call these freephone numbers from a landline or mobile phone. Businesses can use freephone numbers for customer support, advertising campaigns or lead generation.
Local rate numbers
What if you want the caller to pay for the call? You can use local rate numbers that typically start with 0844 or 0845. They can cost up to 7p per minute excluding access charges. Local rate numbers are useful for helplines, marketing campaigns or when customers or clients call for collateral and are willing to pay for it.
UK-wide numbers
Starting with 03 or 0354, these are not preferable for business use because of the charges for the caller. Those calling from UK landlines will have to pay standard call charges but those calling from mobile phones will have to pay much more.
Premium rate numbers
You can use premium-rate numbers if customers have a reason to call you and understand that it will be expensive. The charges for these numbers can be as high as £3.60 a minute. If your campaign has a competition with a big reward, this would be a handy way to roll it out.
Vanity numbers
Vanity numbers are memorable for their unique patterns and are, therefore, preferred by certain businesses. They could feature the same number such as in 1111 or a repetition that's easy for the customers to remember, like in 1212. They can also spell out a phrase or word associated with the business or category.
Second-line numbers
Unlike the traditional numbers listed above, second-line numbers are powered by virtual apps. This means you don't require an additional device. After examining whether it has business-friendly features, you can easily download the app and have your second number in a matter of minutes.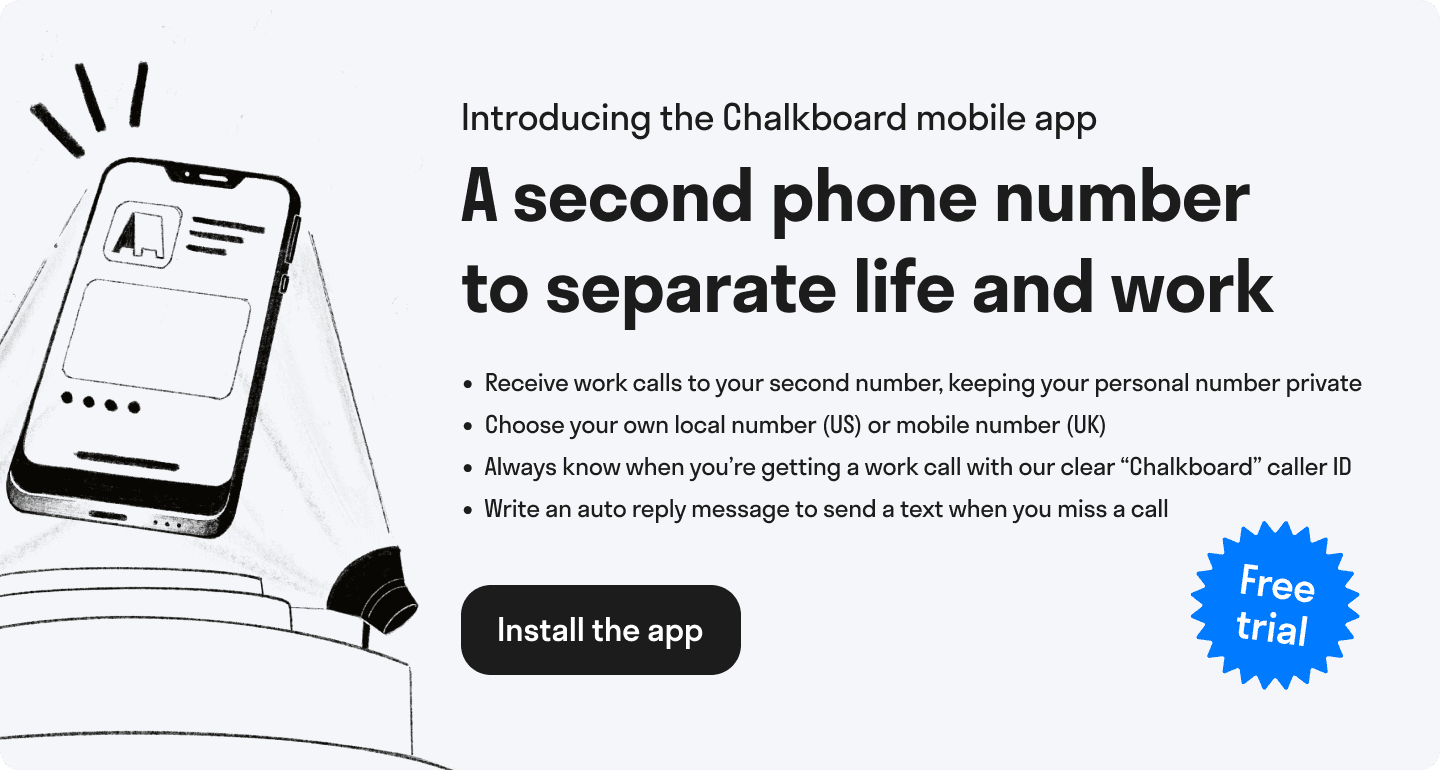 How do toll-free numbers work?

Since they won't be charged for the calls, there will be no difference to the caller when they call a toll-free number. In the case of international calls, the caller may have to pay the charges unless specified.
How to get a toll-free number
You can choose a toll-free number for your business after comparing the rates and service packages of different telecom providers.
How much does a toll-free number cost?
It depends on the plan. Some providers would have a monthly fee plus charges for every call. Others don't charge you monthly fees but will charge you for every incoming call.
What businesses should do when setting up a toll-free number
If you have a toll-free number, there should be someone to receive the calls. Once you get a free phone number for your customers to call you, it's important to dedicate someone to handle those calls. You could assign it to someone in your team or outsource it to an agency.
Looking for a toll-free number? Choose Chalkboard
Why get a toll-free number when you can get a number with value-added features for your business? Chalkboard can act as a free phone number for your customers and a second line for your business. And that's all without having to buy a second device.
It's exceptionally affordable since you won't be charged for incoming calls. All you have to pay is the app's subscription fee. It's easy to set up and comes with business-friendly features such as auto-reply and review management.
Download Chalkboard today to start a free trial and optimise your business communication and increase your customer engagement.