A cell phone can be a powerful business tool if you can add the right communication apps. With VoIP for business, you can turn your smartphone into an advanced tool to organise your business and engage better with your customers and associates. All it takes is to add a business line to your VoIP phone system.
Small business owners, freelancers and startup teams should be interested in VoIP for business because it's a better alternative to traditional phone systems. When you compare PBX to a VoIP phone system for business, you'll realise that the latter is advanced, feature-rich and user-friendly.
Top benefits of having a second number for business on your phone
If you're using the same number for personal and business calls, you would have noticed several issues. Here's how a second number through VoIP solves those problems and offers several entrepreneur-friendly features:
Separation of business and personal communication
When you add a second line VoIP for business, you don't have to second guess who's calling or what it's about. If it's on your second number, you would know that it's work-related. This lets you prepare and prioritise.
Protects your private number
With VoIP for business, your personal number remains private. You don't have to share it with customers or vendors or share it on your website or social media channels. This is how you prevent unwanted attention from robocalls and spammers.
Better organisation of business contacts and communication
Using the same number for personal and business calls means you have to search hard for business contacts and your communication with them. With a second number through VoIP for business, you can organise your business contacts and easily engage with them
Makes your business look professional
The same way your business needs a website, it also needs a dedicated phone number to make it look professional and credible. It also suggests to your customers that you have dedicated resources to manage their queries.
Quick to set-up
When compared to landlines or traditional cell phones, a VoIP phone system is exceptionally easy to set up. All you've got to do is download the app. There is no unnecessary hardware and importantly, you don't need an additional device.
Adding a business line to your smartphone – What you need to know
When you look for a VoIP for business, these parameters will help you get the one suited for your unique needs.
Business-focused apps
Not all second-line apps are created alike. Some are for the mass market and designed for individual use. Look closely at who the apps are designed for. What you need is a second number for work that can help manage your business communication.
Budget
The VoIP service you choose should be suited to your budgetary needs. Make sure that you don't end up paying monthly fees for features you don't need. It's also important that the VoIP for business has a free trial, which will help you try out its ease of use and features.
Features
The most important parameter is the features the second-line app offers. There are several popular apps designed for individual use without any business-friendly features. What you want are auto-reply, contact organisation, group broadcast and other value-added marketing features that would benefit your small business.
Customer service
You want prompt and reliable customer service from your VoIP phone system. This is where you should be wary of apps with millions of users worldwide. Their customer support would mostly be online forums. When you run into a problem, the last thing you want is to spend hours on those message boards looking for help.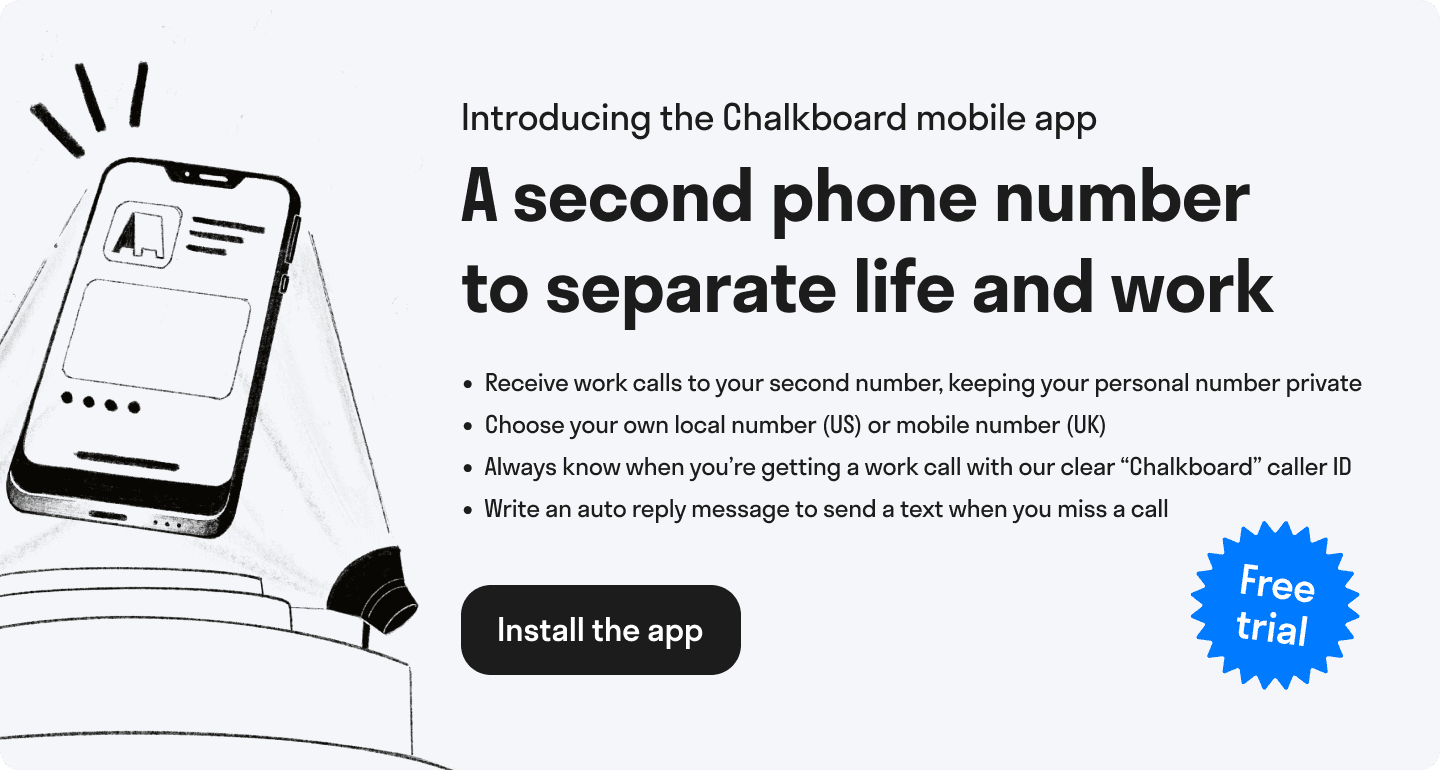 Chalkboard: The easy second-line business alternative to VoIP
If you're looking for a second number for business, Chalkboard is the easy, effective option. It's designed for business use and has features that all small business owners, startup teams, freelancers and gig workers need.
You can organise your business contacts, which will help you find their information and your interaction with them easily. You can also broadcast messages to whole groups without having to manually type them. With the auto-reply function, you can send pre-written texts to calls that you might miss.
What can make your decision even easier? It has a free trial and extremely affordable plans. Download Chalkboard and second-line phone system made especially for business use.