A virtual number isn't just the next step in the evolution of telecommunication. It's a revolutionary idea that can transform your business. It does so by optimising both the internal and external communication of a business.
As a small business owner or startup team member, your primary objective should be to optimise your efforts. This includes everything from marketing and customer engagement through to communication. Getting a virtual number will benefit your business across all these functions.
What is a virtual phone number?
All traditional phone systems are location or device-centric. In the case of traditional landlines, you have to be physically present at the location to receive or make calls. If it's a mobile phone, you would need a SIM (Subscriber Identity Module) to make your phone functional. Unlike these legacy systems, a virtual number isn't tied to a location or device.
Virtual phone numbers work over the internet. This means a virtual number doesn't require a SIM and is not limited to a device or location. You can download the virtual number app and make and receive phone calls and messages on any connected device.
6 top benefits of a virtual number
Small business managers, freelancers, startup teams and gig workers are increasingly ditching the old phone systems and shifting to virtual numbers due to the demonstrable advantages they offer.
1. Ease of set up
When running a small business or setting up your startup, you want to focus on revenue-earning tasks and not spend time on getting a functional phone. With a landline, you'll have to apply, pay the deposit, get the hardware and then wait for it to be active. If it's a mobile phone, you'll have to get a SIM and then get it activated.
When you get a virtual number, you don't have to worry about any of these. By downloading the app, you'll have a new number that you can use exclusively for business.
2. No additional device is needed
With any other phone system, you would need an additional device to get a number. The traditional systems might also involve PBX if you want added functionalities. With mobile phones, you will have to buy a new smartphone with features you need for business communication.
Compare that to a virtual number that can work on any connected device. You can download it on your current smartphone, tablet or laptop and make calls from any of them.
3. Location-neutral connectivity
Virtual numbers allow you to take calls from anywhere. This opens up several opportunities for businesses. For example, you could set up a virtual phone number as your toll-free number. Customers from anywhere in the world will be able to call you about your products or services without paying for the call.
Importantly, they won't know that they're calling a virtual number. This also makes it possible to connect with your team when they're remotely placed.
4. Multiple-recipient options
What makes a virtual number system so suitable for an increasingly remote or hybrid workplace is the flexibility to direct incoming calls. You can direct calls to specific members of teams through DID or Direct Inward Dialling.
For example, if you run an online store, you can direct calls to specific individuals who will be responsible for order-related assistance. This will ensure that customers can reach someone who has the information and authority to help them, which will boost customer satisfaction levels.
5. Cost-effective for small businesses and startups
How does a virtual phone number save money for your business? For starters, there's no need to buy additional devices or equipment. Secondly, unlike mobile phone plans, you can choose the features you would need and not pay for things that your team won't use.
The third reason is that by increasing customer satisfaction, a virtual number will help you with customer retention, which will boost your revenue.
6. Enhanced features
Top-rated virtual number apps give you advanced business-friendly features to increase productivity and help you gain a work-life balance. For example, with auto-reply, you can set pre-written messages to calls you might miss.
Some virtual apps will also give you voicemail, contact organisation and other features that are designed for business use.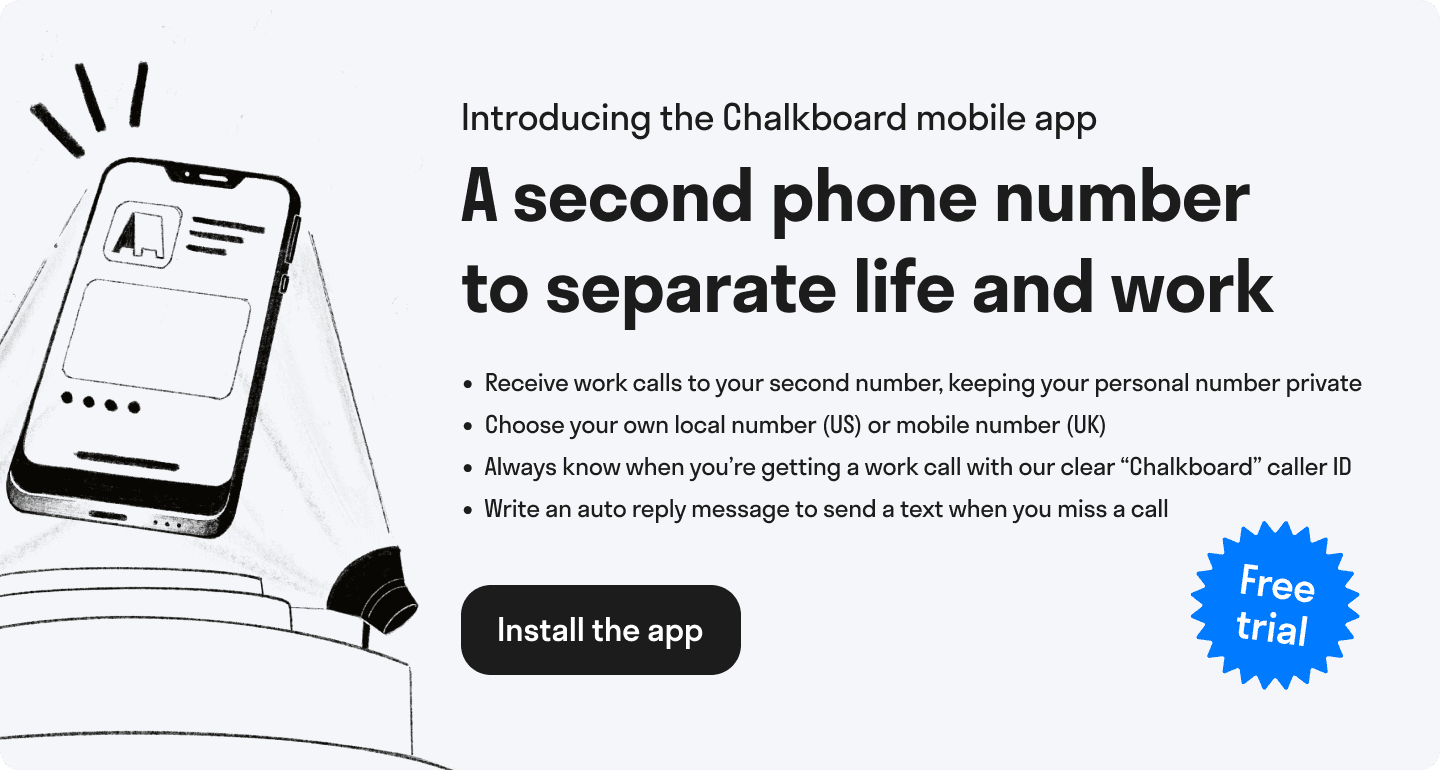 Make a virtual number work for your business with Chalkboard
When you download Chalkboard, the virtual number designed for business use, you're not just getting a second number for work. You're getting an extremely cost-effective communication and marketing tool for your business. You get features like auto-reply, contact organisation and group broadcast.
On top of these, Chalkboard gives you review aggregation and management to automate your online review requests and build brand reputation. Download Chalkboard to start a free trial and get ready to transform your business.