As a small business, you need word-of-mouth to grow. The best way to make it happen is through online reviews. While there are several ways to request customers to leave a review, SMS (Short Messaging Service) remains one of the most effective.
An SMS reminder is direct communication between you and the customer. It's elegant in its simplicity and is easy to manage.
What is SMS?
An SMS is a type of text message. It contains no more than 160 characters and no images. As well as being one of the oldest ways for mobile devices to communicate with each other, it's the simplest and most common. SMS is compatible with all mobile operating systems.
Why SMS is more effective than email
When it comes to reaching out to customers, you might be wondering why not send an email? Wouldn't that be the most "tech-friendly" way to reach out to someone? How come SMS is more effective when emails can have plenty of text and images?
To begin with, SMS keeps it short. Before they even open it, customers know they will be able to read it in a matter of seconds. This makes it far more likely they'll open it straight away.
Secondly, SMS makes it immediate. The customer will receive your message just seconds after you send it. You don't have to wait for hours or days to know whether they read or acted upon it. Remember that the earlier you get someone to review, the better it'll be for you.
The third reason is that even a basic feature phone - the ancestors of our smartphones - can read an SMS. You don't have to download any apps. This makes SMS the right medium to reach senior citizens who either may not have smartphones or may not use email or other apps in their smartphones.
Why SMS reminders can help you get more reviews
Even with the best of intentions, your happiest customers may forget to review your business. You can't blame them (Have you reviewed all small businesses that you've liked?).
That's where SMS reminders come in. They're a non-intrusive, simple, and straightforward way to request your customers to leave a review.
They don't have to click on too many buttons to read your message. You can customise the text and make it sound personal. Plus all they've to do to review is click on a link that you send with the message.
There are several ways to craft the message. You could be formal, casual, or friendly. The important thing is to ensure that your message is personalised.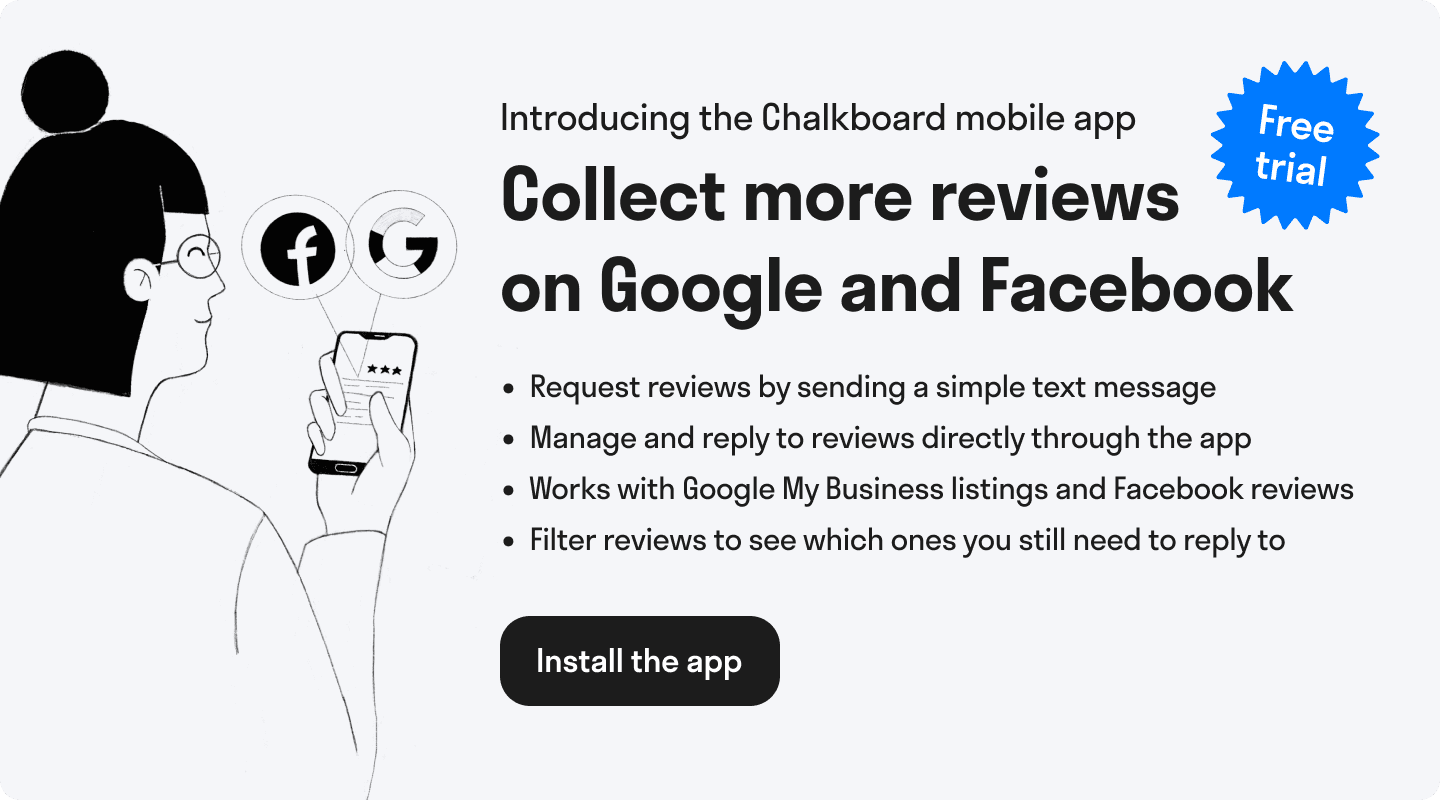 How many reminders to send and how often
When deciding how often and how soon you should send SMS reminders to your customers, it's good to observe certain protocols that respect your customers. Generally, it's a good guide to send a maximum of two SMS reminders asking customers to review your customers. The last thing you want is to annoy them before they hit the review link!
The first SMS should be an hour or two after they receive the product or service. You should wait a couple of days for them to act. If they don't post their review, you can send another reminder between 2-5 days later. This may differ depending on your offering, so be sure to tailor it to that. For example, a restaurant would do well to get a review while the experience is fresh in the customer's mind. But if you're selling cars, you might want to wait until the customer has had ample time to test drive.
How and why you should make a review spreadsheet
If you've never requested a review, it's good to start the process in a structured manner. To make it easy, you could start a CSV spreadsheet that should contain the following details:

Customer information

Date of purchase of product or service

Whether you directly requested a review

Whether they acted on it

Whether you sent the first SMS reminder

Whether they reviewed you

Whether you sent the second SMS reminder

Whether they reviewed you

Whether the review was positive, negative, or constructive
Using an app to request reviews

If manual data management sounds like a lot to handle, you should consider using an app to send SMS reminders. This means that your phone number is hidden and looks far more professional than sending direct text messages. It's simple, efficient and easy to manage; keeping all the customer details in one place and helping you keep track of the communications flow.
Importantly, they'll automate the process without you having to do it manually after each customer interaction. They also help you scale without the need to hire additional resources to take care of your online reviews.
In short
Even if a customer loved your restaurant or was delighted with the services at your salon, they may forget to review it. You may have told them at the time and they'd have wanted to review you. But as we all know, life gets in the way. SMS reminders are one of the easiest ways to get them to review your small business and boost its online reputation.