As a small business owner, you need tools that allow you to talk to many customers at once, without taking up your entire day. That's where business SMS comes in. However, sending a business text is quite different to the personal messaging format you might be used to. This article dives into the differences between the two and how to use them to your advantage.
Why send a business text?
First things first, let's address the most common question that small business owners have about texting, which is "why would I text my customers, when I've always done X, Y, Z?"

It's true, there are many different ways to get in touch with your customers; email, telephone, social media, letters etc. However, each of these communications has its proper time and place. For example, an email may well be the best way to send out your annual newsletter; or if you need to urgently reschedule an appointment then a telephone call might be the most appreciated.

Text messages are the best way to get in touch when you require a specific and timely action from your customer. Some examples include reminding them to come to an appointment, asking them to fill out a review, or prompting them to check out your online sale. Text messages are the most effective communication in these scenarios, because they are short, fast and direct.
What are personal text messages?
Personal SMS are the text messages you are already familiar with. They are the small bits of text that we use to communicate with friends and family on a daily basis. When you are sending a personal SMS, it is usually to a single person.
You can also set up a group chat with multiple friends or family members to share your conversations. While it is possible to use this type of messaging in the context of your business, the term 'business SMS' refers to a different setup.
What are business text messages?
When it comes to sending business messages, these texts are different from the average ding. As the name suggests, business text messages are a formal type of communication that is centred around your business. It can still be friendly, but it will always be directly related to your company.
The setup of business text messages differs from group chats or personal text messages because they involve contacting many people at once. This process can be automated or you can choose bundles of relevant customers to send a message to. The main difference is that, instead of manually inputting customer details from your phone, a third party app or software helps you to co-ordinate the whole thing, from start to finish.
You can send a business SMS for any number of purposes. Exclusive offers, campaigns and discounts are just a few examples. The message is typically sent out to many customers at once, via a database or list of customer contacts.
These messages can also notify people about a service that you provide or already performed. You could send them out after someone visits your shop to remind them to give you a glowing review. If the customer enjoyed your services, they will usually be happy to leave a review to help your business.
Without reminding them, even those with the best intentions will likely forget to follow up. They could also be unsure where to leave their review.
These messages allow you to open a two-way communication line that is easy to scale up. With a little setup, these tools become effortless to use and make it easier for you to leverage your current customers to find new ones.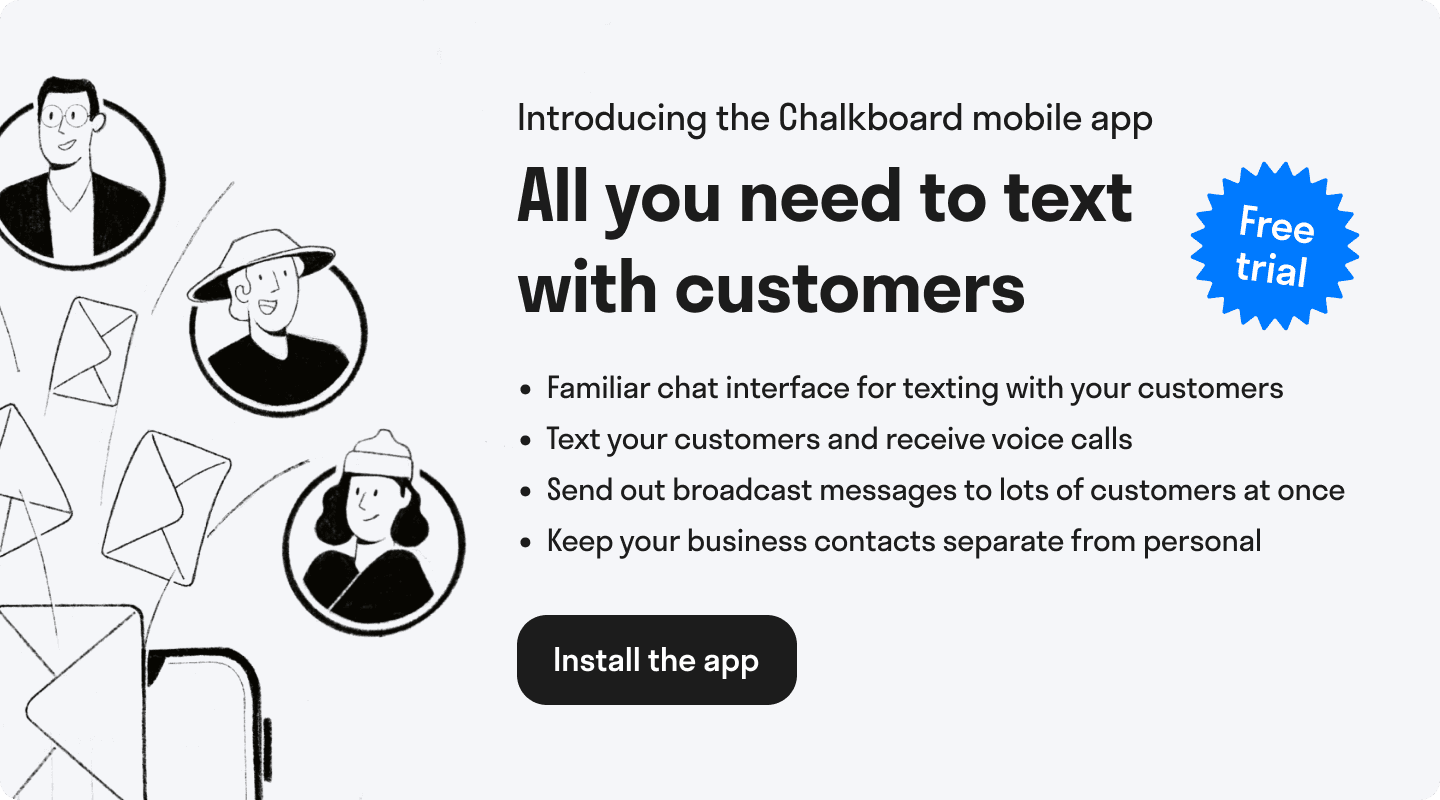 How do business and personal SMS differ?
While you can use both of these methods to communicate with your customers, there will be some different rules and strategies that apply. At different times, you will see the benefit of using both of these types of messages.
The biggest differentiator for business messaging is that you can write and send messages to your contacts in bulk. Each contact receives the message directly from you, so that it still feels intimate. Behind the scenes, the message actually goes out to hundreds of people — all in the amount of time it takes to talk to just one person.
You will have full control over these campaigns, and the tools you use will help you track what you sent, when you sent it, and who received it.
Using a business SMS tool will also allow you to be more flexible with the device you use to communicate with your customers. Personal messages, on the other hand, can only be sent using a phone. This works fine for the occasional communications here and there, but as you have more typing to do, it becomes much better to have the ability to use a real keyboard.
Business SMS tools will also work on desktops, laptops and tablets. This will save you even more time if you have a lot of writing to do. All you have to do is log into your account with the device you plan to use and start working on your campaigns.
There are more advanced tools that allow you to send more automated messages and develop complex campaigns, but those solutions are also more difficult to learn. There's often a big enough learning curve just figuring out all the terminology related to business SMS. With this in mind, smaller businesses might not need all the bells and whistles. Many times, simpler is better.