Social proofing - a concept based on the evidence that people will follow the actions of the majority – is a hugely popular online marketing online concept. And it is something that can help you to grow your business through Google reviews.

Many potential customers are turning to online reviews for social proof, more so now than at any other time in history. Additionally, Google gives higher search rankings to businesses with multiple positive google reviews.
Consider this: you're a conscientious shopper. You do your research. And you always check out the reviews before buying something your heart desires. You're happy with your purchase or service experience and now, rather than reading the reviews, you feel compelled to write one of your own for other shoppers.
The only problem is that you're not quite sure how to write a Google review. Don't worry. We're going to break it all down and answer all your pressing questions about how to leave a Google review.
How do you write a Google review?
You can leave a Google review using Android devices, IOS devices, and a laptop or computer. For Android or IOS devices, follow these steps:

Open Google Maps.

Search for a place. You can also tap the map.

Tap the place or address (at the bottom).

Scroll down to find the five empty stars.

Tap the stars for a rating. You can also leave comments for a review.
From a computer or laptop, follow these steps:

Sign in to your computer and go to Google Maps.

Search for a place.

Scroll down and click write a review.

A window will appear. Click the stars to rate and type to leave a review.
Here's an example of a search for The Cheesecake Factory: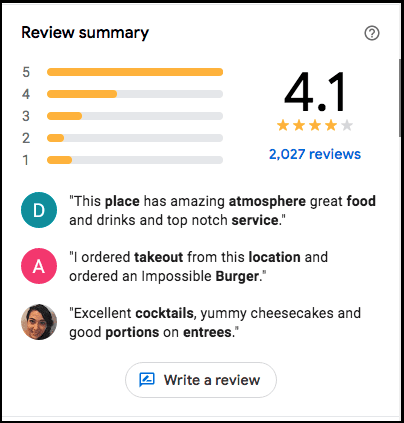 Here's what it looks like after you click on the write a review box.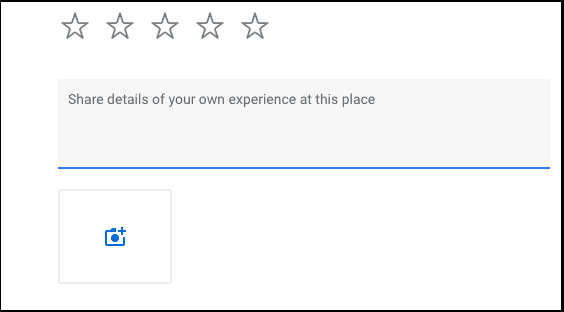 Do you need a Google account to write a review?
Many people think they need a Gmail account to leave a review. That isn't the case, though. You don't have to set up a Gmail account; but you do have to log in with some form of Google account, as it isn't possible to leave an anonymous review.
So long as you can log in with Youtube, Google Play, Google Drive, or some other form of Google profile, you can leave a review without having a Gmail account simply by downloading the Google Maps app.
Businesses would be wise to explain this information to their most loyal customers. You may see a sharp uptick in the number of reviews you receive.
Put simply though: you don't need a Google mail account to leave a review on Google.
Can you write an anonymous review?
No. All Google reviews are public. As such, people who read your review will see the following information once you leave a review:

Your name

Other reviews written on Google Maps

Photos you added to Google Maps

Your review and comments
It may not be ideal, but it's also a great way to confirm every review. If every review is public, it's hard to have someone write a fake review or slander a business for no reason.

That keeps Google from getting bombarded with fake or malicious business reviews. Small businesses depend on positive ratings for local SEO. When you think about it, it's a win-win for businesses and customers.
What should you include when you write a review?
Great customer reviews help thousands of people make up their minds about a company. As such, reviews should have a few key elements.
Provide useful feedback
Providing helpful, honest, and useful feedback is a must. How can a customer size up a company if there is no constructive feedback to form an opinion? Additionally, without useful feedback, companies can't fix the issue you may have noticed.
Talk about the customer service experience
Great customer reviews provide a little background about their unique customer service experience. Whether it was bad or good, your experience should explain the business exchange.
Use specific details and honesty
Make sure to mention specific details. Speak without judgement and use an honest tone about the experience. What did you like? What put you off?
Refrain from using links and personal information
Reviews aren't about calling out individuals that wronged you. Don't place links to a person's address, phone number, etc.
Keep it civil and remain friendly
Reviews are a place to provide constructive feedback, not criticism. There is a difference. No matter how personal your experience was to you, keep the comments above board.
Update your review as needed
Sometimes when we love a business, we don't get all our feelings down in one go. Plus, situations can change. This is why you have the option to edit it as time goes on.
Make sure you have the right company
Positive reviews are great! But, make sure you're praising the right company. It happens more often than you'd think.
Proofread your review
You're taking the time to write about a business. Don't write a word-sauce review that nobody else can understand; otherwise, what's the point? Sense-check your words, your grammar and your tone.
If people Google your name, will Google Reviews you have written show up?
All Google reviews are public, so it's possible. In most cases, your review would not show up on the first page if someone Googles your name — unless you happen to have a very unusual name.
It may appear on later pages, but since most people don't look past the first page, it shouldn't be an issue.
If you write a Google review, can people see other reviews you have written?
Yes. All Google reviews are public. So people would be able to see other reviews you've written. We understand this may cause you to pause.
Here's another way to think about it. Thousands of reviews get posted daily. Your small group of reviews is but a drop in the proverbial Google review bucket.
Is it legal to get paid to write Google reviews?
Buying reviews on Google is illegal, according to the Federal Trade Commission (FTC). Failing to divulge payment for a review can result in exorbitant fees and fines. In other words, this is a definite no-no.
How do you become a local guide on Google reviews?
Anyone can sign up to become a local guide. Reviewers don't get paid for their reviews. Instead, local guides worldwide provide reviews for points to earn badges from Google.
Using Chalkboard to get more Google Reviews
Chalkboard makes it easy to ask your customers for your reviews – and to respond to them. If your customers are happy with your product or service, they will be very willing to give you a positive Google review.

Reviews are hugely important to your local customers - in fact, a whopping 88% of consumers read reviews to determine the quality of a local business. As Chalkboard makes it easy for you to request and manage your Google reviews, you are more likely to notice a boost in your search rankings on the search engine itself.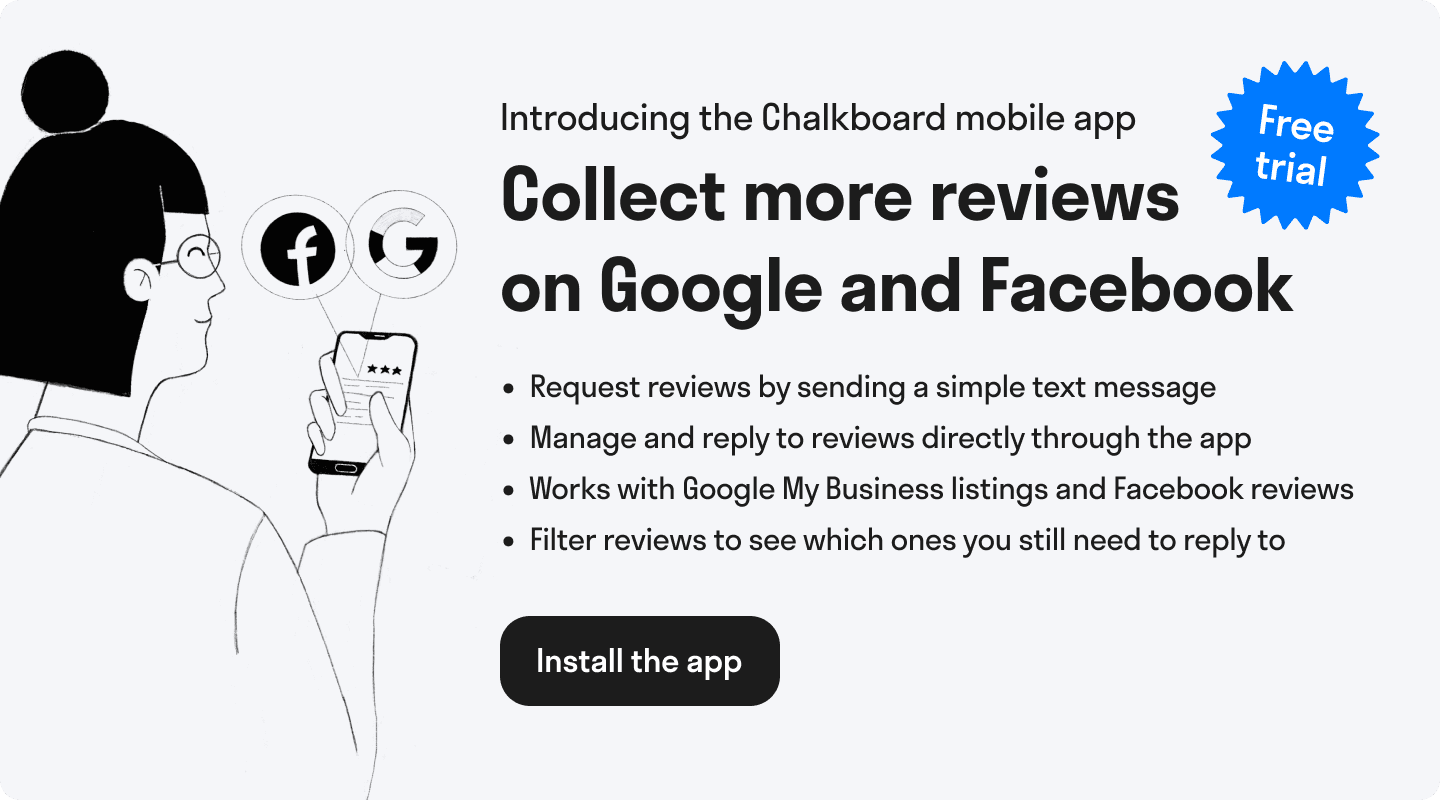 In short

Google Reviews can help customers and businesses alike. The best way to go about it is to leave a detailed, fair and civil description of your experience. Writing a Google review is a great way to show businesses your appreciation for their services or products. It's likely that you use Google on a daily basis – and so do your potential customers. Google reviews will get your business seen by more people, so if you're a local business, collecting Google reviews are crucial.

With Chalkboard, you get advanced business features that allow for review aggregation directly through the second-line app, which will automatically send review requests to your customers AND allow you to manage those reviews from the app. Sign-up to Chalkboard today and watch the number of positive reviews for your business grow! 🙌