Chris Harris runs Harris Consultancy, which helps small-to-medium businesses develop and grow their online presence with bespoke websites and engaging social media content. "We don't just build them a website and walk away. We help them with every part of the journey, building up their business and helping them build upon their success," says Chris.
Just like consumer-facing businesses, this B2B-focused agency benefits from social media and online reviews. "A lot of our clients come from Facebook," says Chris. "They see the work that we've done for other clients. They look and check out our reviews. We get a lot of business through word of mouth as well, but reviews have been an absolute gem in terms of turning a potential client into a client — because we've got some really great reviews."
The 'domino effect' of a good review
It's common sense that a good review can lead to new business, but Chris has seen this up close as a chain reaction, or what he calls a "domino effect". He explains how one client was so pleased with the number of leads generated from the agency's work that "he just felt he wanted to express his gratitude for helping turn his business around. So he left us a really, really good review on our Facebook page. Several months later, we were contacted by another lead through Facebook, who particularly mentioned this review, which enticed her to contact us."
It didn't stop there. "We then worked with this client and helped her grow her business through social media. She subsequently left her review to thank us for all the work we've done to transform her business. She went from 30% booked to fully booked, week-on-week."
That review then led to another client. "He wanted similar help in the hope of similar results. We succeeded in delivering this and had received another glowing review from this particular client," Chris says. Later still, another potential client got in touch after seeing the previous client's review. "And we again were able to help this client and grow her business too."
Reviews lead to more business, leading more reviews, and yet more business. It's a virtuous circle Chris is serious about nurturing.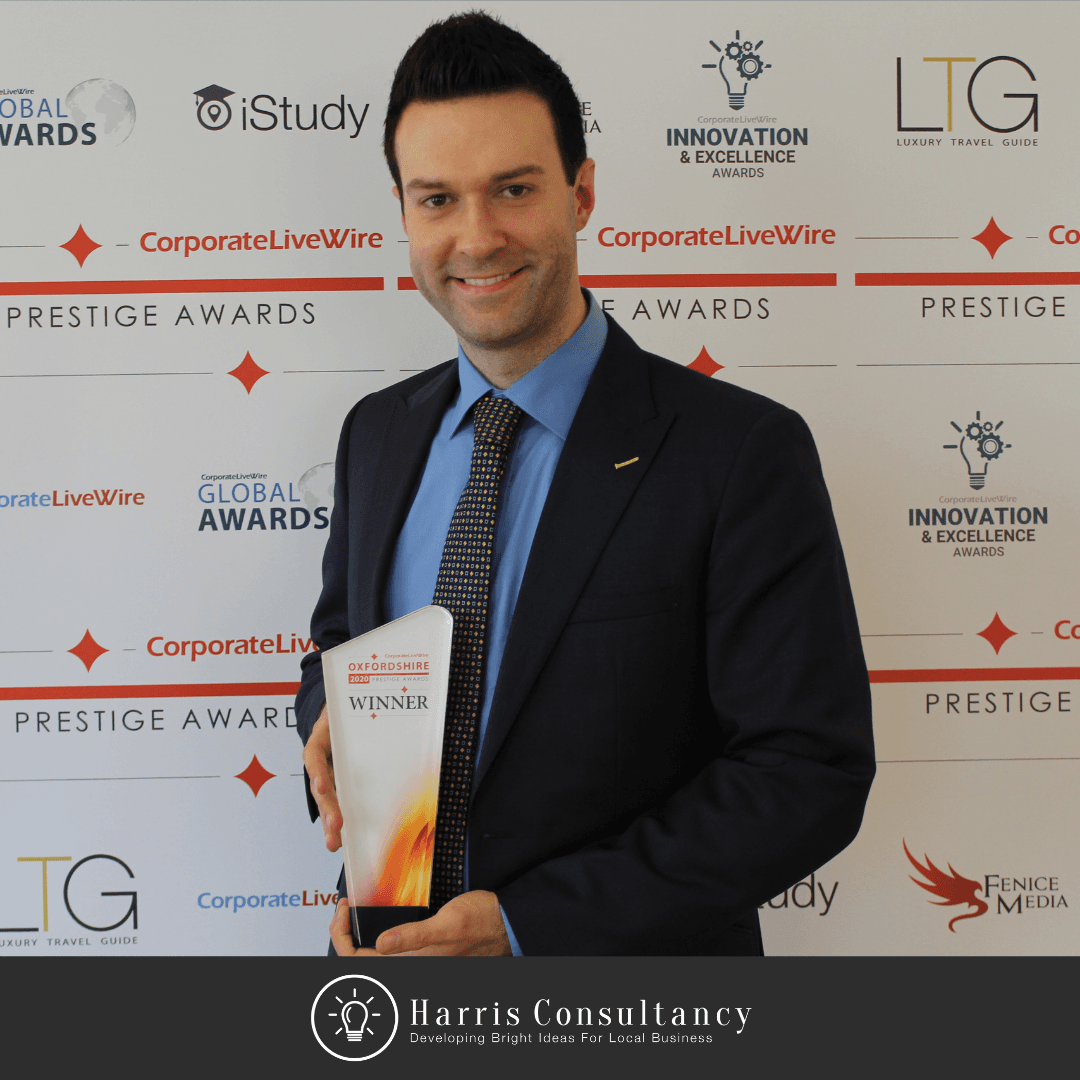 Discovering Chalkboard
With a background in design, marketing, and IT, Chris was inspired to launch Harris Consultancy by stories of how much businesses were paying for poor-quality work, often with little ongoing support.
"I realised it was a unique proposition to take the time to learn about your customers' online requirements and build something bespoke for them, rather than relying on templates. And it's not about building a website and walking away…. but nourishing your clients, helping them to grow their business over time, adding value to what they want to achieve."
But even with a different offering from his competition, he needed a way of proving to prospective clients that he could deliver on his promises.
Chris discovered Chalkboard on the Apple App Store, and since he signed up it's helped him develop a formalised system for collecting and managing customer reviews.
"Chalkboard has been a huge help, to gently nudge our clients to say, 'look, please, can you leave us an honest review?'"
Chris says that clients can sometimes find the process of leaving a review "scary." so having a simple process to guide them through it really helps. Traditionally having relied on Facebook, he finds Chalkboard has also helped expand the footprint of the agency's reviews.
"My clients have been more familiar with leaving a Facebook review, and less familiar with leaving a Google review. So it's been really helpful for us to guide them through that process, which has helped build up our Google reviews, as well as our Facebook ones."
Chris sees Chalkboard as "your middleman to ensuring that you get that review." And he likes that once a client has left a review, you can send them a followup message, "which I think is important for acknowledging the effort and time that the client has gone to in leaving that review, and thanking them for it."
A vital part of the modern world
Whether you serve consumers or businesses, Chris believes online reviews are essential in the modern world.
"I'm sure that you can relate to this as well, but before I buy a product or service, I always check out the reviews on Facebook or Google, and those reviews actually make the decision for whether I'm going to go ahead and buy that product or that service.
"Every business should ensure that the review collection process is built into their normal working practices because reviews are absolutely vital."

Watch videos featuring Chris's story
https://youtu.be/OgD6IADpNwo
https://youtu.be/Pc3hMs-9OAE
https://youtu.be/Rn0Tgr-DLsI
https://youtu.be/sQ4Bqcfgh0U