What do Google Reviews, meditation and dimmable light bulbs all have in common? They all have an app!
Chances are you already know how important Google reviews are when it comes to growing your business, building trust, and establishing your brand. If not, well, we're here to fill you in. It's so important that most successful enterprises spend a lot of time and money actively managing their reviews. But before you turn tail, we're here to tell you there's a better way.
Nowadays, there are some terrific apps that can make the entire process of getting and managing your Google reviews stress-free and effortless. These new app-based solutions can be incredibly cost-effective and provide a whole host of additional benefits.
However, it's worth noting that not all of these apps are created equally. Here are some key benefits that a good review app will be able to offer you.
More reviews
As a starting point, learn more about the ins and outs of how Google reviews work.
In short, the name of the game is always "more" when it comes to reviews. The more positive reviews you have, the more people will trust your brand and the more likely they will be to make a purchase.
Even negative reviews can be tremendously valuable as they allow you to identify areas of improvement, grow and make your product or service even better and more valuable moving forwards.
A good review app will make the process of getting more reviews as simple as can be. The best apps will only require the customer's telephone number or email and will allow you to send out requests for reviews and reminders in real-time.

Affordability
What's so great about Google reviews is that they are essentially free marketing. Why undo that by paying excessive amounts for an app or software to help you manage them? After all, as a small business, you're likely already paying out of your profits for Google and Facebook ads — you don't need another big expense biting a chunk out of your earnings.

Most good apps should barely make a dent on your margins, because the truth is that they offer a straightforward and simple service. If you're paying high fees, you're likely seeing very few extra features. The reality is that you're just footing their marketing bills. When you're scouting around, bear in mind that 'more expensive' doesn't necessarily mean 'more value'.
Social media integration
Reviews are another way of saying social proof. Before people spend their hard-earned money on something, they want to make sure that their investment will be worthwhile. So naturally, they want to hear from others who have already spent the money.

Most people online are active on one or many social media platforms. If you want people to notice you, then you should be active on social media also. This is another area where an app can make a huge difference.
The best review apps will integrate seamlessly with Google and other social media platforms such as Facebook, for example. By offering your customers options in terms of where they can leave a review, you're more likely to capture them on their preferred platform.
Chat features

The most essential ingredients when it comes to getting more Google reviews are having a great product or service in the first place and the ability to reach out and open a dialogue with your customers.

There are some really great chat features available with the best review apps. If an app offers any of the following chat features, then you can bet it will translate into more Google reviews.
A dedicated mobile phone number

You probably don't want to give out your own personal phone number when doing business. This can lead to stress and can make it hard to keep track of who's messaging you. Plus, it looks suspicious — if a customer receives a message from a generic phone number, they could easily mistake it for a scam. A great review app will provide you with your own dedicated business phone number.

By having your own separate number for business, you will be able to reach out to customers for reviews without compromising your personal inbox; this results in having more peace of mind and is also a super easy and practical way to stay organised.
Broadcast messaging
At times it can be challenging to keep track of your review requests. With so many customers, it's easy to forget whether you have already sent a specific customer a request for a review. There is nothing wrong with sending out a kind reminder to please leave a review but the last thing you want is to seem pushy.
Any review app worth its weight should be able to track your reviews, requests and reminders. If it can't do this, then it's not worthwhile. A great review app will go one step further.
By sending messages out to whole lists or groups of customers, you will open up a new avenue for getting Google reviews and potential marketing. The best review apps will allow you to sort your customer lists and then reach out to either specific groups or everyone with just one broadcast message.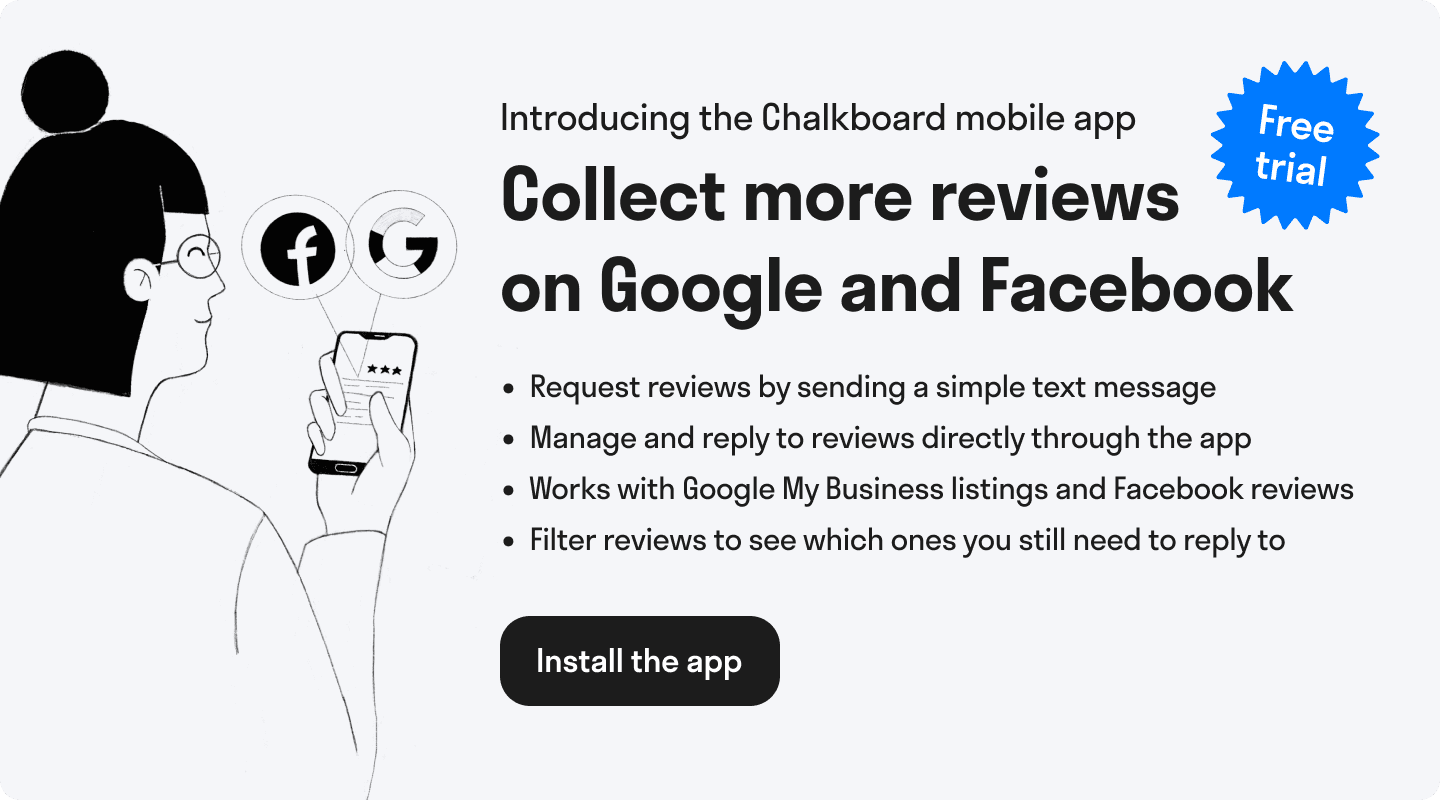 Simplicity
At the end of the day, you do need to increase the number of Google reviews you get if you want to offer social proof, build trust and grow your brand. A great review app can make the entire process super simple.
Given all the advantages of using an app to get more Google reviews, it's no surprise that so many businesses and entrepreneurs are choosing this simple and effective solution instead of spending thousands on outsourcing the job.
In short
By connecting you with your customers in real-time, keeping track of your requests and saving you a lot of money, a great review app can handle all of the hard work that goes into getting and managing Google reviews. This way, you can spend more time doing the things that earn you those 5-star reviews in the first place.