"I had all the symptoms we don't like talking about," she says "awful gut symptoms – cramps and bloating. And it got to the point where it was really affecting my life; stopping me from doing things I wanted to do."
After a series of routine hospital tests ruled out more serious conditions like bowel cancer and Crohn's disease, Bay was left with two things: her new IBS diagnosis and a Post-It note containing the word 'FODMAPs'. The latter, according to her doctor, could be the key to reducing or even eliminating her uncomfortable symptoms.
Discovering the low-FODMAP diet
"I went away and started doing my own research on FODMAPs: what they were and how knowing about them could help me," Bay says. "They're essentially a group of ingredients that are proven to be hard to digest and are therefore prone to causing uncomfortable symptoms like mine. By cutting these out or just minimising them – following what's known as a 'low-FODMAP' diet – many people with IBS live more comfortable lives."
The low-FODMAP life can be a difficult one to live, however. The list of problematic ingredients is not only long, but extremely specific. It contains some nuts but not others, for example, and fruits and vegetables that many people eat regularly without thinking twice: like apples and mushrooms.
But there are two exclusions that hit most new low-FODMAP dieters hardest.
"A lot of the foods high in FODMAPs tend to be things that we eat every day," says Bay, before labelling onion and garlic as "the worst culprits, by far."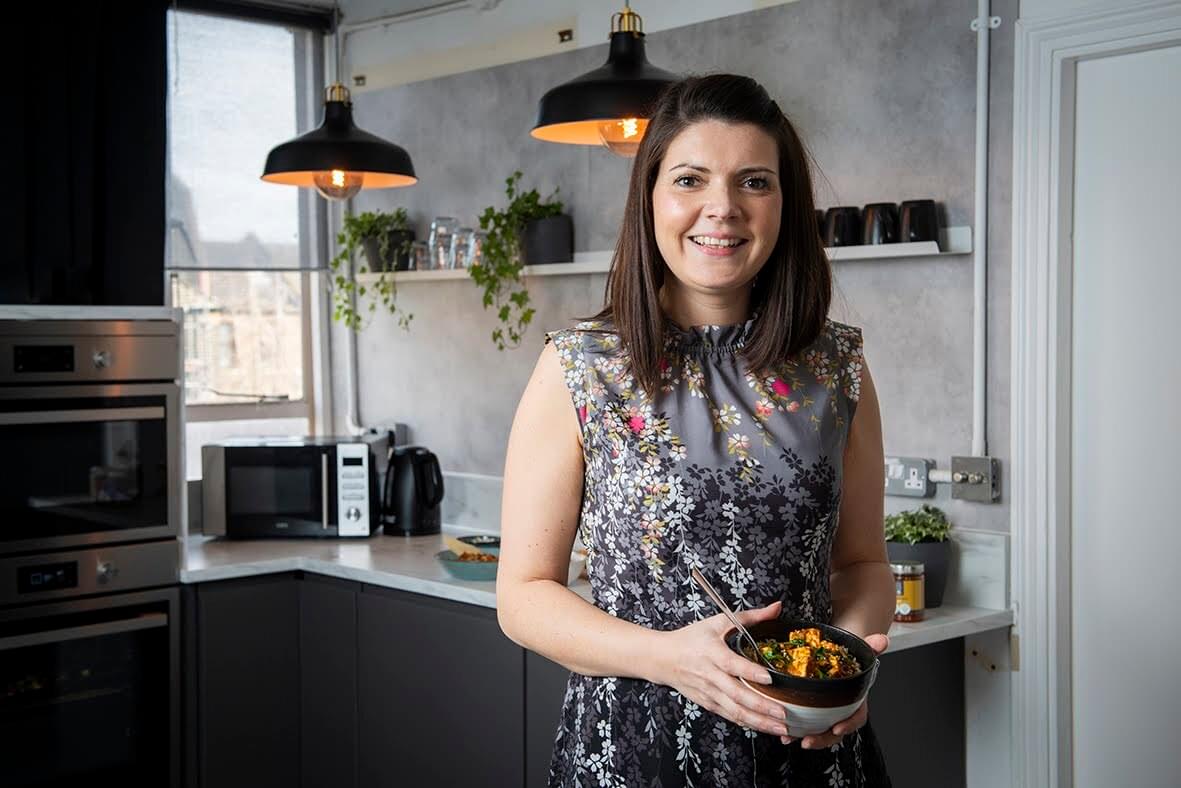 "If you go to a supermarket and look at all the labels and packaging, especially on products like sauces, dressings and gravies, usually there'll be high-FODMAP ingredients in there somewhere – namely onion and garlic. So if you're trying to follow this diet, you lose a lot of convenience. I was living on my own at the time and working long hours at a marketing agency, so it was tough to create every meal from scratch, but I eventually started putting my own pasta sauces together and that was the first step towards the creation of Bay's Kitchen."
Starting a business to help others
Bay happily admits she'd never call herself a "great chef" but says her first sauces tasted good to her and went down well with friends and family.
"It showed me that these kinds of foods can still be really enjoyable without onion and garlic, which are usually considered key ingredients, so that's where the business idea came from," she says. "Through my own research I'd found that one-in-five people in the UK suffer with IBS, so there was a huge market but very few companies targeting it. I knew if I could get someone on board with the right food expertise, I could fill the gap in the market with my own products, and so Bay's Kitchen was born."
"Customer feedback kept me going"
When Bay's Kitchen launched in 2018, customers were at the heart of every business decision Bay made. And although the journey's been difficult at times, positive feedback has been an endless source of motivation.
"It was pretty much the most important thing to me that people were enjoying these foods," she says. "Starting a food company really isn't the easiest thing in the world and, and in all honesty, if I'd known back then what a rollercoaster ride it would be, I'm not entirely sure I'd have done it. But those customer reviews – the ones that show me I'm achieving my mission of making the diet easier, tastier and more convenient to follow – have really kept me going. I know now that it's all worth it."
A few years on and the positive reviews are still rolling in. Bay's Kitchen now has a 4.8/5 rating on Google, the business's favoured reviews platform, and each new notification brings with it some excitement.
"Even now, when we get a good review, it honestly makes us do one of those little happy dances; it means that much to us to know that someone appreciates what we're doing, and it's a massive part of our company."
Saving marriages and changing lives
As well as helping other IBS sufferers directly, Bay has found that her business is bringing people closer together at meal times. Reviewers often mention family members and partners in their feedback, explaining how Bay's products have allowed them to enjoy the same dishes together, rather than cooking and eating separately.
"One review that stands out described how our sauces had saved a couple's marriage by allowing them to eat together! That made us laugh, but also very happy," Bay says.
"Many others talk about our products being 'game-changing' for them – and that's exactly what I wanted to achieve; it's what I wanted for myself when I first started trying to follow a low-FODMAP diet, so knowing we're doing that for others means so much."
Handling critical reviews
Like all small businesses, Bay's Kitchen has had the odd critical review – albeit very few. When asked how the company deals with them, Bay says engagement is key.
"I actually think that having an average review score of 4.8 is better than 5," she says; "I feel like it's more realistic. We also realise that not everyone is going to love our products, and that's fine. Food is so subjective, so it'd be really strange if every single customer loved everything we did.
"What we can do, though, is use our negative reviews as opportunities to engage with our audience; to find out what they do and don't like. Sometimes we'll encourage them to give Bay's Kitchen another go by sending different products, and other times we'll take the feedback on board and may even adjust our recipes. Either way, we want to give our customers the best chance of enjoying what we do."
And this unwritten policy of engaging with all reviewers seems to pay off. "We have this idea that we want to turn every negative reviewer into a raving fan, and we've done that with a few people already. One person left some criticism on Facebook recently and after investigating, we found she'd had a jar with a broken seal, causing the contents to be off. We sent out a replacement as well as some new products to try, and she was so pleased with the customer service that she is now one of our biggest fans and a regular positive reviewer."
Find out more about Bay's Kitchen and browse its extensive range of low-FODMAP foods and ingredients at bayskitchen.com.