SMS (short message service) is an excellent tool for businesses to use. It has many advantages, and these advantages have ensured that text messaging not only remains a strong marketing technique but grows in popularity.
Here are just some of the reasons that businesses like yours are fond of using text messaging to reach out to your customers:
Quick to send

Direct communication

Easy to read (160-character limit)

Feels personal

Has little to no barriers to delivery

Has a high open-rate (most recipients open their text messages)

Easy to personalise

Has a high conversion rate

Is very cost-effective compared to other forms of marketing
With this in mind, it's easy to understand the subsequent rise in popularity of text messaging apps among businesses.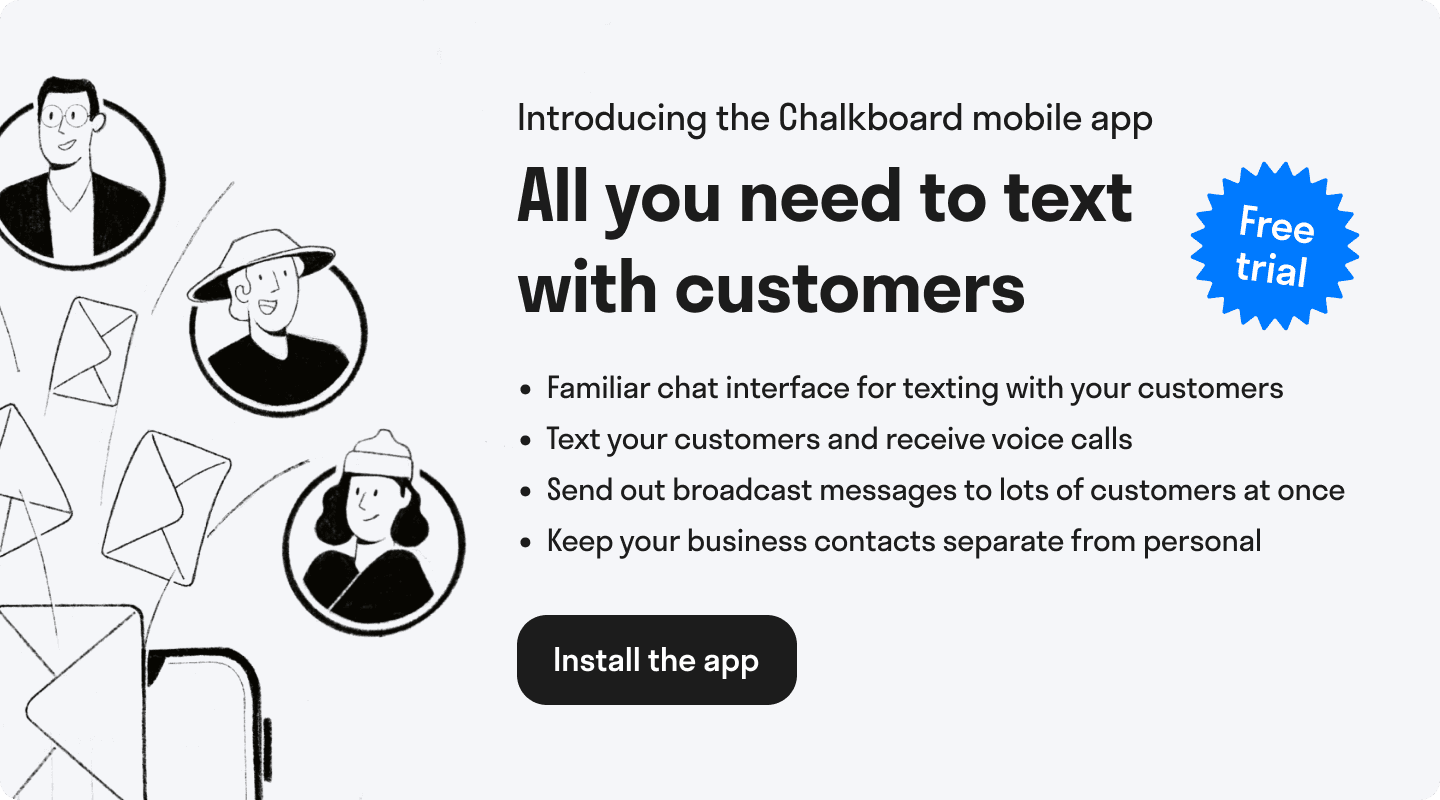 What is a business text messaging app?
Business text messaging applications use the internet to send and receive text messages to hundreds of customers at once, with some of the most popular and well-known of all being TextMagic, SimpleTexting, Salesmsg, EZ Texting, and Twilio.
These apps are not for personal messaging, like Whatsapp or Facebook. They are more like centralised hubs that businesses can use to organise large scale communications. There are several key distinctions between personal and business SMS, and it's important to know the difference before you get started.
There are endless amounts of texting apps, both free and paid, and they have different perks. Some are feature-rich, coming in at a higher price point and a bigger learning curve. Others keep it simple by offering excellent functionality on just one or two core features. For example, some apps can integrate with other services and apps, whereas others are geared towards small businesses with lower volume requirements.

All business text messaging apps have one thing in common, which is that companies small and large are using them to grow their business in 2022. So, what are they using them for and how can you leverage these methods for your business too?
Streamlining customer service
Since the pandemic began, customer service has had a full plate. Customers have more questions, complaints, and require guidance often. Taking these queries as calls means that you or your employees are unable to handle more than one customer at a time, whereas text messages let you handle multiple conversations at a time.
Ultimately, this improves your service. Your customers don't have to wait on a telephone line, held hostage to holding music. The less time your customers spend trying to get in touch with you, the better their experience.
Building the brand
A business text message is an opportunity to build on your brand image without needing to invest in logos or design. It's a type of branding that does not need to be conceptual — simply choose the qualities you want to express, and craft them into a text message. For example, do you want your customers to think you are responsible, friendly, exciting?

The wording you use, the type of message you send and your follow up responses are involved all contribute toward the image. Text messages help to promote your business through a direct, personal connection.
Adding a personal touch
Most consumers nowadays expect personalisation in the marketing they receive. And personalisation goes much deeper than simply putting their name at the beginning of the message. Many businesses consider their target audience to be anyone from the ages of 0-100 within a 100-mile radius. But businesses that make an impact with text messaging apps are getting more specific.
Carefully consider which customers your message will benefit and why. Drill down into their behaviours — did they visit you recently? Do they keep missing appointments? Did they buy something from you last Easter? Alternatively, you can drill down into customer types, such as age, location and gender.

By targeting and personalising your communications, your consumers receive more value, convenience, and satisfaction.
Communicating B2B
Text messaging used to be a no-no when it came to B2B businesses due to discipline, privacy, safety, and ethical issues. But since the rise of working from home, text messaging has become a significant point of contact with B2B businesses.
If you have a B2B business and weren't happy with using a business text messaging app before, perhaps now is the time to give it a shot.
Collaborating with influencers
Social media influencers are a very new type of marketing, and businesses are extending deals into SMS marketing. This is a novel way to gain sales and leads.
For example, a trusted influencer could promote a prize draw with a challenge that entails signing up for your texting loyalty scheme.
Retaining customers
Businesses often send coupons, exclusive promotions and other customer retention programs by text. Not only does this make your customers feel as if they are part of an exclusive club, but it is an excellent and effective loyalty program.
It can also work the other way, with your customers feeling comfortable with you and your company and therefore happily communicating with you, whether to respond to promotions or give a positive review of your brand.
Text messaging apps are a great way of asking customers for reviews to further polish your brand image and keep happy customers around.
In short
Using a business text messaging app is a neat, easy, and high-returns method of modern-day marketing. Digital transformation means that marketing is now easier, better, and more personal than ever, so you and your business can help your customers and keep them happy.