Should you be responding to Google reviews? Does it help you in any way? Is it important for your local SEO? The answer to all these is a resounding yes.
Close to 90 percent of people treat a review like a personal recommendation. That should be reason enough for you to want to know everything you can about Google reviews.
While the process of requesting, collecting, and replying to reviews can be streamlined with apps and software, writing your response takes a human touch. You wouldn't walk away from a customer who's giving you feedback. You wouldn't brush off someone who's had a negative experience and approaches you to make a direct complaint.
Similarly, Google reviews are something you can't afford to ignore.
The importance of responding to Google reviews
The search giant Google says that responding to reviews builds trust. To be precise, customers consider a business that responds to reviews 1.7 times more trustworthy than businesses that don't.
People like businesses that treat them with respect. When you respond to people's feedback, you're showing them - and everyone else - that you respect them. Plus, that may encourage people to review your services again. Or talk about the experience on social media.
Some reviews could be highly gratifying and some could be discouraging. But as we've seen, responding to reviews is good for business.
As a local business, you don't want to come across as a faceless entity. You want people to see you as a neighbourhood business that's rooted in the area and loves its community. When you respond to reviews, you are humanising your business, which makes it likeable.
How to respond to Google reviews
Every review could be different in tone, and intent. Broadly, they can be categorised as positive and negative reviews. But there are certain elements to keep in mind when responding to either of these categories. Whether the customer is delighted or angry, always remember to use best practices:
Use their name: Reach out by addressing them by their first name. This makes them feel that you've heard them and that you would like to have a private chat.
Insert keywords: You should use your keywords, especially when reacting to positive reviews. This will help your local SEO. You should also repeat the name of the product or service at least once.
State your business values: This applies to both positive and negative reviews. Either, "as someone who believes that attention to detail is everything, we're happy that you liked our service", or heartfelt regret that you disappointed them.

Acknowledge what they said: This particularly applies to negative reviews. You can show your customer that you are listening and engaging by beginning your response with a rephrased summary of what they said. It should be short (just one sentence), specific (don't be afraid to acknowledge your shortcoming), free from inflammatory language or blame, and sympathetic to the customer's side of the story. For example, "We are so sorry that you received a faulty product from us", or "We are very sorry to hear that you experienced such long waiting times at our store".

Recommend other products or services: This is exclusively for positive reviews. If they liked a product and are talking about it in an open forum, now is a good time to briefly mention something else they might enjoy.
Templates for responding to positive reviews
The number one rule here is to respond as quickly as you can. You should thank them and mention the part they liked. And, always sign off as an individual representing a firm (e.g., "from Molly at Pooch & Pamper"). Customers want to know who they spoke to, so don't just end with the name of your business.
1. For a B2B service: This is if you cater to other businesses and a client has praised you publicly. For example, you're an accounting firm and a client appreciated the way you delivered everything before time.
Hello there (first name),
Thank you for those wonderful words. It's our (name of your business) privilege to serve you. As an accounting firm in (your location), we are constantly striving to improve our services and the quick turnaround is in line with that. We are delighted that you and your team have liked it. If you have any suggestions, please feel free to reach out.
Thank you,
(first name) at (company name)
2. For a B2C in-store/on-location service: If you run a local business such as an auto mechanic service centre, a pet grooming service, salon or restaurant and someone has given a positive review, this is how you can respond.
Hey (first name),
Thank you so much for taking the time out to post those lovely words. It truly made our day. As a small (mention the category of your business) in (mention the location), we value every feedback that we get.
We love hearing that you liked the (mention the service/product they mentioned). We are constantly looking at ways to improve our (product/service). Reviews like yours encourage us to work harder.
We look forward to seeing you soon.
Thank you,
(first name) at (company name)
Templates for responding to negative reviews
Don't be in a hurry to respond immediately if you see a negative review. This is the first difference between your response to a positive and negative review. The second is that if you see something critical, don't react emotionally.
No matter how negative the response is, you shouldn't take it personally. It's a customer who has parted with their money talking about their experience. They're not out there to get you.
Once you see such a review, collect the details and discuss them with your team members. Find out what happened. Apologise publicly and own up to the mistakes. Then, try to have a private chat with the aggrieved customer to compensate for their bad experience.
1. For a B2B service: This is if you cater to other businesses and a client has criticised you publicly.
Hey (first name),
Thank you for bringing this to our attention. I am extremely sorry that this happened to you. The whole reason we are in the (category name) is to make it easy for our valued customers like you. We have taken note of your complaint and our team is working on it to make sure it never happens again.
Once we rectify the situation, we will get in touch with you. The fact that you trust us with your (category name) means everything to us and we will ensure that neither you nor anyone else has to ever go through this. If you'd like to know how we are responding to the problem, please reach us at (your email/contact information).
Thank you,
(first name)
2. For a B2C in-store/on-location service: This is for a customer who has had an unsatisfactory experience at your store, restaurant, or business location.
Dear (first name),
Thank you for bringing this to our attention. I am sincerely sorry that you had an unpleasant experience (DO NOT mention the location here) when (insert a brief summary of the problem). It's against everything we stand for.
I've discussed the matter with our team members, and we are working to ensure that this does not happen again. Our focus has always been to make each visit to (mention the location here) a joyous one for our customers.
We hope to serve you soon. When you visit us, it will give us an opportunity to show how we've improved. In case you'd like to know more about how we are responding, please reach us at (your email/contact information).
Thank you,
(first name) at (company name)
The importance of responding to Google reviews
Responding to Google reviews is very important, especially for small and local businesses. As the world's most popular search engine, Google holds a lot of power. The majority, if not all, of your potential customers are already searching on Google for products and services similar to yours and when doing so, business listings appear alongside recent customer reviews. These Google reviews can have a huge impact on you finding new customers. The more positive reviews you receive, the greater chance you have of improving your Google rankings and securing more business.

We know that responding to Google reviews can be challenging and time-consuming for local business owners. However, with the help of the templates above and Chalkboard's review tool, you can respond to Google reviews more quickly.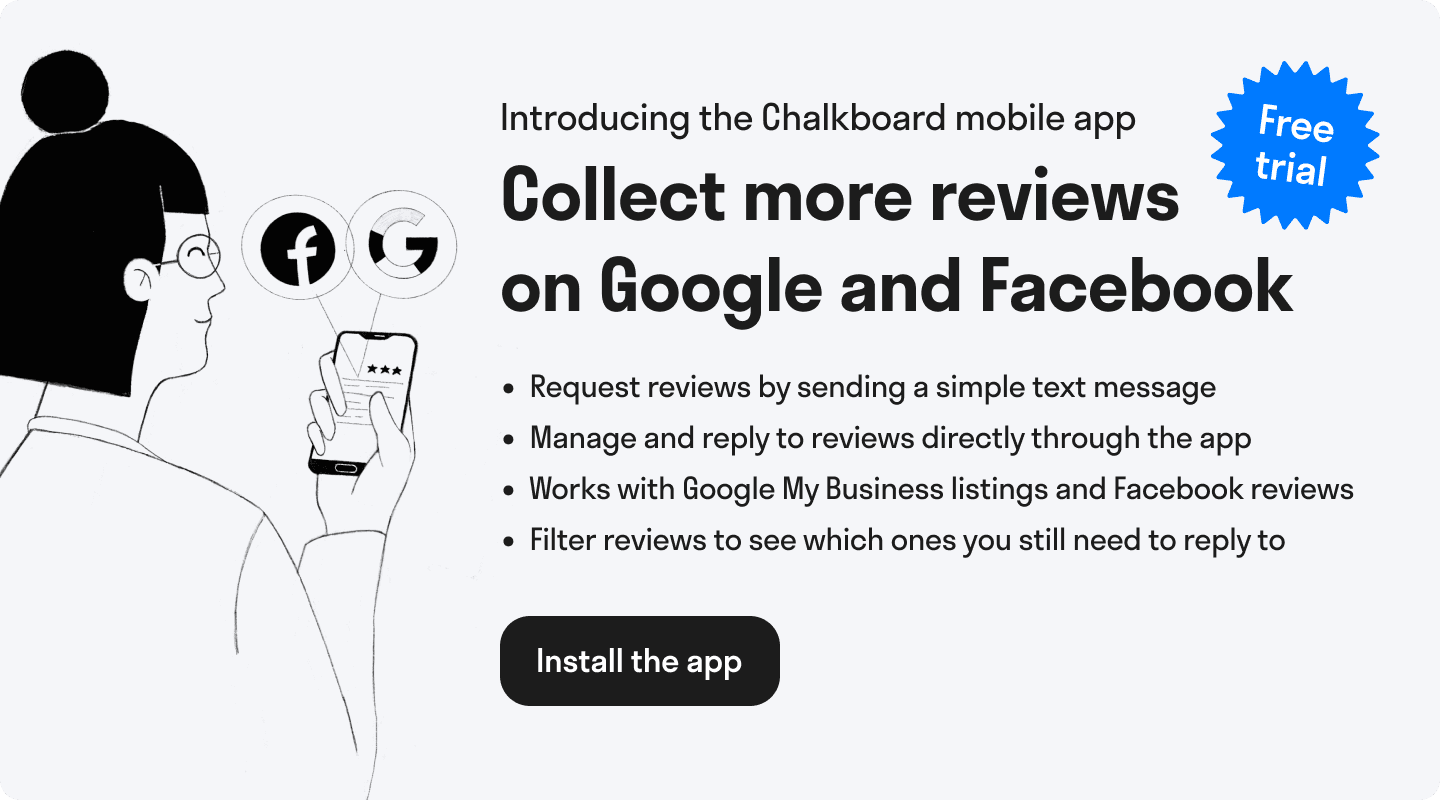 In short
Google reviews are becoming an integral part of customer journeys. This is how people give feedback on their experiences. For customers, it is the digital equivalent of either talking to the owner in-store or chatting to other customers waiting outside. For you, this is the opportunity to build a sense of community and represent your business positively. The key to handling reviews well is to remember that everyone's watching.